Every day, a high number of US workers service high-powered equipment, construct and repair roads, and produce goods we use regularly. For this reason, safety measures need to be taken so they can enjoy a workplace free of hazards and dangers.
One way is by introducing safety signs. They play a vital role in ensuring a safe workplace and workers who implement clear, effective visual communication registers fewer accidents and injuries, and witness increased efficiency and safe behavior through their facility.
If you're an employer looking to realize such benefits and comply with federal standards for visual communication, below we suggest the best ways to meet OSHA requirements for safety signage.
Gain Understanding of ANSI and OSHA Requirements for Signage
OSHA's guideline 29 CFR 1910.145, intended for signs and tags that identify hazards, outlines the specific requirements and explains when safety signs should be used. Such design elements are expanded upon in the ANSI Z535 standard, which uses alert symbols and pictograms to communicate risks and hazards.
Every aspect of sign design is dictated by the ANSI Z535, including standard sign and label colors, signal words such as warning and danger, letter style and size, as well as sign and label placement.
The last time the ANSI updated the Z535 safety sign standard was in 2017 and this is the standard employers must use when printing new labels. Replacing old ANSI signs is now voluntary but employers should consider updating them to avoid unnecessary confusion.
Recognize the Different Safety Signs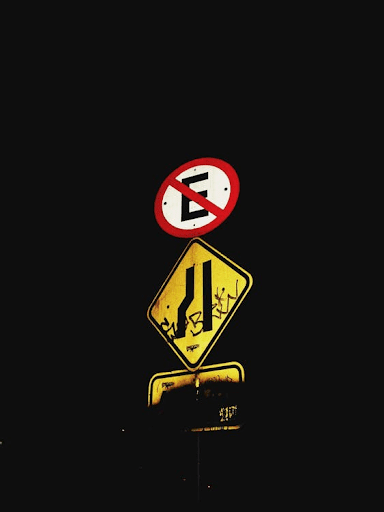 Safety signs are classified into three primary severity classifications – danger, warning, and guide signs, and each relates directly to the severity of hazards that are potentially present.
The most serious hazards are signaled by danger signs and special precautions must be taken. Preceded by the safety alert symbol, which looks like an exclamation mark inside a triangle, the "danger" signal word is printed in white letters on a red background. This type of sign informs that death or serious injuries are probable if the hazard isn't avoided.
The warning sign describes a hazard that may result fatally or in a severe injury, but where the overall risk isn't serious enough to necessitate a danger sign. A safety alert symbol precedes the warning word which is printed in black on an orange background.
Guide signs are directional signs usually placed on roads and highways, but also in airports, train stations and other public places. They're green with white writing but come in other colors as well. Generally speaking, guide signs usually include the name of the place and the direction to reach the destination.
Know the Different Types of Safety Signage
Whenever hazards may be present throughout a facility, safety signs and labels should be posted. There are other types of signs that can help workers feel safe and remain productive without stressing concrete hazards. These signs include notice, general safety signs, admittance, fire safety, and non-hazard signs.
Notice signs usually provide information about a specific machine, building or equipment. They outline procedures, instructions, rules, maintenance information, and directions unrelated to personal injuries. General safety signs are typically messages related to health, sanitation, medical equipment, first aid, and suggested general safety measures. Admittance sign alerts are those explaining the dangers and consequences related to entering a restricted area.
Fire safety signs are designed to point out emergency firefighting equipment and fire exits. Lastly, non-hazard signs communicate general safety facility information through simple text and clear symbols, but shouldn't be used to communicate risks, hazards, or dangers. Technically speaking they are not safety signs but they do promote a safer workplace.  
Learn Where to Place Them
It can be difficult to know where and when signs should be placed. You can look at OSHA's rule 29 CFR 1910.145(f)(3) to see when and where signs should be placed throughout a facility and prevent accidental injury or illness to employees who're exposed to hazardous or potentially hazardous conditions, operations, or equipment. The rule states that once it is determined that safety signage is needed, signs must be placed "as close as safely possible" to the nearby hazard.
If you wonder where exactly to place certain types of signs, check with OSHA as it outlines different guidelines for placement, depending on the type of sign and remember that workers must be able to see the signs from a safe distance and be able to react appropriately before being exposed to it.
Final Thoughts
To ensure proper safety and protection of your employees, it's your responsibility as an employer to look at the OSHA requirements for safety signage as a way to alert and inform viewers about possible hazards and dangers. This will result in a safer and more productive work environment.