Products like Kana Pro Bamboo Standing Desk are contributing towards protecting our planet.

Enough has been spoken about the adverse effects on our planet resulting from man-made damages. The kind of treatment we have been providing to our environment, which has resulted in global warming and many such environmental damages, is something even the world leaders have discussed. Still, as humans, we keep repeating our mistakes without thinking about what worse it can give back to us. However, there is still time to make significant efforts to help conserve our planet and protect it by opting for ways to make our surroundings and, most importantly, working from home more eco-friendly. Numerous blogs have explained how working from home can also have increased household carbon footprint. On the one hand, people have contributed to the environment by not travelling due to the pandemic, resulting in less pollution and lower global carbon dioxide emissions; on the other hand, they must also learn about how they can reduce the household carbon footprint. 
It is time to make choices that can result in turning your homes more eco-friendly.
Bamboo products

: Almost all offices and even homes are filled with many plastic products and furniture. However, to take the first step towards creating your home more eco-friendly, you must replace them with bamboo products. For example,

Kano Pro

, which is a bamboo standing desk, stands as a uniquely designed standing desk that not only brings that aesthetic appeal to your working space but most importantly cares for your environment with features like enhanced structure, child lock, sustainable bamboo desktop, oval legs, cable management and anti-collision.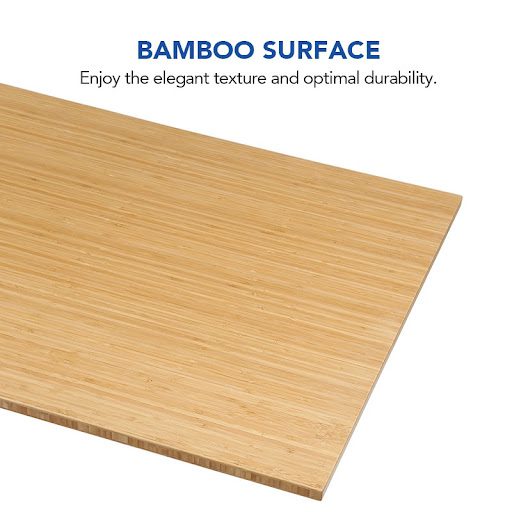 Photo by FlexiSpot
Change the heating source

: It is time to opt for a renewable method for heating your home. For example, gas boilers, electric boilers and biomass boilers can be chosen. Solar thermal is also a great alternative for a more environmentally friendly energy source.
Choose natural light

: Instead of working in a home space that requires switching on lights and LEDs, choosing to work in a space that provides natural light is a more energy-efficient alternative. This will also eliminate the need to purchase a desk lamp for working.
Disconnect gadgets when not in use: Some people have the habit of keeping their devices plugged in when not in use. Plugged devices still use energy. Hence, disconnecting electrical gadgets when not in use can increase sustainability while working remotely.
Products like the Kano Pro standing desk make everything easy, convenient, and safer for the environment. It has twice the durability of wood and a lacquer coating to help resist insects, scratches, and water. More and more eco-friendly products must be chosen, and environmentally safe ways must be adopted to create an eco-friendly environment.