It is a known fact that industrial processes are not devoid of water, right from extracting natural resources in mining or oil & gas sector to production food and beverages of higher quality. This water is not guaranteed to be free of contamination. As such, various polymer, metal, chemical, and oil particulates could be carried by this water both- living beings and environment could be rendered harmful.
This calls for water and wastewater treatment. The EU and EPA (Environmental Protection Agency), along with the other agencies, are into updating regulations for channelizing effluents and waste from the power plants as well as industry. This factor is the major influencer to the pressure relief valves for water and wastewater treatment market.
Pressure Relief Valves for Water and Wastewater Treatment Market Dynamics
The global pressure relief valves for water and wastewater treatment market, by type of product, spans direct acting spring relief valves, pilot operated valves, combination valves, anti-cavitation valves, and three way solenoid valves. By size of valve, it's 6-12 inch, 12-24 inch, 24-36 inch, and 36-48 inch. By flow rate, 500-1,000 gpm, 1,000-2,500 gpm, 2,500-5,000 gpm, 5,000-10,000 gpm, and 10,000-25,000 gpm. By operating pressure, it's 50-100 psi, 100-300 psi, 300-600 psi, 600-1,000 psi, 1,000-2,000 psi, and 2,000-5,000 psi. Operation-wise, it's remote and manual.
By end-use, it's private water supply & distribution, oil & gas, industrial & manufacturing (process intake water treatment and wastewater & effluent treatment plants), and municipal use (water supply & distribution, water treatment plants, and municipal sewage treatment plants). Out of these, oil & gas hold the largest market share, followed by municipal use (especially in the developing economies, so as to make a constructive investment towards smart urbanization).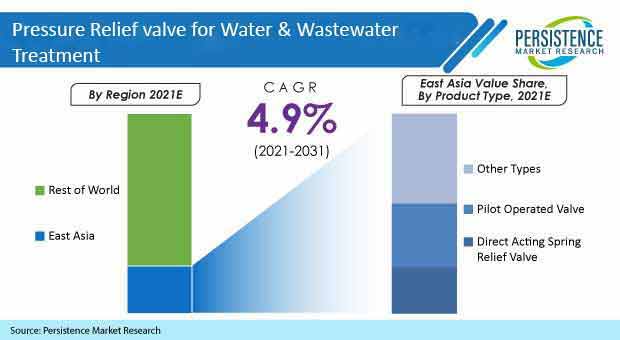 Region-wise Analysis
North America holds the largest market share due to the US subject to operation of 16K+ wastewater treatment plants, that too, at close to 80% of the entire design capacity. MEA is known for water scarcity. Research states that Kuwait has maximum dependency on water worldwide. Middle East Economic Digest states that nearly US$ 80 Bn-worth of water as well as wastewater projects are being planned/in the pipeline by the members of GCC. This would, by all means, let cashflow into the market, thereby accelerating it. The Asia-Pacific is expected to grow at the highest rate in pressure relief valves for water and wastewater treatment market due to increasing awareness about importance of wastewater treatment.
Competitive Edges
The key players in the pressure relief valves for water and wastewater treatment market include:
Emerson Electric Co., Watts Water technologies, Inc., Weir Group Plc, Alfa Laval Corporate AB, Curtiss-Wright Corp., CIRCOR International, Inc., Baker Hughes, IMI plc, Mercer Valve Co., Inc., Flow Safe, Inc., AGF Manufacturing, Inc., Mercury Manufacturing Co., and LESER GmbH & Co. KG.
GAIN COMPLETE ACCESS TO THE REPORT – https://www.persistencemarketresearch.com/checkout/32519
Coming to developments, Baker Hughes, in April 2020, did announce release of new-fangled patented 2900 Series Generation II Pilot-Operated Pressure Relief Valve (PRV). IMI plc, in September 2019, did acquire PBM Inc. for cash consideration worth US$ 95.9 Mn. Curtiss-Wright Corp., in April 2018, acquired Dresser-Rand's government business (Siemens Government Technology's business unit). Weir Group, in March 2017, did acquire KOP Surface Products (the one providing advanced pressure control wellhead services and systems).