Sales experience startup Walnut, shortly after announcing its $35M Series B funding round, is announcing a significant update for its sales platform to provide "the best way to scale personalized buyer experiences." The platform, Walnut for teams, comes with new features that both improve the speed of creating personalized sales demos and help sales teams perform better.
"We are releasing a new version of our platform to help all your stellar sellers take their selling skills to unprecedented levels,"
Walnut wrote in a statement announcing the release of the enhanced platform.
Improved sales team performance
Walnut for teams offers three new features that focus on making sales teams more efficient, collaborative, and successful. These tools enable teammates to benefit from each other's performances and smoothly work together to optimize their sales process.
The first new feature is the Demo Customization Wizard, which improves the foundations of the previous Walnut sales platform. The Wizard is a brand-new feature that promises a noticeable improvement in the way sales teams or reps create their product demos. For one, it allows anyone in the sales team to personalize each product demo in just seconds.
This rapid production of sales demos is made possible by the ability to create templates, in which multiple image and text "variables" can be set for sales reps to define later on. The templates can be instantly personalized by the sales reps according to the information of the prospect they are presenting to. They only need to fill out a form with the prospect's details, and the "variables" are automagically customized.
The new Walnut for teams also offers a Demo Library, which teams can pack with walkthroughs grouped by specific market segments and for different points in the potential customer's journey during the sales process. All of these are designed to accelerate tasks for the sales team, even for those who are not yet that experienced to know the most efficient ways of doing things.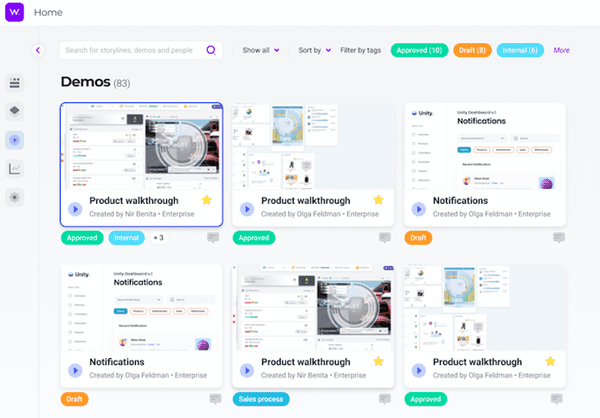 The Demo Library allows the sales team to come up with a catalog of demos with the proper labels and categorization to facilitate organized sales campaigns. Instead of going through all the collection of demos to find an appropriate one for a particular prospect or creating a new one from scratch, sales reps can use relevant keywords and examine the stage in the sales funnel to find a good demo to use. The demo customization feature can then be applied to match a specific prospect at the exact point or stage in the sales journey.
Lastly, the new Walnut for teams provides a new generation of demo analytics, something that is customer-centric and focused on understanding prospects better to optimize personalization. It presents a more robust dashboard that shows more insights. In addition to the usual stats and data, the dashboard generates useful metrics that enable sales teams to enhance their demos and close more sales.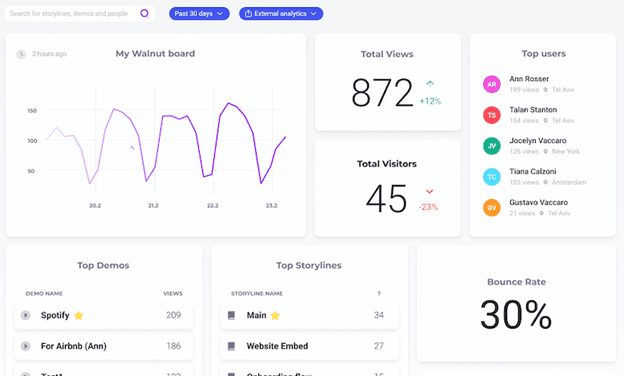 These metrics provide sales teams with quantified insights into their performance across industries. Additionally, there are actionable tips displayed to help teams with good starting points on how to address weaknesses in their demos or how to make them better.
Moreover, as a nod to the aim of making sales teams work better, the new Walnut dashboard allows the viewing of the performance of team members. This helps in finding a good model for success. Teammates can learn from what their fellow team members are doing to attain better results. There is no competition, but a collaborative effort to advance the entire team's goal to succeed.
Ensuring sales team efficiency and better customer experiences
Walnut for teams is ultimately designed to generate more sales for businesses by boosting the efficiency of sales teams and the success rate of sales campaigns. However, it does this with a customer-centric approach. It provides a way to help B2B sellers create customer-centric sales experiences that result in a win-win situation for sellers and buyers.
"We want your sales team to get to the point quickly when talking to their customers, provide real value from the start, and optimize the whole sales process to move faster,"
Walnut said in a statement.
Nobody is short-changed in the process. Businesses get to rapidly present appropriately personalized product demos to customers without deceptive tactics or needless elements. Correspondingly, customers get everything they need to know from the product demos in tailor-made direct-to-the-point product experiences that focus on the specific value for their needs. Both parties get to avoid wasting any of their time.
It is also worth pointing out that Walnut for teams retains its "codeless" nature, which was already present in the previous platform. Nobody needs to learn how to code to use this platform. Anyone in the sales team can easily learn how to use the dashboard and start producing customized and interactive product demos. There are also no special software to install and unfamiliar interfaces to get acquainted with.
Emphasis on teams
Walnut for teams provides enhanced sales demo customization features that are sure to accelerate the process of producing personalized customer experiences. The most notable upgrade in this new version, however, is how the platform is designed to motivate cooperation within sales teams. It allows team members to view the performance of top-performing sales reps and learn from them and benchmark outcomes to encourage everyone in the team to do better.