Vital Technologies, with its serious nature of exploring and fighting the effects of alcohol consumption, has done an extensive research before the launch of CUUR®. CUUR is the culmination of nearly a decade long study and research into the subject. The study also included 27 different human trials, which translates into thousands of subjects. The trials were done mainly in the USA and Israel.
With a 1.3 trillion Dollar market, alcohol beverage sector is one of  the largest in the world. From the very cheap to the ultra expensive, these intoxicating drinks are sold around the world. Part of different cultures and religious rituals, moderate level consumption can cause one to be tipsy and a bit heavy drinking can lead to side effects such as headaches and hangovers.
Why the Side Effects?
Alcohol is consumed  by a large global population and affects the human body in some unique ways. Alcohol's effects in both long term and short term have been studied in detail by a number of medical organizations. Although the best way to counter long term effects is to reduce, or completely stop, consumption, there has been no method known to counter the short term effects.
Short term effects start in only a few minutes of taking an alcoholic beverage and can last well into the next day. These include:
Loss of balance.

Slurred speech.

Mental abilities degradation.

Short term memory loss.

Vomiting.

Headache and other.
The most dreaded of all side effects, however, is probably the hangover that people experience the next day after a night of heavy drinking.
The Hangover CUUR
Until recently, there had been no serious research into countering the short term effects of alcohol consumption anywhere in the world. Vital Technologies, a supplement startup is set on a path to change this.
The company has announced its innovative product, CUUR. This is a well researched product that is designed and tuned to counter the effects of alcohol drinking. The product is not mumbo jumbo of tales and other unfounded tips that people mostly rely on getting over the effects of drinking. A well researched and scientific product, CUUR contains ingredients such as naturally occurring aspirin, turmeric, ginger and quercetin. The use of CUUR helps people in issues such as:
Headache.

Nausea.

Dizziness

Stomach pains etc.
Consumer Friendly
The research into CUUR revealed something that most other companies had always overlooked. A lot of plants and roots have shown that they can effectively fight symptoms of alcohol, but their taste in itself is very off. CEO of Vital Technologies, Amir Barzilay has this to say about it,
"Botanicals, vitamins, and minerals are mostly foul-tasting and unpalatable, even at low dosing levels. That's why most of the supplements consumers are familiar with, come in capsules, tablets, and soft gels. The problem is that an effective formulation to combat and prevent post-alcohol symptoms requires dozens of pills in one sitting, something no consumer can comply with. Our CUUR® solution gives all this to you in one single, tasty functional beverage which also amplifies the bioavailability of these powerful natural actives."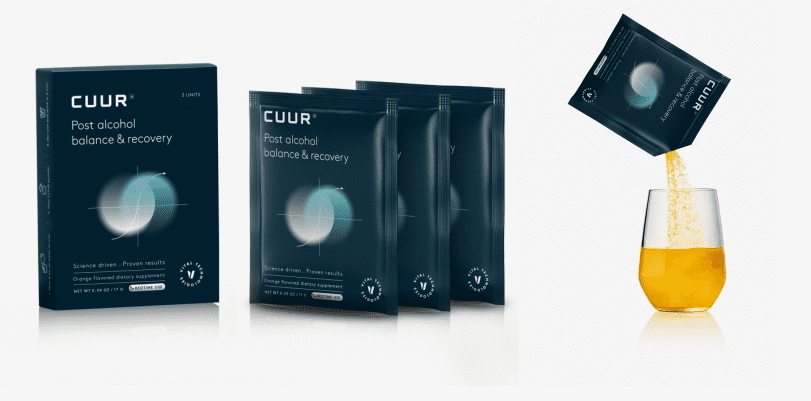 CUUR is typically taken within 60 minutes of the last drink. The formulation and the detoxing ingredients not only help clean the body and counter the effects of alcohol, but also promote and enhance the quality of sleep. Not only is the body cleansed but also a night of sound sleep means the morning is as good as if the consumer never had a drinking session.
CUUR Success
Vital Technologies' CUUR has shown positive results. The company has been able to secure USD 8 million in funding from different private investors from USA and Israel. The funding has gone into research and development, production and marketing of CUUR. CUUR is available for USD 19.95 for a three pack and is available on its website and Amazon. The flavored beverage can be simply mixed in a glass of water to create a tasty drink to take care of the hangover and other alcohol symptoms.
Vital Technologies also has plans to launch a variant of CUUR. This variant, called CUUR Daytime Recovery, will be formulated so that people who have had a heavy drinking session during the day (between noon and early evening, such as happy hour) can use it, without the need to sleep it off. Since the user will be active during the day, the product will offer a few hours of boost in metabolism, focus and energy.
About Vital Technologies
Vital Technologies is a supplement startup that researches into and produces products that are designed for the modern person, who undergoes a lot of stress and different psychological scenarios, typical of today's lifestyle and work environment. The company manufactures CUUR, its star product in a pharmaceutical grade, GMP level facility. The facility and the company are registered with American Food and Drug Administration, complying with the highest of standards that pharmaceuticals are subject to.
For more information about CUUR, visit the website: https://cuur.com/