With advanced technology, Blu-rays become popular alternatives to DVDs. Blu-ray discs can not only store much more data, but most of them also offer 1080 HD quality videos, and some can even provide 4K Ultra HD movies. Therefore, watching Blu-rays can be really enjoyable. However, preparation for watching Blu-rays may not be that easy. Apart from the Blu-ray disc and the computer, you also need a Blu-ray drive and a player that supports playing Blu-rays. Dealing with this task can cost much effort. Therefore, ripping Blu-rays to digital can be a good solution to it.
To rip Blu-rays to digital formats, you need a reliable tool to help you. In this post, we'd like to recommend you the best Blu-ray ripper: VideoByte BD-DVD Ripper. With this software, you can convert your Blu-ray discs to common-used digital formats and watch Blu-rays on all your devices.
VideoByte BD-DVD Ripper: Know What It Can Do
VideoByte BD-DVD Ripper focuses on converting Blu-rays and DVDs into digital formats for flexible watching. You can convert your favorite Blu-ray movies to digital formats with this tool, and watch them on your TV, phone, etc. Besides, if you have other common DVDs to convert, VideoByte BD-DVD Ripper also supports ripping DVDs to digital format like MP4. Then, let's see what features it boasts.
Key Features:
300+ Output Formats Available
The more formats the Blu-ray ripper supports, the more devices can be used to play converted Blu-ray movies. VideoByte BD-DVD Ripper notices it, and you can rip Blu-rays to more than 300 formats with it! An astonishing number, isn't it? With VideoByte BD-DVD Ripper, you don't need to worry about format compatibility anymore.
Output Video Quality up to 4K
One advantage of Blu-rays is the high-quality video. Therefore, to rip Blu-rays to digital, you need to pay attention to the quality of the ripped digital movie. VideoByte also performs well in this aspect, for it not only supports 1080p HD videos, but also can preserve movie quality to 4K. You have no need to worry about the quality of converted Blu-rays with VideoByte BD-DVD Ripper.
Allow to Adjust Subtitles and Audio Tracks
VideoByte BD-DVD Ripper can keep all audio tracks and subtitles in the original Blu-rays, and you can choose whichever one to be converted with the video. Besides, if needed, you can even add external subtitles and audio tracks on your own.
Provide Flexible Parameter Settings
If you are a big fan of Blu-rays or digital videos, you may have some other requirements on the parameters. VideoByte BD-DVD Ripper also allows you to adjust the settings freely. Parameters like resolution, aspect ratio, bitrate, frame rate, video encoder, etc. can be reset. Of course, you can choose the default settings if you don't want to be bothered to set them.
Support Basic Editing Function
To improve your watching experience, you may need some basic editing features to deal with your Blu-ray videos. Fortunately, VideoByte BD-DVD Ripper allows you to do so. With it, you can cut, crop, rotate, merge, adjust effect, add a filter and add your own watermark. Therefore, you can make personalized videos.
VideoByte BD-DVD Ripper: Steps to Use It
In this part, we will offer you a simple guide on how to rip Blu-ray to digital with VideoByte BD-DVD Ripper.
Step 1. Load Blu-ray Movie Disc
Connect your Blu-ray drive to your computer and insert the Blu-ray disc for preparation. Launch VideoByte BD-DVD Ripper you've downloaded. On the top left of the main interface, click "Load Blu-ray > Load Blu-ray Disc".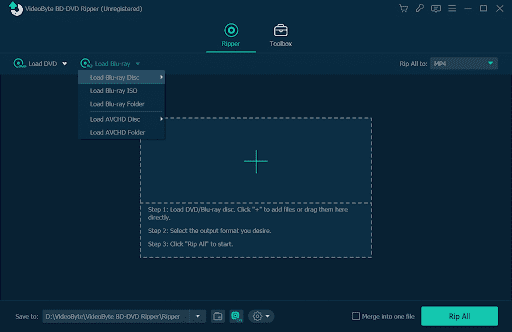 Step 2. Choose Blu-ray to Rip
When VideoByte BD-DVD Ripper loads the videos on the Blu-ray disc, it will select the main movie for ripping by default. You just need to click "Full Movie List" to select the videos you want to convert with the audio track and subtitle you need.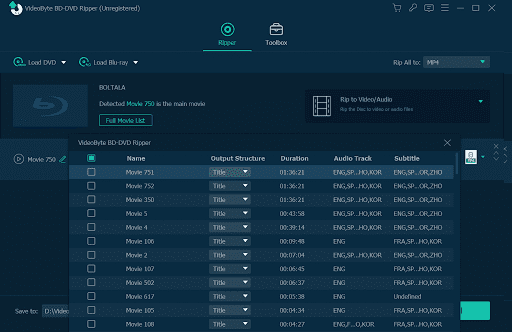 Step 3. Select Output Format
Go to the "Rip All to" menu and choose the output format. Formats like MP4, MKV, and AVI are commonly used, and you can choose any of them. Quality is also available to set here.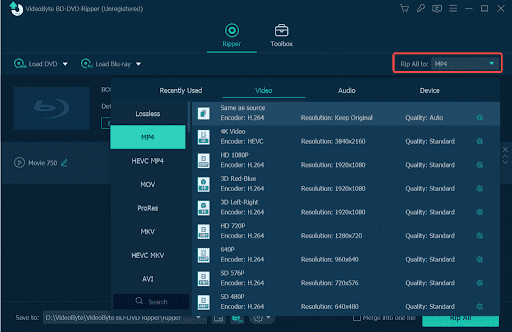 Step 4. Rip Blu-ray to Digital Format
Go back to the main screen, and you can begin to edit the Blu-ray.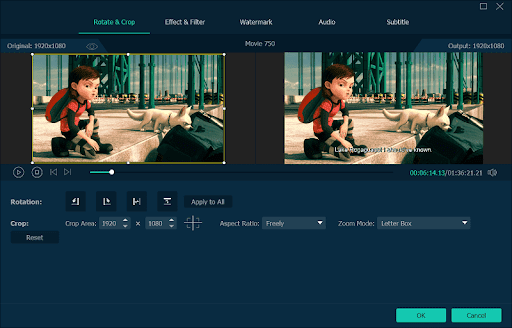 Step 5. Start Converting Blu-ray
Finally, click the "Rip All" button on the bottom right to begin the conversion of the Blu-ray disc.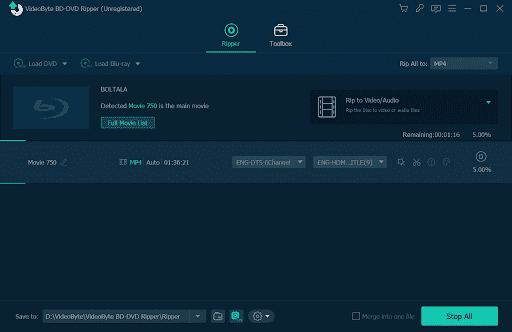 Conclusion
For Blu-ray users, VideoByte BD-DVD Ripper is the best Blu-ray ripper for you to rip Blu-ray to digital with high video and audio quality. If you need to convert your Blu-ray discs, be at ease to try VideoByte BD-DVD Ripper. It will never let you down!