The ventilation equipment market is driven by technological advancements in evaporative cooling, fan technology, and controlling. In all, efficiency, usability, and effectiveness of ventilation equipment gets upgraded. On these grounds, Komfovent upgraded its Domekt R 450 V. This second generation ventilation system emphasizes on aerodynamic shape sensors, rotor speed control, energy class, controller, and likewise. Persistence Market Research has entailed the facts with insights in its latest market study entitled "Ventilation Equipment Market".
Ventilation Equipment Market Categorization
The global ventilation equipment market, by product, spans recovery ventilation systems, axial & centrifugal fans, and air filters. BY application, it's industrial, residential, and commercial. Out of these, recovery ventilation systems hold the largest market share as they do exchange energy that's contained in conditioned space's or building's exhausted air, that too, while treating incoming outdoor air into the fine quality indoor ventilation air. Axial and centrifugal systems are good, but need higher maintenance. Besides, commercial sector rules the roost. Persistence Market Research has mentioned about these facts with insights in its latest market study entitled "Ventilation Equipment Market".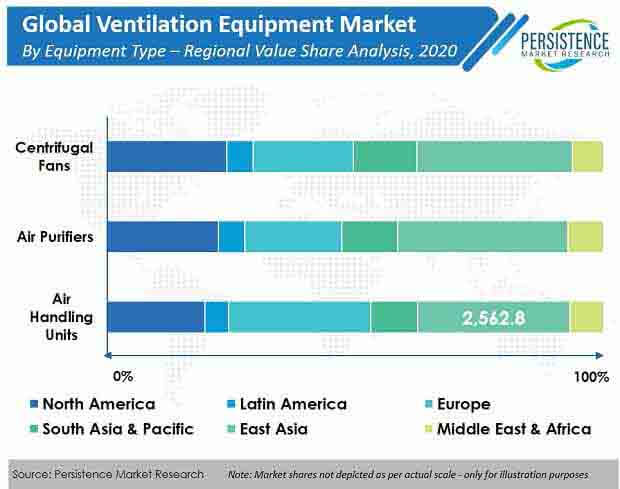 Region-wise Analysis
North America holds a progressive market share due to growing demand for indoor (residential) air quality systems. This could be attributed to harsh climatic conditions like hailstorms, heavy snowfall, hurricanes, and likewise. Europe is expected to grow on the moderate count due to need for integration of modern amenities like humidity control in European commercial spaces and houses.
The Asia-Pacific is expected to grow inadvertently in the ventilation equipment market due to speedy modernization of residential and commercial construction projects. LATAM and MEA are also expected to pick up pace with industrialization catching up. Persistence Market Research has mentioned about these developments with future courses of action in its latest market study entitled "Ventilation Equipment Market".
Competitive Ventilation
Persistence Market research has profiled the key players in ventilation equipment market as Envirovent Ltd., Manrose Manufacturing Ltd., Stamm International Corporation, Zibo Lihua Ventilation Equipment Co. Ltd., VES Andover Ltd., Daikin Industries, Ltd., Lennox International Inc., Takasago Thermal Engineering Co. Ltd., Systemair AB, Greenheck Fan Corporation, Air System Components Inc., Gree Elecctric Appliances Inc., Nuaire,, CECO Environmental Corp., Crompton Greaves Consumer Electricals Ltd., Kruger Ventilation Industries Pte Ltd., Airflow Developments Ltd., Maico Elektroapparate-Fabrik GmbH, Schaefer Ventilation Equipment, and likewise.
Persistence Market Research has also gone ahead with mentioning about the latest developments on this part. For instance – Midea Group, in April 2021, did represent a series of numerous new-fangled series of high-efficiency precision cabinet-type industrial precision fan coil units at CRH-2021 (China Refrigeration and Heating 21). Komfovent, in February 2021, did launch a novel VERSO CF 5000 V air handling unit under the brand name "VERSO standard series".
GAIN COMPLETE ACCESS TO THE REPORT – https://www.persistencemarketresearch.com/checkout/16330
It's a compact unit containing vertical duct connection helping in effective utilization of space. Greenheck, in April 2021, did table a new model known as RV-10. It's amongst the rooftop ventilation unit line for partial recirculation and 100% outside air systems. Johnson Controls, in October 2020, did launch KOCH DuraMAX series of air filters for providing appropriate performance, that too, with extended life cycles.
The Future
The global ventilation equipment market is bound to grow on a stupendous note in the next 10 years – Persistence Market Research