VDollar is a cryptocurrency exchange offering clients from around the world crypto to crypto trading pairs for a variety of digital assets. The exchange was founded in 2021 with the goal of providing users from around the globe with professional cryptocurrency asset management solutions. The exchange is owned and operated by a US company known as VDollar Exchange Ltd.
VDollar has made its debut as a unique cryptocurrency contracts exchange under the name VDollar.io which is operated by VDollar Exchange Ltd. VDollar's headquarter is in Colorado, USA. The company has successfully achieved legal status by registering as an MSB (Money Services Business) as per current rules and regulations laid down by the US Financial Crimes Enforcement Network (FinCEN). The company is prepared to maintain its presence in three sectors of business as follows;
A digital currency exchange dubbed VDollar.io: Vdollar.io is an inclusive and international exchange platform where one can find margin, OTC, coin-margined swaps, and USDT-margined swaps.

A cryptocurrency wallet, VDollarwallet.com: This one is an upgraded ultra-security crypto wallet which is nothing like the traditional alternatives out there. It offers seamless deposits, transfers, and withdrawals for users.

New trading mining functionality, VDollar.org: This unique mechanism is a unique feat of vdollar.org where users can take advantage of VDollar's URP i.e., USDT Reserve Pool.
Note: All 100% of the transaction fee handled by VDollar is put into this pool to issue it back during IPO.
Trading at VDollar Crypto Exchange
VDollar exchange supports a simple user interface, suits both newbies and experts, has an easy-to-navigate website that is divided into various sections like an exchange, OTC, Swaps, Margin, and Trading Mine.
As mentioned above, the VDollar ecosystem has three components: digital currency exchange, digital currency wallet, and its unique trade mining system. But there is one more significant aspect of VDollar and that is its derivative, crypto contracts trading.
Crypto contracts trading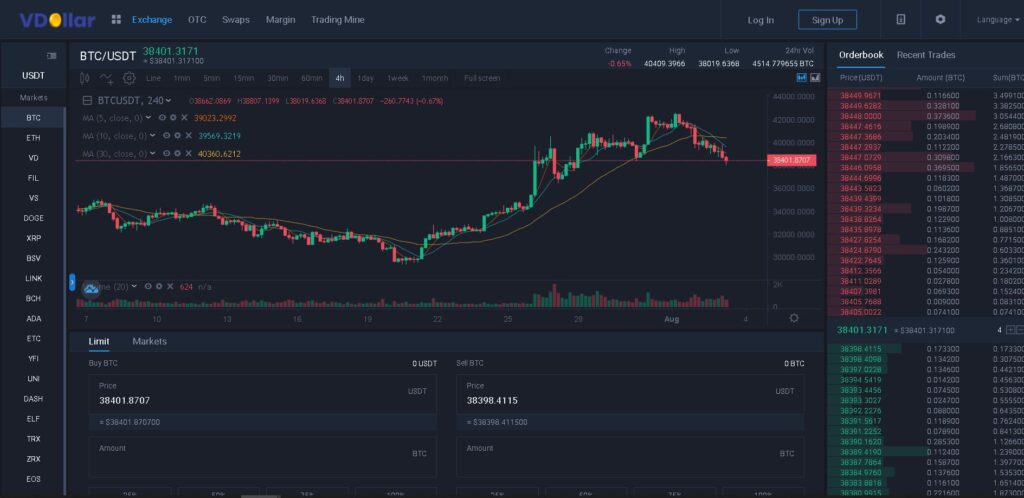 In this environment, crypto enthusiasts can find up to 18 USDT-settled contracts on several cryptocurrencies. When it comes to the interface and design of VDollar's crypto contracts trading section, it is both classic yet intuitive to handle traders of varying proficiency.
Vdollar Swap
Vdollar swap system works like any other swap which allows people to buy or sell contracts with Bitcoin and Ethereum serving as underlying assets. Tether is the settlement asset chosen for this system.
Over-the-counter desk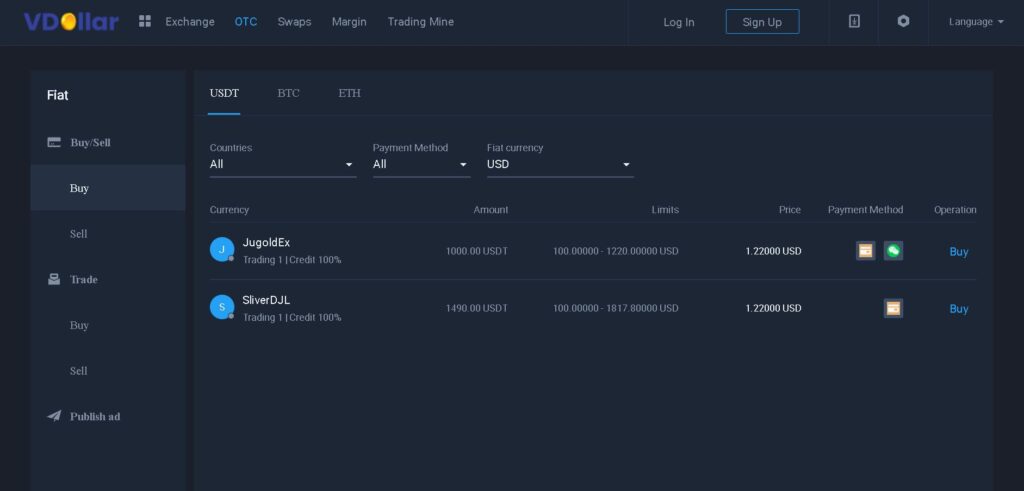 Cryptocurrency traders who prefer exchanging without an orderbook require a reliable OTC desk and one of the three derivatives of VDollar projects is such an OTC desk. It can be accessed through the main page by BTC, ETH, and USDT owners.
Like many other cryptocurrency exchanges, VDollar features their very own proprietary web-based trading platform. The exchange platform is very nice and simple with an intuitively designed interface that is easy to use and understand. Also, the platform incorporates some advanced tools and features such as the following technical analysis indicators; MACD, KDJ, RSI, CCI. Also, the exchange platform incorporated a market depth window below the chart and a volume window below the order windows. The placement of all features feels right and is well thought out. While the platform has some advanced tools, features, and technical indicators, there are not any tools for charting analysis such as drawing tools and other technical analysis methods. However, the exchange platform is fairly advanced overall, which is good for experienced traders and it's simple enough for beginner traders as well.
VDollar Fees
The costs of trading at LBank are relatively low, especially in comparison with other leading cryptocurrency exchanges. Both the maker and taker fees are grouped together in a flat fee of 0.10% per trade. This is very low considering most leading exchanges charge at least 0.20% – 0.25% per trade. As for deposits and withdrawals, deposits are free from any fees, but withdrawals incur a fee that varies from crypto to crypto.
Exchange/Margin Transaction fee rates:
Swaps transaction fee rates:
​​​​​​​Makers 0.06%

Takers 0.04%
Is it better than $BNB?
VDollar challenges other market-leading platforms, especially Binance, with a self-serving mechanism wherein trading on the platform will support its native token's value. This not only means that a healthy trading ecosystem will translate into higher returns for users but also will protect the crypto from market downtrends.
| | | |
| --- | --- | --- |
| Platform token | VDollar | BNB |
| Issuance Cap | 10 Million | 200 Million |
| 100% of the transaction fee support platform token | Yes | No |
| Diminishing output | Yes | No |
| Transparent % Verifiable | Yes | No |
What Cryptocurrencies and Fiats are supported at VDollar Exchange?
Cryptocurrencies Supported: BTC, ETH, VD, FIL, DOGE, XRP, BSV, ZRX, DASH, EOS, ZIL, LTC, LINK, BCH, ADA, ETC, YFI, UNI, ELF, TRX, ZRX, SNT, OMG, and HT
Fiat Supported: EUR, USD, CNY, HKD, KRW, etc.
To Start Trading With VDOLLAR First Have To Sign Up For An Account By Following The Steps Below.
Step 1. Click On The "Login/Signup" Link On The Top Right Hand Corner Of The Vdollar Website.
Step 2. In The Form, Fill In Your First Name, Last Name, Mobile Number, Email ID And Password.
Step 3. If You Have A Referral Code, Enter The Code While Creating Your Account.
Step 4.Mark Tick On I Have Read And Agreed Vdollar Terms Of Services
Step 5. Submit The Form And Wait For An Activation Email To Be Sent To You.
Step 6. Click On The "Confirm Email" Link In The Activation Email.
Step 7. After Your Account Is Activated, You'll Be Sent A 6 Digit One Time Password (OTP), Which You Have To Enter After Logging Into Your VDOLLAR Account.
VDOLLAR Main Features:
New Trading Mining:100% Of The Transaction Fees Are Put Into The USDT Reserve Pool.
USDT Reserve Pool: On-Chain Address Is Published Transparent & Verifiable.
Perpetual Motion Machine: Issuance Cap Is 10 Million. For The First Issuance, A VDollar Will Be Mined For Every 1USDT Of Transaction Fee Conversion.Every Phase Is Halved.
Super Representative Generation Mechanism:Super Representatives Are Elected By Voting, With 32 Seats, Never Increasing.Users Can Also Send In Applications To Become Super Representatives, By Acknowledging That They Have A Sufficient User Base
Availability Of Own VDOLLAR Exchange Token. Which Can Be Obtained For Registration And Active Trading. With This Token, You Can Pay Commissions, As Well As Receive Additional Income From Listings On The Exchange Of New Coins.
Very Easy For Setup
Friendly And Concise User Interface, Yet Convenient To Input Your Commands. Users Can Register An Account In 30 Seconds And Trade With As Little As 5 USDT. VDOLLAR Supports Both Mainstream Cryptocurrency And OTC.
Mobile App
Just Like The Desktop Version, The Mobile App Is Also Easy To Use. The Fact That This Organization Has Managed To Get Multiple Licenses Radiates Confidence And Security, Which Is One Of The Most Important Requirements When Using An Exchange.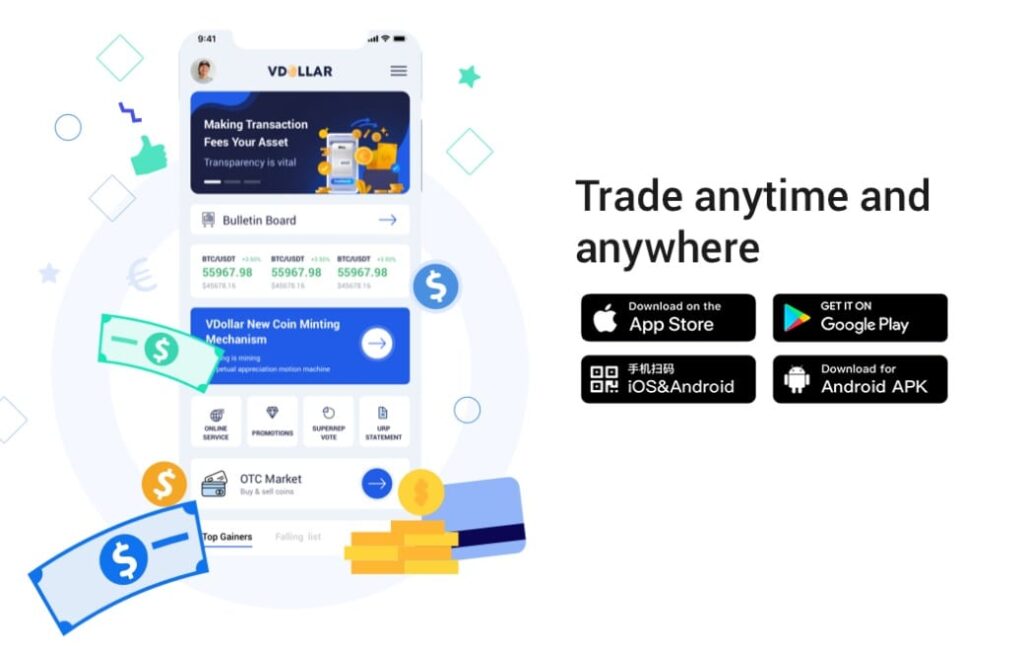 Very Fast Exchange System
VDOLLAR Exchange Has The Fastest Trading Engine In The Industry, Matching 1 Million Transactions Per Second. Users Can Flexibly Choose From 20x To 100x Leverage.