Recently, the blockchain powered digital advertising company Varanida, won the "Most innovative use of blockchain in consumer rewards schemes 2018" during the Blockchain Expo Europe in Amsterdam. Varanida is a decentralized digital platform, bringing to the market, a Fair & Transparent Digital Ecosystem with the goal of building a better Internet through a decentralized advertising and content solution.
With the growth and advancement of technology, the internet has become home to many people. Virtually all activities from reading, writing, networking, starting up and sustaining various businesses can be done online making use of a personal computer or a mobile phone. With this widespread use of the internet, web users are beginning to show interest as to knowing what service providers make out of their data, advertisers are gradually beginning to miss out on certain benefits, while publishers are finding it hard to generate more income. All of these and many more are pointers to the basic fact that a new internet era is needed. A new era where value is decentralized and everyone on the internet – the users, advertisers and publishers are all rewarded for their input and access to the internet. How is this new era possible? The possibility of this new era lies majorly on the use of Blockchain to carry out activities on the internet thus not only ensuring transparency, speed and efficiency, but also bringing about a decentralized operation that transforms positively the area of digital advertising.
Blockchain's Potential of Transformation
In recent times, more and more technological innovations have relied more on being powered by the blockchain to make its activities much more secured and effective. The internet is not left out. A classical example of blockchain's potential of being able to bring about a transformation to the world of digital advertising was clear when Brave sometimes last year was able to raise a whopping 36 million dollars in what is recorded as the fastest ICO time which was put at 24 seconds. This shows that more people are interested in the use of blockchain, and it has a very high potential to bring about the required transformation to digital advertising.
Understanding Varanida?
Having seen the hallmark recorded by Brave in its ICO which still regards it as the fastest ICO, one will begin to wonder whether Varanida looks to fashion its operation in line with that of Brave. The answer is NO. Varanida is a decentralized advertising and content solution project that aims at launching the world into the desired new era of advertising and content creation by building an internet ecosystem that is characterized by fairness, transparency, efficiency and assures utmost security for advertisers, publishers as well as daily users of the internet. To achieve this end, Varanida is going to work on the blockchain as an enabler that neutralizes all advertisements and contents created on the internet at a cheaper rate which is less than the 1% commission similar to what is obtainable with Google and Facebook. With this, a verified Ad Protocol is being created and forms the basis that allows users, publishers, and advertisers work. Varanida looks to decentralize value and as such make it available to users who are out to have control over what advertisement they view, publishers who come up with various contents and lastly advertisers for advertisements done.
Varanida's Working Team
With Anji Ismail leading the team as the CEO, and supported by Faouzi El Yagoubi and Thomas Schmider both of whom are the CTO and COO respectively, Varanida has at its working a team of collectively experienced individuals. These individuals prior to setting up Varanida have also collectively worked to build doz.com. This team of individuals is not just talented in their various fields, but they are also versatile, with experience from across the globe. They are supported by a team of advisors and investors all driven by the goal of a new internet that is fair and transparent, built on blockchain technology.
Is Varanida The Solution The Internet Needs?
Advertising remains the internet's most vital activities as it is virtually the pillar that keeps the internet running. However while a lot of money is constantly being invested in digital advertising, a very little percentage of the money invested translates to value both for the publishers themselves, and advertisers as well as the users. This devaluation, and intrusive advertisements have made web users lose interest in ads and are making use of ad blockers and every other means possible to prevent coming in contact with these intrusive ads.  Advertisers on the other end have been forced to adopt an attention-based model of revenue generation than an interactive one that allows them to engage with their prospects.
 Varanida seeks to develop a viable auditing system in line with a consumer insights platform that introduces an entirely new solution to the ecosystem. This solution is quite different from what is obtainable by Brave's Basic Attention Token that focuses more on the benefits users enjoy much more than publishers and advertisers. Varanida aims at ensuring all participants are duly rewarded for their efforts in the ecosystem.
The platform in a bid to achieve the new internet era characterized by fairness and transparency, integrates a civic identity management system, a fingerprint tracking system, an effective reputation system, a decentralized structure and many security and fraud detection systems.
The VAD Token and The Verified Ad Protocol
Initially, about 1 billion VAD [Verified Ad] Token will be released into the ecosystem. These VAD Tokens will be accessible and can be used by users, publishers and advertisers alike. Web users will be able to earn VAD Tokens by viewing ads they are interested in; advertisers can make use of the VAD Tokens to run ad campaigns online, while publishers can earn themselves VAD Tokens by creating rich contents and developing well designed and non-intrusive ads. When this is fully developed, a Verified Ad Protocol will be developed that operates fully on the blockchain. This Verified Ad Protocol will introduce new benefits to all the actors on the internet like voting consensus that allows for reviewing and other reward schemes, Sponsored Decentralized Applications, and a system that continually allows actors to build and develop within the framework.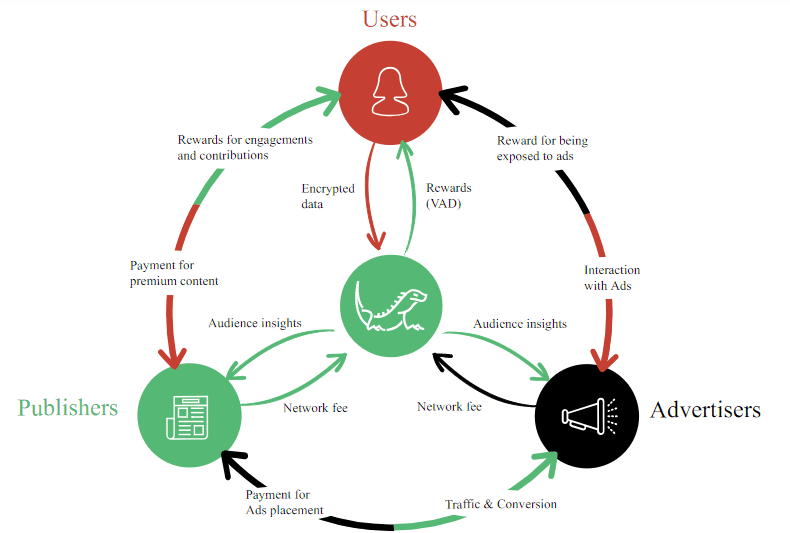 Varanida's dual token structure also differentiates between a store of value and a medium of exchange used to reward users and publishers, and carrying out other activities as well.
Varanida is no doubt the solution needed to create a new internet era that is beneficial to all actors, secures their privacy, and provides an ecosystem characterized by fairness and transparency. Varanida addresses issues of poorly designed and intrusive ads by validating all ads through a crowd-sourced vote; provides tools that make advertising much better; uses the blockchain to prevent fraud of any kind, and most importantly protects the interests of web users, publishers as well as advertisers.
Find out more on https://www.varanida.com/