Singapore, 16 July 2018 – Jupiter Chain, a Singapore-based data exchange platform, is set to change the way our data is handled, shared and monetized using blockchain technology.
A smart, consentable data exchange, Jupiter Chain allows for data exchanges to happen securely, protecting the privacy of an individual's personal information. Additionally, data owners, especially the underserved, will have greater control over their data, be able to access tailored services and be rewarded directly for their contributions.
Jupiter Chain will be launching its own digital currency, the Jupiter Token (JUPT), to be used within the platform. They will be initially issued as ERC20 tokens. At a later stage when the Jupiter chain is deployed, the ERC20 tokens will be swapped into the native tokens.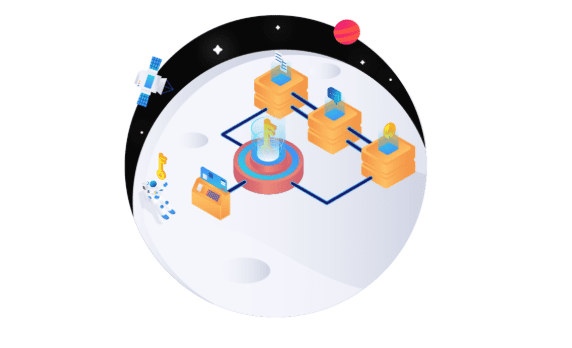 Giving Individuals Control of Their Own Data  
Recent data scandals have placed data privacy on the forefront of public debate. Goliaths in the tech industry have come under intense public and governmental scrutiny across the globe as these companies are held accountable for the misuse of their centralised authority to harvest user information. This example shows the bleak reality of the first of three overarching problems Jupiter Chain aims to solve:
Incumbents and large institutions own and control all data

– In many markets, it is not uncommon for a few incumbents and large institutions to monopolize a majority share of the market. The resulting negative outcomes from this phenomenon is two-fold: firstly, no one truly has ownership and control over her own data; and secondly, incumbents will make it difficult for competitive, inclusive solutions to thrive due to lack of direct access to the customers.
Data of the underserved is fragmented and disorganized –

Inadequate infrastructure and systems in individual identification continue to plague the underserved as they struggle to access to formal financial tools. Although microlenders exist to introduce credit to these people, many are still unreachable due to lack of accessible data. This results in either higher interest rates to balance the risks or more often, the proliferation of shadow lenders.
Traditional financial service providers assign low priority to this segment –

Stemming from the above reasons that deal with higher risk profiles and lower transactional value of microlending activities, larger financial service providers thus do not prioritize the needs of the underserved and lower-income segments. As such, financial products and services may not cater to the needs of these people and there may be low or no motivation to provide innovative, inclusive finance solutions that can truly help improve their lives.
Because participants can share data on Jupiter Chain anonymously, transactional and relationship data can be efficiently captured, analysed and utilized. Institutions, both large and small, can benefit by tailoring wealth management and investment products precisely to suit an individual. New 'tech for good' solutions can use psychometric and lifestyle data to provide new products and services that strive to promote better quality of life. Supply chain internets, previously invisible, can also be evaluated and studied for the first time.
Moreover, Jupiter Chain's infrastructure allows for the decentralized provision of financial and data services, such as machine learning and Artificial Intelligence (AI), to connect local ecosystems and ultimately scale the exchange of data over a marketplace. Because Jupiter Chain is a global network that connects local economies, it can also serve as a bridge between first and third world economies, reducing the gaps and creating an inclusive world.
While inclusive finance is the first use case leveraging on Jupiter Chain's existing ecosystem projects, its proposition can be applied to many other industries including health and medical records, social networks, credit data, AI and data analytics. Jupiter Chain will also create a fair playing field for data and technology services. Additionally, small innovative entrants can thrive against incumbents as they would be able to access the same data through the Jupiter Chain platform.
Furthermore, a federated blockchain model will help scale and secure Jupiter Chain. Local ecosystems will consist of nodes made up of partners like financial institutions, agencies, analytics companies and other service providers. Jupiter Chain's main-net facilitates the exchange of data and value across localities; while Jupiter Protocol enhances token flow and stability within the network.
Building Strategic Partnerships in the Blockchain Community
In its efforts to drive wider adoption of the Jupiter Chain platform and spread its presence and application in the blockchain community, Jupiter Chain has partnered up with several leaders within the blockchain industry. The first is Southeast Asian fintech company HelloGold to allow for interoperability of their respective tokens. The other is Blue Whale Foundation, which allows freelancers on their Network to improve their financial credit while securing their personal data through the Jupiter Chain platform.
Additionally, Jupiter Chain has also partnered with the GRE (Global Risk Exchange) Foundation, the world's first blockchain-based global risk exchange marketplace. This will allow for users to benefit from both the insurance access of GRE and data consenting functions in the Jupiter Chain application.
"Ultimately, our vision for the Jupiter Chain platform is to create a global marketplace for services and analytics that will foster all forms of innovation and make it accessible to everyone. With a stellar leadership team onboard, I am confident we will be able to achieve that," said Daphne Ng, CEO of Jupiter Chain.
About Jupiter Chain
Conceived by JEDTrade, the Jupiter Chain project is a Smart Consentable Data Exchange platform that aims to create a privacy preserving federated blockchain which enables the use of analytics. Data owners control their data and provide access to receive tailored financial services. For more information on the project, please go to jupiterchain.tech.
Facebook: https://www.facebook.com/jupiterchain/
Twitter: https://twitter.com/JupiterChain
Medium: https://medium.com/jupiterchain
Linkedin: https://www.linkedin.com/company/jupiterchain/
Youtube: https://www.youtube.com/channel/UClHfG45Vy7iFcOaouqY4FSQ
Telegram: https://t.me/jupiterchain