These days, the Internet is flooded with various media resources that improve our lives and broaden our perspectives. Viewing different videos we like on sites like YouTube, Facebook, Twitter, and more is handy. Watching films online while relaxing is a fantastic idea too. However, reliable Internet access cannot be guaranteed. You will need specific converters to watch videos anywhere and whenever you want. This article will show you some trustworthy desktop and online URLs to MP4 converters, along with their key features, benefits, and functions.
It would be best to use third-party software with quick download speeds to download MP4 from the URL. You may easily modify, play, and share URLs to MP4 files for your personal and professional requirements by following the instructions in this article.
Legal and moral ramifications of converting a URL to an MP4
Understanding the ethical and legal ramifications of downloading YouTube videos is crucial before you go on a URL to MP4 conversion binge. Some videos have copyright protection; therefore, downloading them without authorization may violate the creators' rights. Hence, before continuing, you must confirm that you can download the information.
This implies that users must request permission from the original content owners before downloading to convert the URL to MP4. Two options are reaching out to them directly or checking for licensing information in the video description that might offer such permits. Likewise, videos that expressly prohibit copying or broadcasting without permission should not be converted.
Additionally, it's essential to exercise caution and only utilize trusted URLs to MP4 services when working with online converter tools because some websites may include malicious software or invasive adverts that could jeopardize the security of your device.
Convert to MP4, compress, and enjoy videos with the ultimate video converter: Wondershare UniConverter 15
With Wondershare UniConverter 15, you get a lightning-quick video converter with 1000+ file formats. With powerful hardware GPU acceleration, it enables quicker video conversion. Additionally, it is a unique tool that supports video codecs, including AV1 and VP9. It holds the top spot for AV1 full-process GPU acceleration.
By downloading UniConverter, you get the most incredible all-in-one solution for handling multimedia files, supported with 20+ lightweight features. With its outstanding features, you can now cut and edit films, use Watermark Remover, and add hardcoded subtitles as the conversion process is being carried out, all inside a conveniently streamlined interface that makes the conversion process simple and uncomplicated. Wondershare UniConverter 15 is setting new benchmark for video conversion!
However, UniConverter's URL to MP4 Converter stands out the most due to its close device compatibility. It converts URLs from YouTube, Facebook, Twitter, Vimeo, and more than a thousand more Internet-sharing sites to MP4 at a speed that is 90X faster.
The feature that makes this software stand out the most is its file converter, which supports both Mac and Windows operating systems and makes it easier to perform tasks like Batch processing, screen recording, fixing metadata, converting videos to MP4 or MP3, video transfer, and DVD burning. For a better experience, you may also upgrade to the premium version to remove all the restrictions.
Are you considering converting a URL to MP4? It may seem challenging, but don't worry—we've got this covered! To watch your favorite films offline, follow these easy steps to convert a URL to MP4!
Step 1: Open Wondershare UniConverter on any of your devices after downloading it for free.
Step 2: Run UniConverter, then select the Home tab to access Downloader.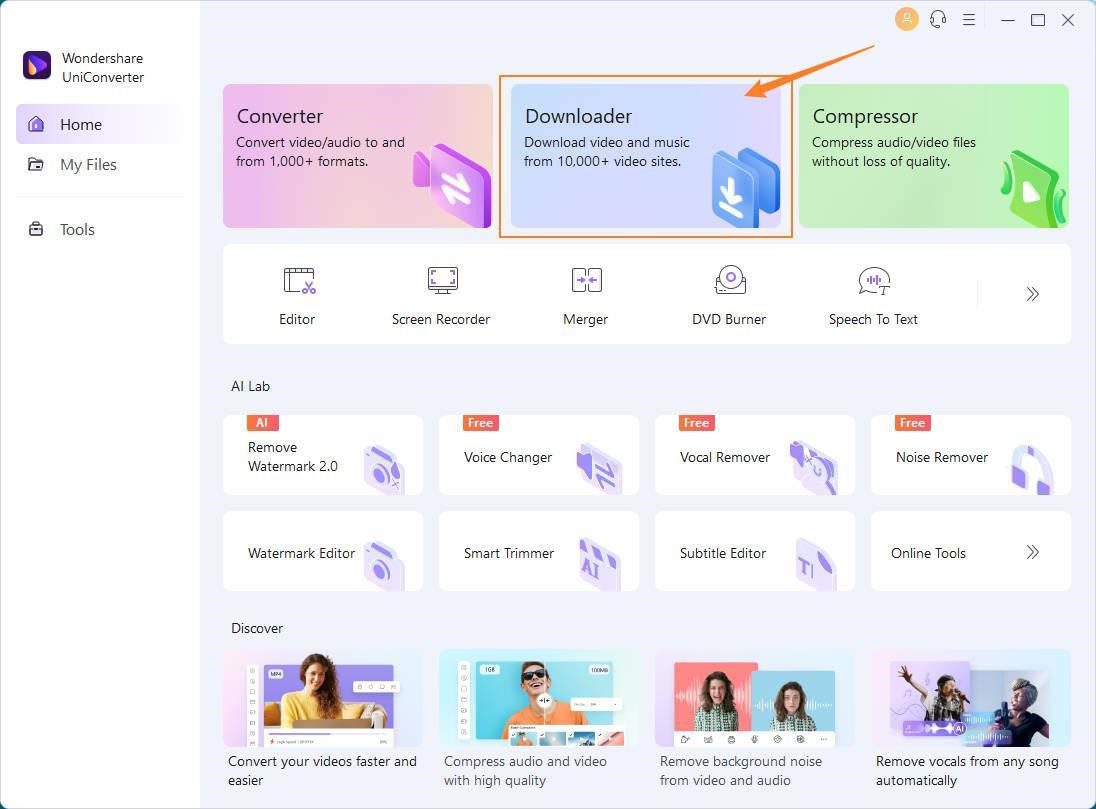 Step 3: Navigate to the internet video you wish to convert to an MP4 file and copy its URL. After copying, begin your analysis. UniConverter will start downloading and calculating AI.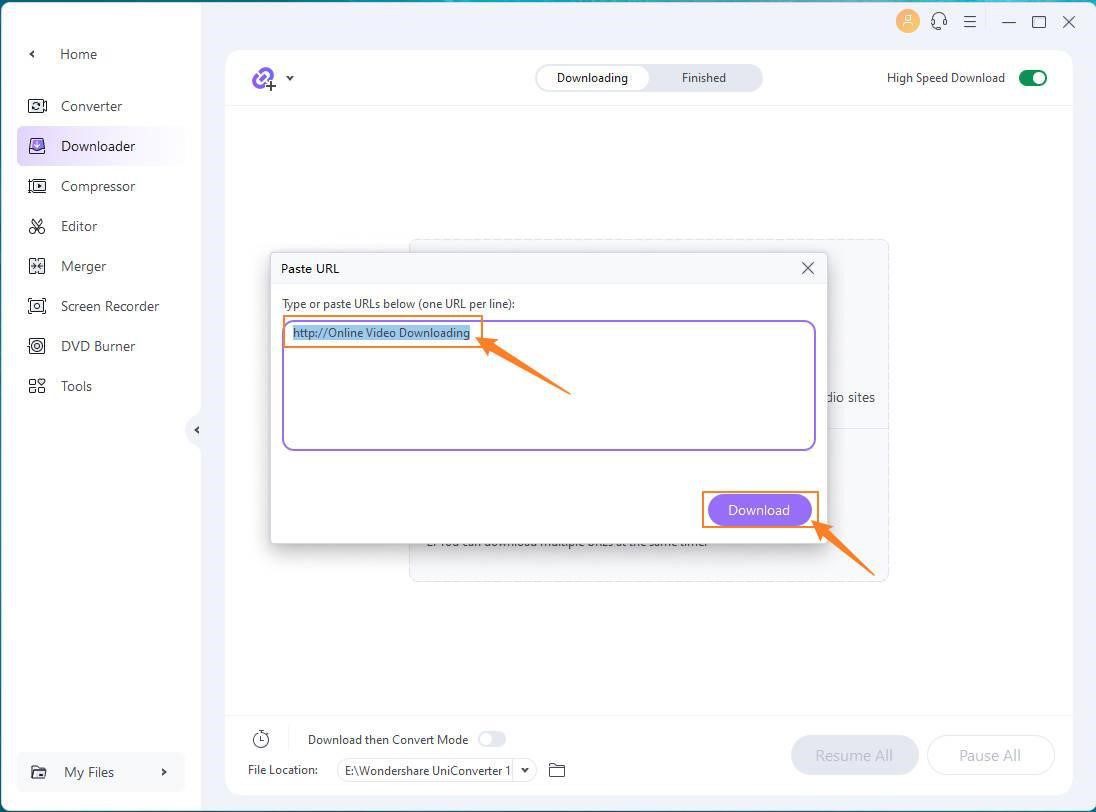 Step 4: The conversion from URL to MP4 will be complete in seconds. Your preferred video can be found on the Finished tab once everything is finished. You may now play it offline on your Mac or Windows PC whenever you want.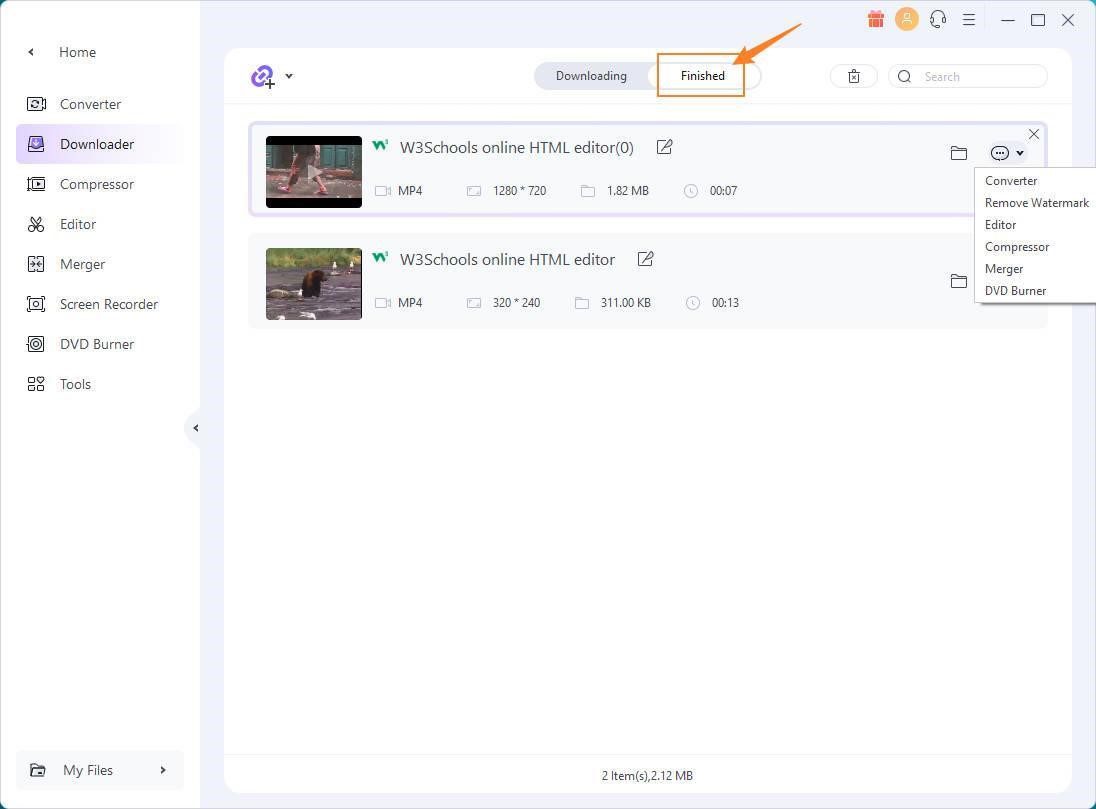 UniConverter is made to convert URLs to MP4 from more than 1,000 well-known websites, including Twitter, Instagram, Dailymotion, YouTube, and Vimeo. The URL can be used to download an internet video. It downloads high-quality videos without any limitations and doesn't have any adverts. You have found exactly what you were looking for here!
Alternative URL to MP4 Converters You Should Know
URL to MP4 converter solutions that allow us to download and convert URLs to MP4 video are multiplying due to the quick development of web technology. Without jeopardizing the safety or privacy of your computer, we've uncovered several fantastic methods for converting your preferred videos into MP4 files! You may learn about some of the top free options in this article for downloading videos rapidly.
The finest alternative for you is Wondershare UniConverter URL to MP4 video converter if you're looking for one of the top features for Windows and Mac. MKV, MP4, MOV, MP3, and MPEG are just a few of the 35 video formats that its program can handle. There are over 150 pre-configured device profiles, which is handy if you need clarification on your required format. With its other fantastic editing capabilities, Wondershare can handle 4K video conversions.
The free Online-Converter application is another option. It can convert from more than 50 source formats, such as MPEG-2 to MP4, MKV to MP4, AVI to MP4, MOV to MP4, 3GP to MP4, FLV to MP4, and many more.
Or, even better, use the Zamzar URL converter to MP4, which converts files in about 10 minutes and handles more than 1200 file formats. Get this risk-free, acceptable tool to make a difference!
One such free program that is incredibly simple to use and doesn't require any form of registration is Convertio. You can add files from a PC, Google Drive, Dropbox, or URL to Convertio for conversion. Without downloading the program, you can resize, flip, rotate, adjust your video's quality and audio volume, and convert it to MP4.
FAQs
Q.1 Can UniConverter batch convert URLs to MP4 videos?
With unlimited high-speed conversions and unrestricted screen recorder, Downloader, and disc burner usage, Wondershare UniConverter can Batch-convert URLs to MP4 files without quantity restrictions.
Q.2 Can I further edit videos converted in UniConverter after conversion?
Yes, this software offers a variety of additional editing choices after MP4 conversion, including cropping, rotating, adding or removing vocals, adding subtitles, and adding watermarks. These features give your converted video a thorough and customized touch that distinguishes it as a work of art.
Q3. Is URL to MP4 conversion legal for personal use?
The laws in your country and the terms of the license or agreement under which you purchased the copyrighted video will determine whether using a video converter to convert copyrighted videos for personal use is lawful. Nevertheless, before conversion, permission from the owner is crucial.
Conclusion
In more than 200 countries, the Wondershare Video Converter is widely utilized. It is because of the benefits of the software that are mentioned above. An all-in-one secure tool for managing multimedia files, Wondershare UniConverter 15 provides lightning-fast video conversion with potent hardware GPU acceleration. It also includes 20 lightweight features and supports over 1000 file and video codecs. Moreover, it's also the best solution for Windows and Mac users which supports 150 pre-configured device profiles and 35 different video formats.