In the past few years, cryptocurrency has become the main focus of many people who are aware of this technology and the profit it generates. As bitcoin (BTC) mining, if properly handled, can result in high profitability. Random thought on buying a z and generating a great sum is not enough. However, following the process requires understanding in depth. Before you head for the process, it is important to develop a considerable understanding of the hardware and software best for the best profit. Besides, for operating this system, you need a strong power supply, a consistent internet connection, and of course suitable and best-performing hardware. The hardware machine designed to mine bitcoins is called Application-Specific Integrated Circuit Devices – ASICs.
The ASICs are designed to compute the most complex mathematical problems; hence they require an immense power supply that helps run the heavy hardware system and also a good internet connection can speed up the process. While the system works with the complex process, it is certain that such high processing devices must be costly too! Currently, there is huge competition between many companies and it becomes hard to pick a suitable device for your purpose. Hence, we are here to present an authoritative guide to the users regarding the top best companies and their famous and latest models.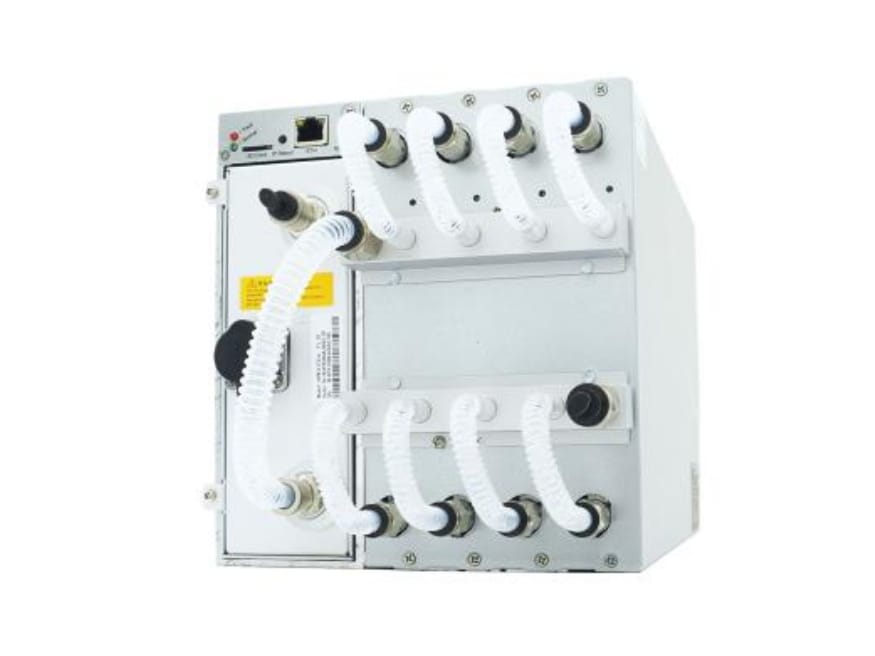 1 AntMiner
Before heading to grab your device, you should know about it. AntMiner models are manufactured by Bitmain, a China-based company. It was founded in 2013 by Jihan Wu and Micree Zhan. Soon after its launch, it started taking its place in the market quite greatly. Today, behind the 70% (approximately) of all the mining of Bitcoins is AntMiner. Hence, by this, you can figure out how much power the company is at present. AntMiner miners are considered the most efficient of the machines.
Below are mentioned the latest models of AntMiner with their Hash rate, Power consumption, and Power efficiency.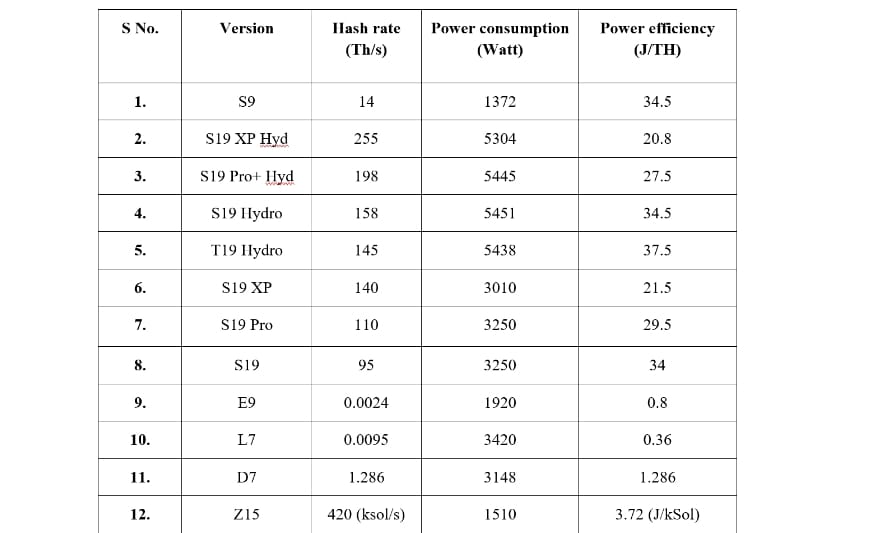 Among the latest AntMiners, S9 has been widely acclaimed due to its super-efficient system and considerably low power consumption. This version offers an exceptionally great outcome. Three boards featuring 189 chips are used by which this high hash power is delivered. The efficiency yielded by S9 is twice the of S7 at 0.1 J/Gh after its combination with AntMiner 1600 W supply drawing only 300 W more as compared to the previous version. However, it is mostly considered appropriate to use for industrial purposes rather than at home due to its heavy and loud noise.
Another amazing AntMiner is S19 Pro – also considered to be the best mining hardware with the highest hash rate. It is able to generate a profit of about $12 per day, which costs only $0.1/kW.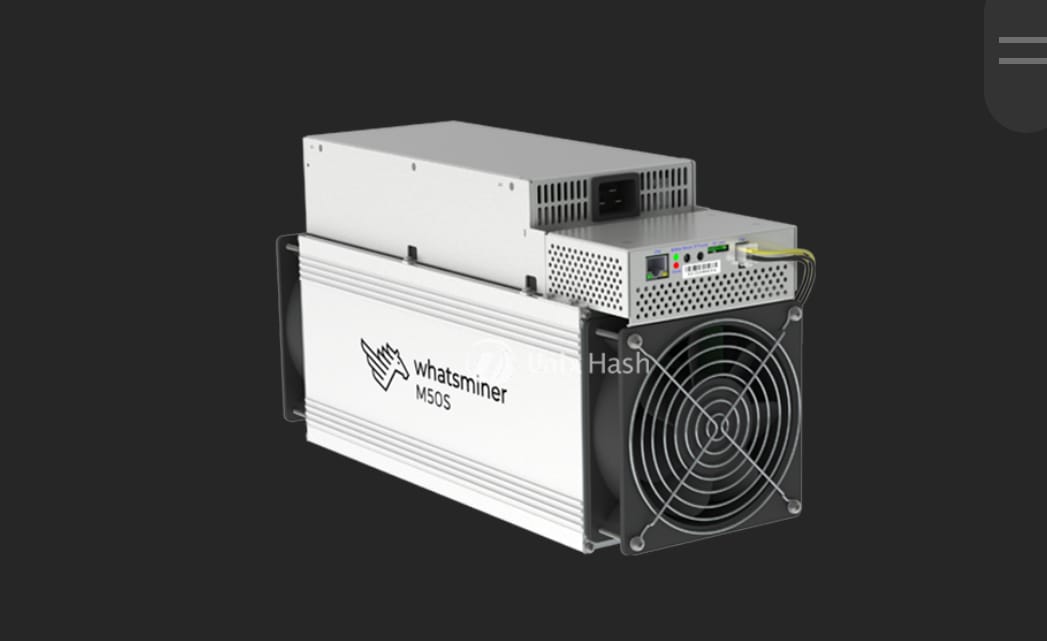 2 WhatsMiner
WhatsMiner, one of the leading mining brands, manufactured by MicroBT. or BitMicro, referring to Microelectronics Technology Co., Ltd. Yang Zuoxing founded WhatsMiner. By 2016, it has launched a series of models, enlisted in the table below. WhatsMiner models are exceptionally great at BTC mining due to their extraordinary chip technology and machine design, which has grabbed the attention of the miners.
Check out the latest models with their few important features.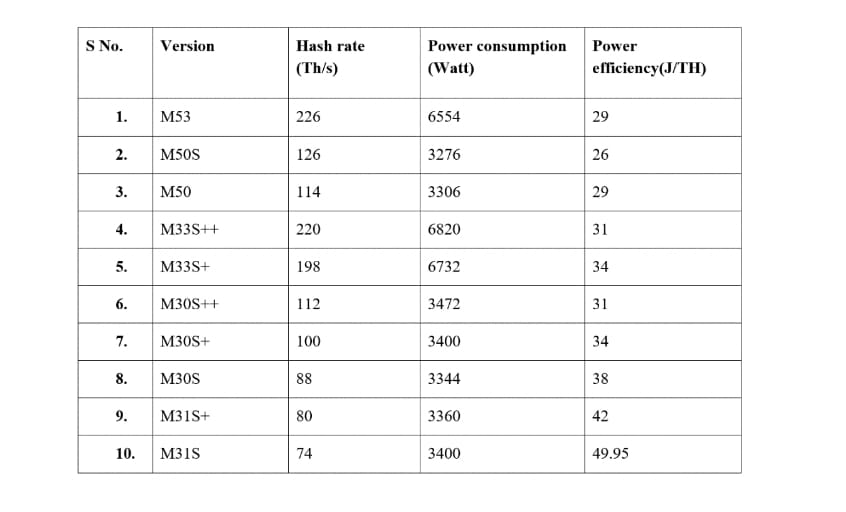 In 2022, the company came up with a production of the M30 series, introducing the most efficient models. It was and still is considered the most efficient miner. However, with the launch of the AntMiner S19 series, the competition became tough and S19 took over the position.

3 AVALON miners
A Canaan Creative production – AVALON Miner brand was launched in 2013. It has progressively
introduced to finest technology and it stands to be the second most efficient brand for mining after BitMain.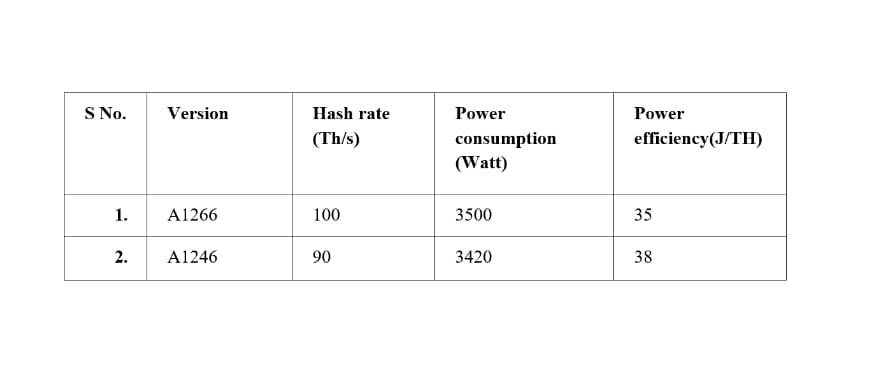 The latest and most efficient models of Avalon are given below.
Currently, due to the slow progress in this highly competitive market, the mining products of Avalon have been surpassed by other advanced technology productions. For an instance: Koi Miner – a new brand that has recently emerged, has been able to surpass its productivity. However, the latest Avalon Miners are still there in the contest.
The model A1246 with SHA-256 Algorithm is composed of Al ASIC chips technology and has been acclaimed largely. It counts among the world's best models for BTC mining. Following it, 1266 – the most recent version, the successor of the previous one has been launched in 2022. The profit generated from Avalon 1266 is about $0.1650//Th/day, costing $0.06/kWh of electricity.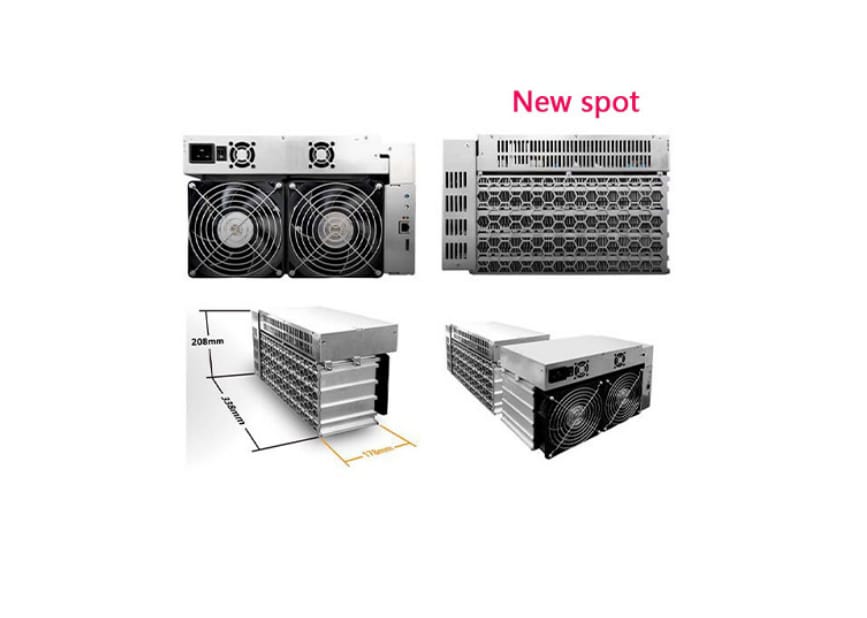 4 Koi Miner
Koi Miner brand, launched by AGM Group Holdings – is a US-based company. In 2015, the manufacturer started developing mining machines along with TSMC 16 NM BTC chips. Currently, it is not a famous company for mining purposes as it has much of its focus drawn to Samsung 8 NM and Samsung 10 NM. However, it has recently been launched and proclaimed as an official company of BTC mining products.
Here are the latest products of Koi Miner, whereby you can generate an idea of how efficient these new machines are: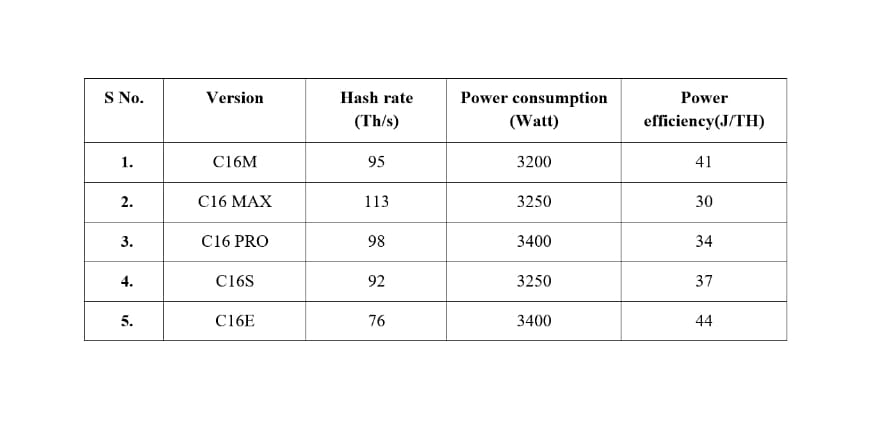 Bottomline
An official release of any new company or any model centered on BTC mining creates a high level of curiosity among the BTC miners. The cryptocurrency community is always inclined to find products that can best suit their demands and are able to produce high profitability. With the emergence of every new product, it symbolizes that the crypto mining industry is growing and maturing – which is an answer to all the miners that Bitcoin is yet to stay for the long term. This ultimately built a surge of confidence among the folks. The above-mentioned are all recognized and most touted models that people prefer to buy. One must select the model based on whether he is mining at home or in industry. Keep on checking the latest updates and rely on authentic resellers for your models.
Have a happy mining experience!
Popular RFQs
Which ASIC miner makes a high profit?
In this highly competitive market of bitcoin miners, AntMiner models, production of Bitmain has been spotlighted due to its high performance and profitability. Among its latest models, AntMiner S9 has been acclaimed the most as it consumes very low power and has a hash rate of 14 TH/s – Quite interesting!
Is ASIC better than GPU mining?
There are multiple factors to consider. For example, the power consumption of GPUs is more than ASICs. Besides, ASICs are energy-efficient, more than GPUs. Also, if you are looking for better hash rates, ASICs are the better option to consider.
Is Bitcoin mining profitable?
Absolutely! The worth of $20 million of Bitcoin is mined just in a single day! Which accounts for $600 per month. However, the mining machines are costly, hence only professional miners never hesitate to buy them as they know their actual worth.
What's the lifespan of ASIC miners?
ASIC miners are sensitive and complex devices. They should be used carefully and should be looked after properly. Their lifespan depends on how you keep them. If you have left them in poor condition and they are not being checked after a while, their life span may only last for a few months. If properly used, they may run for 3 to 5 years.