Power outages are often instigated by severe weather conditions, grid failures or power rationing. It incapacitates crucial home devices and systems, such as air-conditioning, refrigerators, and medical equipment. All these are paramount for maintaining a comfortable living environment and perishable goods and medications. Power outages can cause great inconvenience in daily life, highlighting the need for resilient emergency power sources.
Thus, implementing portable solar generators as home backup systems appears to be a wise strategy. These generators offer a sustainable and uninterrupted power supply while dropping dependency on the conventional grid and the inconvenience associated with power losses. Moreover, this fuel-free power source reduces household electricity bills and is the perfect choice for home backup systems.
Benefits of Owning Home Backup Systems
Integrating solar generators in a home backup system increases resilience to power outages. It not only lessens dependency on fossil fuels but also provides an uninterrupted power supply due to its high power generation efficiency. Solar generators manage variable sunlight levels through Maximum Power Point Tracking (MPPT) for the finest energy output, consistent power supply and protracted battery backup for home power outages. It also has other benefits:
Emergency Power Supply
During unforeseen power outages, a home backup system is critical for continuously operating household appliances and systems. For instance, a home backup system facilitates immediate system activation upon grid failure, ensuring a smooth power transition. The phenomenon of being forced to suspend work due to power outages will not occur again.
Outdoor Power Supply
Using portable solar generators as home backup systems can also assist in remote locations for outdoor activities like camping and RV travel. They are furnished with built-in batteries and inverters, which convert stored DC power to AC power. It powers various devices and appliances while guaranteeing accessibility and convenience.
Economic Benefits
Owning a home backup system contributes to savings. It can alleviate expenses during high electricity prices, like peak demand times. If you have a solar generator, it can also help you save on fuel costs. The economic benefits of investing in this home backup system are long-term and sustainable, and you only need to spend on purchase and maintenance costs.
IEETek SH4000S-5 Portable All-in-one ESS as a Home Backup System
The IEETek SH4000S-5 Portable All-in-one ESS is a reliable choice for a home backup system that optimizes performance.
Easy to Use: It integrates storage batteries and inverters, and this all-in-one design allows for both off and on-grid use. Moreover, the SH4000S-5 also supports AC coupled and can be easily installed.
Expandable Capacity: With a module design, the SH4000S-5 can be expanded up to 10kWh, powering essential household devices continuously during persistent outages.
Long Lifespan: Integrating a premium LiFePO4 battery guarantees over 4,000 life cycles. So, it helps afford years of reliable service as a home backup system.
Safety Guarantee: Radical protective measures include a protection system that oversees voltage, current, charge, and temperature for operational safety. Its smart fan cooling design allows quick cooling down, and its IP54 waterproof grade makes it suitable for various environments.
Portability: Aside from its robust energy capacity, the SH4000S-5 keeps a practical design. For example, it weighs 50kg, including a 40kg battery and 10kg inverter, and remains outfitted with rugged wheels and a telescopic handle for effortless relocation around or outside the home.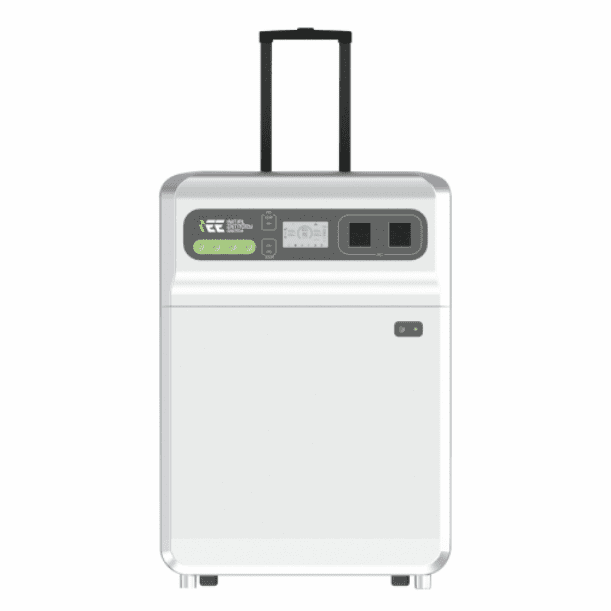 IEETek's Advantages on Home Backup Systems
Why do we recommend IEETek when there are so many solar generator manufacturers on the market? Here are some reasons:
R&D Strength
First, IEETek's home backup systems benefit from a skilful R&D team with over 15 years of industrial experience. Moreover, the core members of their team are all composed of senior experts. It undoubtedly guarantees continuous technological novelty and enrichment in residential solar power systems.
Owning PCS, BMS, and HEMS
IEETek's home backup systems come integrated with Power Conversion Systems (PCS), Battery Management Systems (BMS), and Home Energy Management Systems (HEMS). These assist with optimizing energy usage, safeguarding battery endurance, and augmenting system reliability.
Customizable Photovoltaic and Storage Solutions (ODM/OEM)
IEETek offers tailored OEM/ODM solutions. It allows for crafting all-scenario PV and storage solutions in the home backup systems for global-specific customer and application requirements, which sets them apart from other manufacturers.
Company Honors and Certificates
Holding numerous technology patents and international certifications like ISO 9001:2015, CE, FCC and PSE certification, IEETek's home backup systems are validated for their technological proficiency and dependability in energy storage solutions.
Excellent Customer Service
IEETek prioritizes customer satisfaction while providing wide-ranging support and services. Their customer-oriented solutions enable the timely resolution of any customer inquiries or issues. Now, they have stood out in China as an ESS technology company.
Conclusion
IEETek is an expert in cutting-edge solar energy storage solutions and has fortified its position in renewable technology through a formidable repertoire of patents in energy conversion and management. Their proficient R&D team always seeks innovative breakthroughs in augmenting the efficiency of home backup systems.
It is better to prepare a home backup system to reduce the impact of power outages on daily life and prevent emergencies. The IEETek SH4000S-5 is an excellent product, giving you a worry-free experience. Reach out to IEETek now for more specific information!