In the early morning of January 21, the crypto market ushered in a new round of sharp decline, Bitcoin dropped from $43k, all the way down to $37.8k, an intra-day decline of more than 10%. This is far from stopping, the market is still on a downward trend on the 22nd, the price of Bitcoin hovering at $36.4K. The two consecutive days of plummeting have made many contract and spot holders restless. Extreme prices have also become a hot topic on Twitter and Telegram.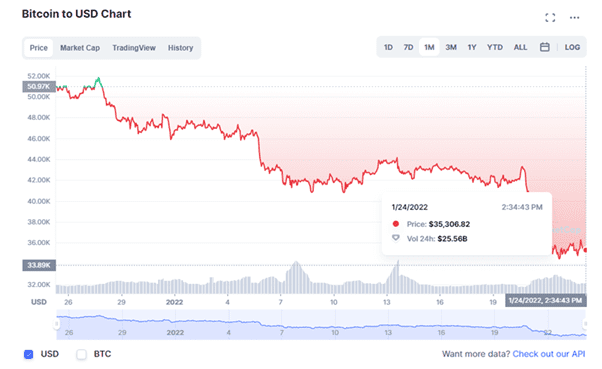 As bearish sentiment continued to spread, Salvadoran President Nayib Bukele tweeted that El Salvador has just bought 410 bitcoins for $15 million and some are selling them cheaply. Nayib Bukele had bought at least 1,391 bitcoins for the country before the latest purchase, according to Bloomberg. As of January 21, El Salvador had more than 1,800 BTC open positions at a buying cost of about $86 million.
It can be seen that the game between different sides of the market has entered the white-hot stage, and many people think that at this position it is enough to stock and buy-in. Many people choose to wait and see. On the macro side, the news of the Federal Reserve interest rate hike has not landed, and the world market seems to be waiting for the time bomb. In addition, we can find a similar model of U.S. equity from the trend of bitcoin. The selling pressure of crypto holders is getting bigger and bigger as the price plummets. So how can we find more stable and safe financial products for our crypto assets to resist market risks when the market trend is so uncertain?
EToken – Integrated digital asset financial management service platform
EToken, referred to as ET wallet, provides users with integrated digital asset financial management services. EToken TECHNOGYPTE.LTD is headquartered in Singapore, dedicated to the integration of crypto-asset financial management, decentralized wallet services, public chain technology fields; Through continuous technological innovation, we will build a convenient and safe digital asset integrated service platform to provide asset custody, appreciation, management and other services; In cooperation with overseas multinational institutions and funds, EToken has established direct sales teams in Singapore, the United States, Russia, Thailand, and other places.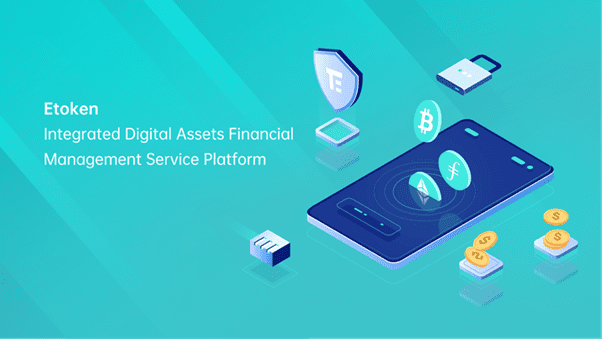 EToken, as a super aggregator, not only opens the Trading, Quick Exchange, Loan sections, it also lists BTC\ETH\FIL\USDT\DCC financial products, users can choose the product cycle of 30, 90, 180 days, T days after the purchase of the periodic products, it begins to accrue the interest on the T+1 day. The interest will be calculated from day T+1 and paid on day T+2, the income is issued on a daily basis.
EToken has a complete internal control program and complete risk control process, it can better control the bottom of fixed income products, to maximize the interests of investors. In the future, it will also timely control the mainstream trend of the market, continue to optimize and update products and services, bringing long-term stable value-added benefits for users.