Cyril Samovskiy is the founder and CEO of Ukrainian IT company Mobilunity, father of 2 boys and a basketball fan. Cyril will be sharing more details with us about Mobilunity in this interview.
What is Mobilunity?
Mobilunity is a provider of dedicated development teams and offshoring R&D centers established back in 2010 in Kyiv, Ukraine. Apart from offering regular services as many other companies do in this niche, we focus heavily on relationships and believe that we must put an emphasis on this aspect to ensure that our clients and our developers receive the very best in regards to structure and productivity.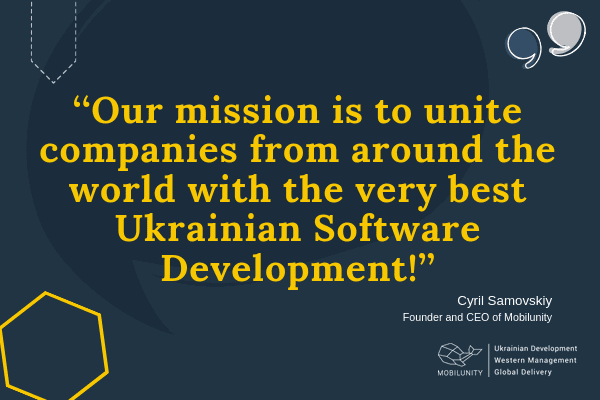 Development Teams Augmentation and outsourcing models are well known in the software development market, however, the way that we approach dedicated development teams at Mobilunity is unique and is what makes our Company so attractive to our clients and prospective clients looking for nearshoring IT services across various industries. Our mission is to unite companies from around the world with the very best Ukrainian Software Development!
What services do you provide at Mobilunity?
We are offering a set of services aimed at solving software development cycle issues and lack IT talent. The idea of such an approach is about providing businesses with a dedicated and productive development environment.
Thus, our team's ultimate goal is to be a useful, agile source for our clients while encouraging continuity and performance consistency.
Tell us more about your Dedicated Development Teams. How does this model work?
Providing a dedicated development team means that our clients work directly with developers in our offices based in Kyiv, Ukraine. These teams work solely on the client's projects, while the client's in-house personnel can pay more attention to other aspects of their business. We take care of most onsite organizational activities and duties, such as Recruiting, Accounting, HR, Event Management, Reporting, IT Helpdesk, Office facilities, and workplace comfort management. Our account managers are our Clients' pure representatives here in Kyiv.
Clients work directly with the team they hired from us, manage their progress remotely, and benefit from having consistency and building a knowledge base within the team. 
The principal model that has brought us success is 'Mobilunity's 3Rs of Nearshoring'.
Tell us more about the 'Mobilunity's 3Rs of Nearshoring' model.
It is about Relationships, Recruitment, and Retention.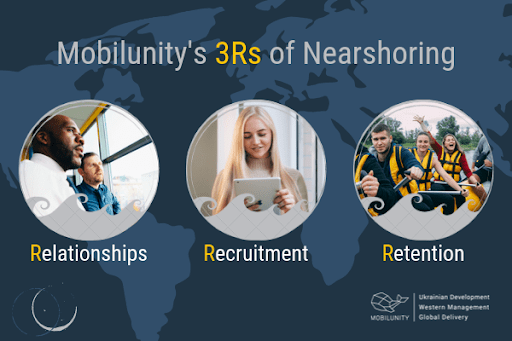 Relationships. We have a strong belief that the relationships we build are the most highly valued part of our service. We are always trying to build such relationships with our clients by truly investing in them, and in their potential, so that we have and understanding their core business needs. Each relationship is unique as we understand, and appreciate that each client is unique. 
Recruitment. Recruitment is very essential in the niche we operate in. Thus, we integrated a tailor-made approach to this activity to make our clients sure that their project will have individual specialists for each position they need. Our recruiters use the best recruitment practices with only one aim – to find the best of the best.
Retention. Maintaining relationships can be difficult. We all are human beings, and our social needs are very significant during the working process. I have personally decided to invest more costs into our developers' well-being. We are providing our engineers with the environment they need to ensure that their projects are successful. The most visible ones are Staff Service activities to keep them happy and remain motivated for new work breakthroughs.
Who are your target clients or customers?
We are offering our service pack to all from Startups to Large Enterprises, as long as a client has the vision to understand their needs and the ability to set tasks and manage. 
We work with any size Company and with any size team, understanding anything small may and will lead to something bigger in time if we do well. And we do!
Why Ukraine, are you focused on the Ukranian market only?
Ukraine has a lot of software development potential. The country is considered to be number one, or at least close to number one when it comes to the quantity and quality of developers available on the market. 
It's not a secret that Ukraine has a strong educational system. More than 43% of students choose tech-related specializations at Universities and other educational facilities. Now, technical courses are in high demand among Ukrainian students and this business market is also filling with more and more tech schools. 
There are lots of companies that can offer low-cost development, however, we rely on, and build our services around the quality that we can surely guarantee to our clients. Usually, our clients save up to 65 % on their total IT costs depending on the need but as the quality is so high the savings on cost tend to be just an extra added benefit to our clients.
Tell us more about the quality of your services, do you have any success stories to share with us?
To give you an idea of the quality we are bringing to our clients we have a case studies section on the website, which is updated regularly with new clients' stories. 
For instance, a  Swiss startup, which exists in the insurtech market for 6 years. This Company is offering easy online management as well as expert consultation, both through their platform, the task of the Mobilunity team which was provided was about widening the platform's borders so it could work with many major insurance agencies in Switzerland. Over the past few years of collaboration, the team became, as they consider themselves, an integral part of the Client's Company culture.
The other example is a Danish Company, which is a software vendor for the construction market. The Company was looking for its web development team amplification, as they faced a serious issue when it came to maintaining a complex system with many sub-units, as the existing team was not capable to handle such a huge objective. However, the situation was saved, as a dedicated development team provided by Mobilunity was able to organically join their in-house software development team.
Do you have any available opportunities for partners and investors at Mobilunity?
Yes, absolutely! We are always open to new partnerships of different kinds across the globe, and even now we have partnership relationships with numerous organizations and individuals from all over the world. Anyone may feel free to drop us a line at sales@mobilunity.com to discuss the possible collaboration.
According to the preliminary business analysis, the possibility of involving investors in the future is being discussed and taken into consideration despite the great potential the Company shows recently. 
Tell us about the team behind Mobilunity?
I have to emphasize that we are nothing without the wonderful talented people that support our clients and our business initiatives. We have a big, solid, and friendly team that makes work enjoyable. 
The Company has a decentralized functional structure that exactly defines the goals and functions of each department and each team. We have 4 main departments: Software Development, Staff Services, Business Development, and Marketing. Staff Services Department includes our Recruitment Team, Accounting, HR and other administrative units. Each development team in the Company has its own Resource Manager they meet with to ensure that all is well in regards to the project and communication overall.
 I believe that Investing in people allows us to keep our team members loyal to the Company and to our clients. We are constantly teaching our teams, and developing them by ensuring that the positions they hold can evolve over time.  Investing in activities and happiness overall is also something that our staff enjoys, whether it be monthly parties and sports competitions, or spending time together just relaxing on our terraces.
How are  IT Security questions solved at Mobilunity?
As we have worked with companies from various backgrounds, we are well versed in IT security protocol whether it be in Europe, North America or the far east. When it comes to our clients, in addition to common security and legal measures like signing  NDAs and official contracts with GDPR addendums, we always approach clients' internal security needs in a way that suits their specific needs. We understand that our clients are working in different industries and are diverse geographically, which has a direct impact on their internal Company policies. having this in mind, before we even start the process of building a team for our clients we discuss all such security/legal points to make sure that we, as a Company and Service Provider, will be able to provide the client with their required level of security.
For more information, visit the Mobilunity website: https://mobilunity.com/