Unikeys has announced the launch of UKey card, a cold storage hardware wallet that employs biometric security and payment channels for lighting-fast transactions. In this interview, Alexandre Tabbakh the CEO of UniKeys will be telling us more about the Ukey Card.
1) Please tell us your name and about yourself?
Alexandre Tabbakh, I'm the CEO and Co-founder of Unikeys. I'm originally from France, but have been living in Hong Kong for the past six years and an active member of the blockchain ecosystem in Asia. I'm a fintech and blockchain expert with a financial background and am passionate about delivering tools that facilitate and secure the adoption of blockchain powered ecosystems. I have extensive experience working with major financial institutions, including Société Générale, JP Morgan, to name a few, as well as fintech startups that design blockchain-based workflows and pilots.
2) What is Unikeys?
Unikeys is a pioneering fintech company based in Hong Kong. Unikeys is dedicated to designing and creating innovative card hardware wallets, enabling biometrically triggered transactions with an end-to-end solution that allows both individuals and merchants to seamlessly secure interactions within blockchain powered ecosystems. Unikeys' UKey smart hardware wallet card makes it possible to take secure cryptocurrency payments anywhere. The use of a biometric protection on the UKey card improves the reliability of identification and establishes the most secure way to store and spend cryptocurrencies.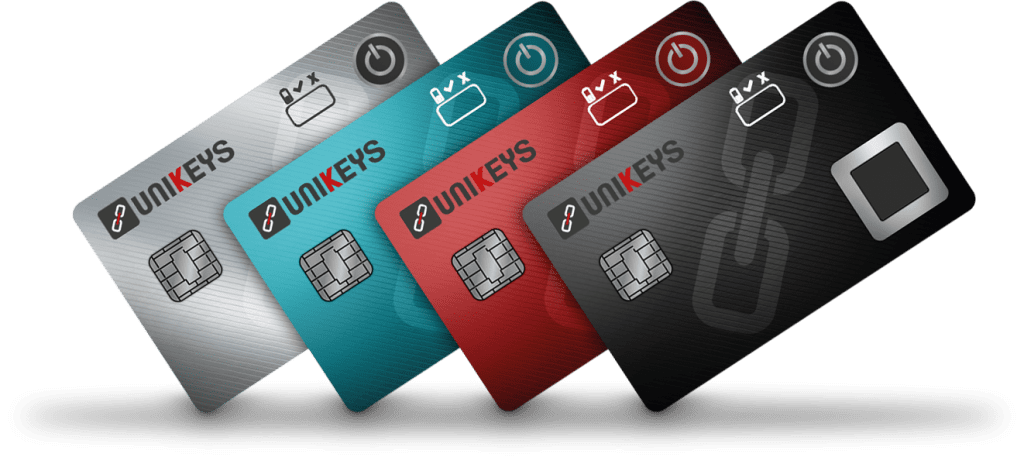 3) What inspired you to start the Unikeys project and what problems are you looking to solve.
While there is a lot of speculation and hype around cryptocurrencies and the blockchain technology itself, we have been focusing on providing tools that empower people to seamlessly and safely transact with cryptocurrencies. Our combined hardware and software solution makes it easy for everyone to incorporate cryptocurrency in their daily lives. The vast majority of cryptocurrency owners are using hot wallets, storing their assets directly on exchange platforms, such as Coinbase and Binance, and other crypto holders are using their mobile phones or web wallets that remain connected to the internet, making them more vulnerable to hackers. Our smart wallet card solution provides an additional layer of security by utilizing biometric technology, giving users a more secure way to store assets and removing the need for pin codes that are known to be cumbersome and easily losable.
4) Please tell us more about the Unikeys team of Fintech, Engineers and Blockchain experts?
Some members of our team include:
Pascal Lejolif, Senior Developer, who has an interesting engineering background with a strong expertise in blockchain and artificial intelligence. He graduated from ESIGELEC, St Nazaire in France, and majored in Industrial IT & Automation, as well as studied machine learning at Stanford University.
Philippe Blot, Co-founder of MeReal Biometrics and an advisor at Unikeys, who has a long and successful history in R&D of smart cards and the security dedicated to ciphering technology. Philippe and his team are well-known leaders in the field of powered cards, developed products for many applications in the fields of medicine, gaming, security and banking since 1999.
Adel Amri another advisor at Unikeys, who is senior expert in software engineering and data science, and multidisciplinary scientist with strong background on Mathematics and Computer Science.
5) Could you give us a structural analysis of the major Services you provide at Unikeys?
Unikeys is made of three major layers:
The manufacturing and distribution of the biometric card hardware wallet, with android and IOS apps connected to the card when needed (signature generation and transfer).

The development of a merchant ecosystem, enabling merchants to accept cryptocurrency payments directly from card hardware wallets. The merchant ecosystem includes a payment processor that can be used by merchants to automatically set exposure in crypto and exchanges to fiat currencies.

White label solutions tailored for enterprises' custody solutions for their multiple blockchain implementations. Indeed at this stage, banks have little ideas about how they are going to handle the management of public, private keys and addresses by their users, whether they are employees or customers.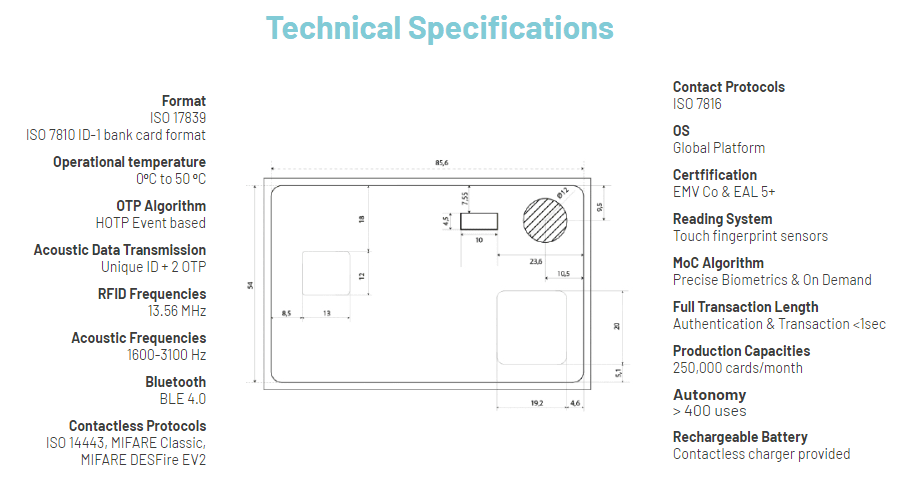 6) Is there a way to determine how many crypto wallets are now in existence, what makes Ukey Card different from others?
One million hardware wallets were sold in 2017 by one of the main hardware wallet providers on the market. The demand is growing since the number of implementation is booming in the payment and tokenized assets space. Ledger, Trezor and KeepKey are currently used by a significant portion of cryptocurrency users. However, these wallets do not have the biometric-secured feature like the UKey card. The UKey card is the world's first biometric-secured card hardware wallet.
7) We will like to know more about the UKey Card biometric security, how does it work and what are the processes of getting it done?
The biometric sensor on the card is used to identify the card holder and provide a secure way to authorize cryptocurrency and token exchanges. The UKey card offers up to 8 fingerprints, however, the user can decide beforehand how many fingers to record and use as authentication keys. The private keys are isolated inside the card and can only be utilized to sign transactions through an accurate fingerprint authentication. Even if the user's phone gets hacked, the hacker won't be able to retrieve the private keys.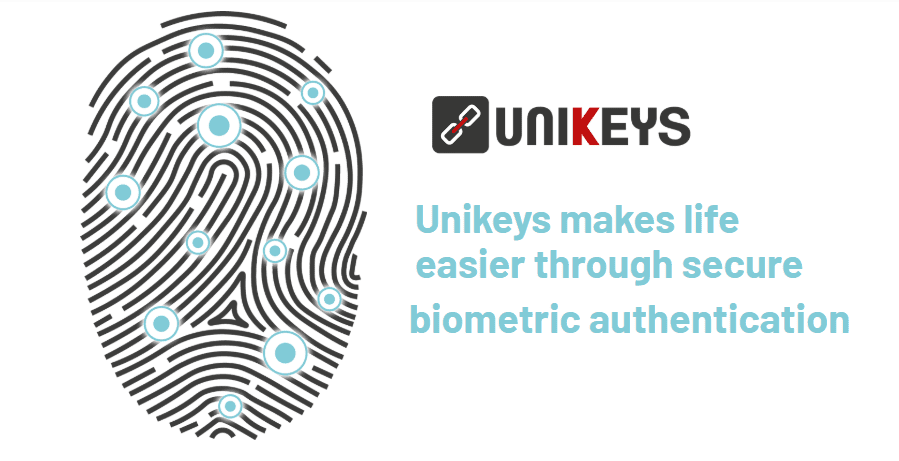 Once the enrolment has been performed and the fingerprints are recorded onto the card, switching on the card by pressing the button « on », then pressing the finger on the biometrics sensor to authenticate will emit an acoustic validation and generate encrypted messages through the Bluetooth, the NFC and the EMV chip. The biometrics authentication operation takes less than a second and offers an efficient onboarding process for users who can then present the card to any reader for a period of 10 seconds before the data gets locked back. In the setup of the UKey card, certain public information, e.g. the public key, can be read and transmitted in open mode without biometric activation of the card. However, private and sensitive data are encrypted and only available to generate a signature after a fingerprint authentication. During this period the card does not transmit and cannot transmit any sensitive information.
The 3FA (3 factor authentication) process proposed by Unikeys: What I have (UKey card), What I know (Optional Pin Code), What I am (Biometrics Data) creates a strong chain of authentication for transactions.
8) Please tell us more about the Unikeys Merchant Ecosystem, who is it for and do you have any Merchants currently using the services?
The Unikeys Merchant Ecosystem aims to make the adoption of cryptocurrencies by merchants easy and affordable and provides the tools that fit the different needs of merchants regardless of their business size and market characteristic: the Merchant App, Unikeys Reader, and Payment Processor.
The Unikeys Merchant App is designed to be convenient to plug in for merchants who can accept UKey cards powered transactions. The app can be used with a dedicated merchant API and proposes customizable features, which include payment functions, fund transfer, bill payment, prepaid top up, and customizable loyalty management solutions for merchants. The cost of utilization is lower than the market fees standards, with 0.5%-0.75% transaction fee.
The Unikeys Reader has been developed to be compatible with all smartphones and tablets that have Bluetooth and an internet connection, running operating systems iOS, as well as Android. It is quick to set up and easy to use, empowering merchants to safely accept contactless payments thanks to the UKey card NFC feature.
The Payment Processor is an essential development step for blockchain ecosystems and payment applications as it offers the flexibility for merchants to accept and exchange cryptocurrencies into fiat currencies on demand. Unikeys allows merchants to easily and safely accept payments in cryptocurrencies and receive funds directly into their bank accounts, settled in US Dollars, Euros, Japanese Yen and HK Dollars. The service is currently under development and will be launched at the beginning of 2019 according to our roadmap.
9) At what stage of development is the Ukey Card and what is next on your roadmap?
Unikeys has developed two MVPs, an Ethereum android wallet connected with NFC and a payment channels implementation powered by the UKey card. Unikeys also already owns the UKey hardware wallets and controls the chain of fabrication thanks to their exclusive partners. The Merchant App is under development and is expected to launch in the beginning of 2019 according to our roadmap.
10) Do you have any investment opportunities or partnerships you will like to share with us from Unikeys?
MeReal Biometrics is one of our key partners. They own one of the strongest know how and patents in the smart card space. ENUMA Technologies is also one of our essential partners, working with us on the implementation of payment channels. ENUMA Technologies is backed by Ethereum Foundation for their impressive work on state channels and scalability related implementations. We're currently in discussions with top-tier banks to help them add card hardware wallets in their trade finance and KYC related blockchain workflows.
11) How Safe is UKey Card, any insurance, security or legal compliance you want to share with us?
The R&D around the UKey card began in 2009 when our hardware partner MeReal Biometrics started to test and introduce biometric and acoustic cards. The UKey biometric card is patented in key jurisdictions around the world. The card is also compliant with GDPR (General Data Protection Regulation), and certified ISO/IEC 7810 & 14443. It's also compliant with the CNIL (Commission Nationale de l'Informatique et des Libertés) and the Haifa Center of Law & Technology under the title 'Privacy in the Digital Environment' which proposed a new definition for the right to privacy.
Visit the UniKeys website for more information: https://www.unikeys.io/