Business people are often so preoccupied with the everyday tasks that they can't cover all the areas of work with equal quality. This is why every far-sighted entrepreneur will hire a business assistant, so as to help them perform all their actions with the same determination. However, nowadays you don't have to rely solely on human assistants. As a result of the unprecedented development of mobile phones, these smart devices can play a great role in the lives of businesspeople. So, here are five tips that will help you turn your smartphone into a business assistant.
Taking and scanning notes
No matter if it's a business meeting or a relaxed coffee with friends, more often than not entrepreneurs have to note down various things. It can be a new appointment, a check, a financial document or any other feature relevant to their business. All these actions can be performed via a smartphone, i.e. with a proper app. In line with that, you can rely on Evernote to take down important notes.
On the other hand, if you want to take a photo of a document and automatically convert it into a PDF-file, use CamScanner. Both of these apps are accessible from different devices and easily synced. Of course, there are dozens of other apps out there, but it's recommended to use the tested ones, at least until you get familiar with the alternative ones.
Staying in touch with business partners
People have generally got accustomed to a certain feeling of instantaneity when it comes to communication. This is even more obvious in the business world, where decisions have to be made at the spur of the moment. With your smartphone at the reach of your hand, it's easy to stay in touch with your business partners, regardless of where you are at a certain moment. Apps like Viber, Messenger and What's App ensure constant communication.
Moreover, business professionals will see numerous benefits of using Skype, as an all-round solution for messaging, calling and videoconferencing. However, make sure that you don't make any video calls using your own Internet data. Instead of that, always connect to a Wi-Fi connection when you want to launch some online video features.
Smooth internal communication
Apart from being used as a means of external business communication, your mobile phone can serve as the hub of your internal deals. Let's assume you're a business owner who collaborates with several employees. You can all install software solutions, such as Campfire, Basecamp or other similar tools, so as to always keep in touch. That way, you can distribute your business assignments from the comfort of your family lunch or sort out any issues when you're away on business.
What's more, such apps keep track of every single change you make and save your progress. This is an extremely practical option in case a client makes a complaint about a previous task.
For all of this, you will of course need to make sure you have reliable access to the internet. For that, you might want to use a combination of your wi-fi connection, but also make sure you are connected to the best possible data plan too. That will depend on a number of factors, such as where you are in the world and whether there are any 5G cell phone towers near you, but the important point is to make the best use of what is available.
Furthermore, many freelance platforms, like Upwork, also have mobile apps. That way, you can hire new outsourcers the same moment you realize you'll need more workers on a project.
Social media promotional campaigns
A survey conducted in the US in 2016 showed that 63% of business owners considered Facebook the most important online network. It was followed by LinkedIn and Google+. Therefore, businesspeople who don't want to fall behind in online marketing have to promote their businesses in these media. Since business owners are often on the move, it's difficult to organize written and visual content on social media. This is where your smartphone comes on stage. It can be used for many different purposes. For instance, you can take photos of your office during an important business event and share them immediately across different platforms. Additionally, creating an Instagram business story can also attract many new followers and customers to your business.
Apart from that, your smartphone is a powerful tool for making impressive business videos and starting a livestreaming session on your Facebook page. This option can come in handy when you're about to launch a new product, so as to inform people and prepare them for that new item.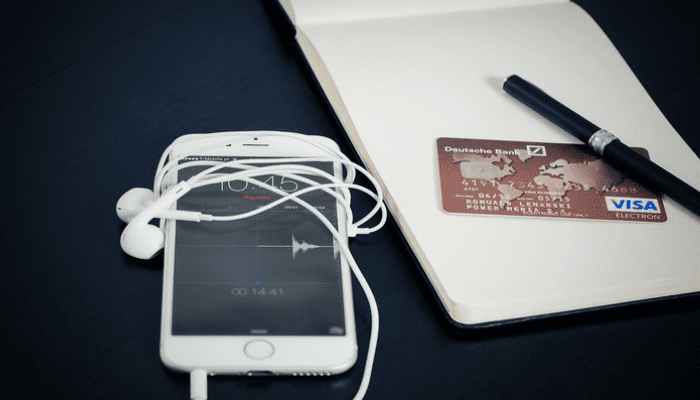 Dealing with finances
Scanning different checks is only the tip of the iceberg when it comes to accounting benefits of a smartphone. For instance, these scanned documents can be stored in one of your accounting software tools and added to your balance sheet.
Moreover, sometimes business executives and their managers need to make their payments as soon as possible, especially when they spot some discounts or bargain offers. In such situations, you can simply use your smartphone and make a quick payment with the use of handy e-banking options available via your smartphone. Still, take care of security issues when using these features.
As opposed to that, you can also devise and create such offers for your own business. Once again, it can be done through your phone. For instance, you've realized that your Christmas sales are lower than you expected. What you can do is change the prices of the poorly sold items and entice your customers to buy them. In that case, your business partners will appreciate if you include easy-to-use invoice forms to such offers, as well as various payment gateways.
Businesspeople need to utilize various benefits of turning their smartphones into their very own assistants. That way, they'll reduce the amount of time needed to make appointments, keep track of different financial transactions and communicate with their business associates and employees. All these aspects of business organization can be done in an asset-saving way via your smartphone. If you apply the tips provided in this article, you'll learn how your smart gadget can improve your business management and increase your revenues.
---
This Article was contributed by Mark, a biz-dev hero at Invoicebus – a simple invoicing service that gets your invoices paid faster. He passionately blogs on topics that help small biz owners succeed in their business. He is also a lifelong learner who practices mindfulness and enjoys long walks in nature more than anything else.