Table of contents:
What is Turing College?

Mentors who ignite brilliance

Array of programs to choose from

Pricing: affordable excellence

Curriculum crafted by industry experts

Focus on practical learning

Flexibility to suit each lifestyle

Vibrant learning community

Tech company vibe

Impressive job placement success

Reputation and accreditation 

Positive reviews and testimonials by students

 Conclusion
Turing College is a true game-changer, rethinking how we learn and offering tech studies unlike anything in the market. It fuses the best of both worlds: students get community and communication matching real life college, as well as the convenience of the online learning platforms. In this in-depth review, we'll dive into the remarkable key features, pricing and details that make Turing College a standout choice for individuals seeking a comprehensive AI education in Tech.
Visit Turing College
What is Turing College?
It is an accredited online college backed by Y Combinator that has garnered attention since its establishment in 2020. This online AI college is specifically designed for busy professionals, focusing on 
Data Science,  
Data Analytics, 
Data Engineering 
Web Development

 
Aimed at individuals juggling professional and personal commitments, Turing College provides a flexible and accessible learning environment. Unlike traditional online courses, this education institution mimics the dynamics of a real-world tech team.
Array of programs to choose from
Turing College opens a world of possibilities with its diverse range of programs, tailored to match unique career aspirations.
Data Analytics: The course helps students master the core data analyst toolkit, analyze business problems, and communicate analysis results effectively. Comprehensive skills here come from seasoned senior-level professionals. 
Data Science: Immersive program full of practical tasks, such as using machine learning to predict stroke risk, and exploring data wrangling with Python, analysis, deep learning and more.
Data Engineering: This course, spanning a period of 7-9 months, offers valuable insights from industry professionals. From data engineering fundamentals to Data Warehousing and dbt, intro to MLOps, Docker and more, students acquire the skills to build scalable data systems and implement data pipelines.
Web Development: With a curriculum covering programming fundamentals and computer science, as well as intricacies of front-end, and back-end web development, this is a top-tier course for wanna-be IT professionals.
Master's degree in Data Science and Analytics: For those seeking the pinnacle of knowledge in Data Science and Analytics, Turing College offers a Master's degree program. Developed in collaboration with esteemed PhDs from prestigious institutions like Cambridge University, Meta AI, and Google Brain, this exceptional online program combines cutting-edge curriculum with the convenience of the online learning model.
Pricing: affordable excellence
Turing College prioritizes affordability, ensuring that students can pursue their learning goals without breaking the bank. With courses ranging from $4,421 to $12,964, this education institution offers reasonable pricing options. The exceptional value of Turing College's programs becomes evident when considering the opportunity to learn from industry experts and delve into complex subjects like Data Science or Web Development.
| | |
| --- | --- |
| Career program | Price: |
| Master's Degree in Data Science and Analytics | $ 12,964 |
| Data Analytics | $ 4,421 |
| Data Science | $ 5,669 |
| Data Engineering | $ 4,989 |
| Web Development | $ 5,669 |
Furthermore, the potential job prospects after graduation highlight the significant return on investment for students. By investing in Turing College's programs, students position themselves for promising career opportunities in their respective fields.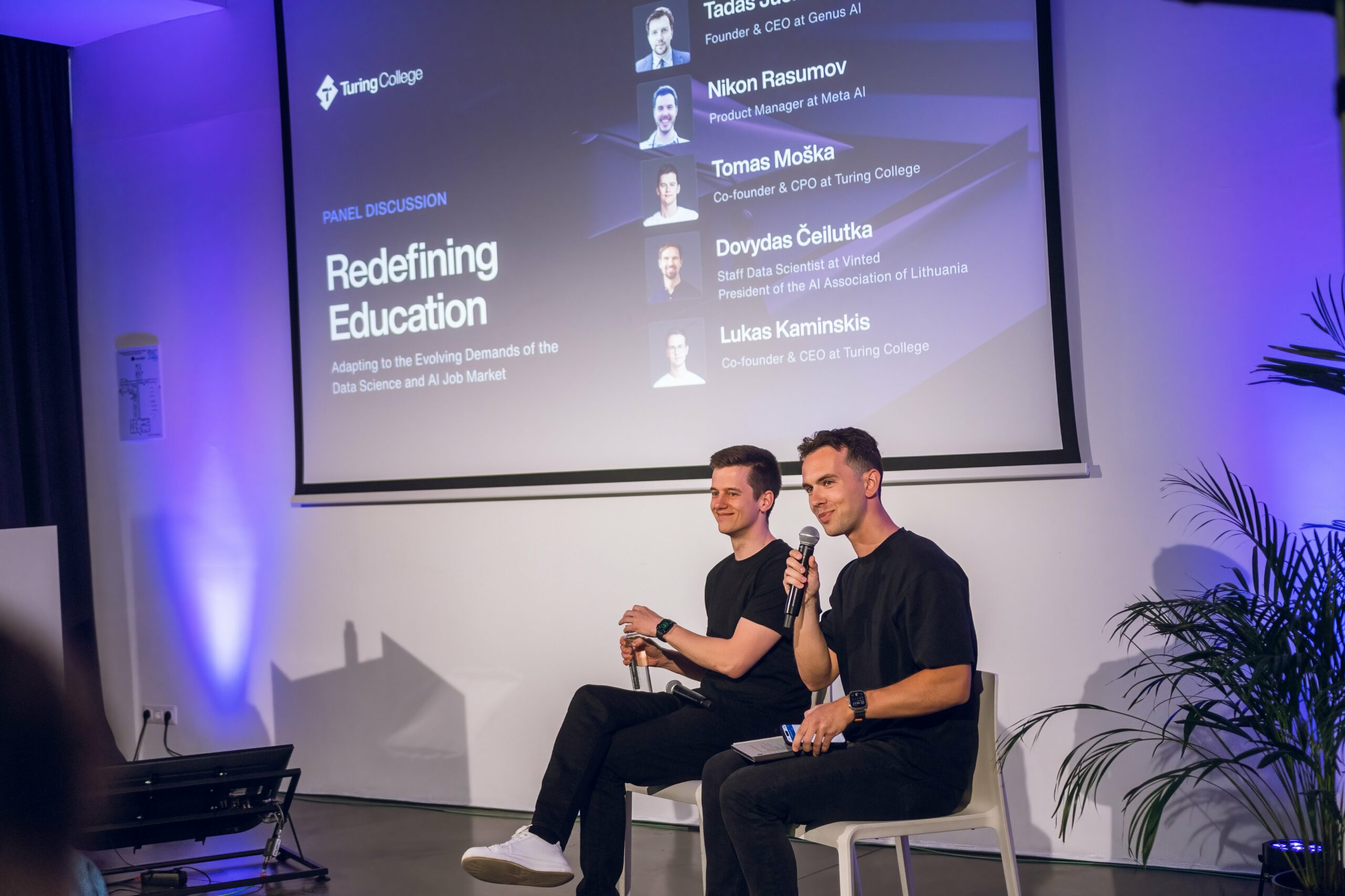 Mentors who ignite brilliance
At Turing College, students have the privilege of being guided by experienced mentors from top-tier tech companies like Google, Amazon, Bloomberg, Wix, Meta and many more. These mentors are like beacons of wisdom, ready to share their vast knowledge and provide invaluable career advice. Meanwhile, team leads – another important part of the educational team – offer valuable consultations, personalized 1-on-1 project reviews, and constructive feedback. 
Whether it's a burning question or seeking guidance on a project, these industry professionals are there to offer support and insights.
Curriculum crafted by industry experts
Turing College's commitment to excellence is reflected in its carefully curated curriculum. Designed by industry experts, the programs at this college encompass the latest advancements and best practices in AI. By combining curated material from top online resources with hands-on projects, this alma mater strikes the perfect balance between theory and practice, preparing students for the complexities of the AI landscape.
Focus on practical learning
What sets this online college apart from other learning platforms is its emphasis on practical learning. Taking inspiration from the Agile methodology used by tech giants, this college incorporates short, intensive sprints into its programs. Each sprint ends with a project that resembles a practical, real-life challenge from the industry. This innovative approach ensures 9 to 24 practical projects during the course. That's 2-3 times more than bootcamps usually offer!
After completing a project, students are given two 1-on-1 assessments with team leads. This process has been designed to replicate the review given at most tech companies.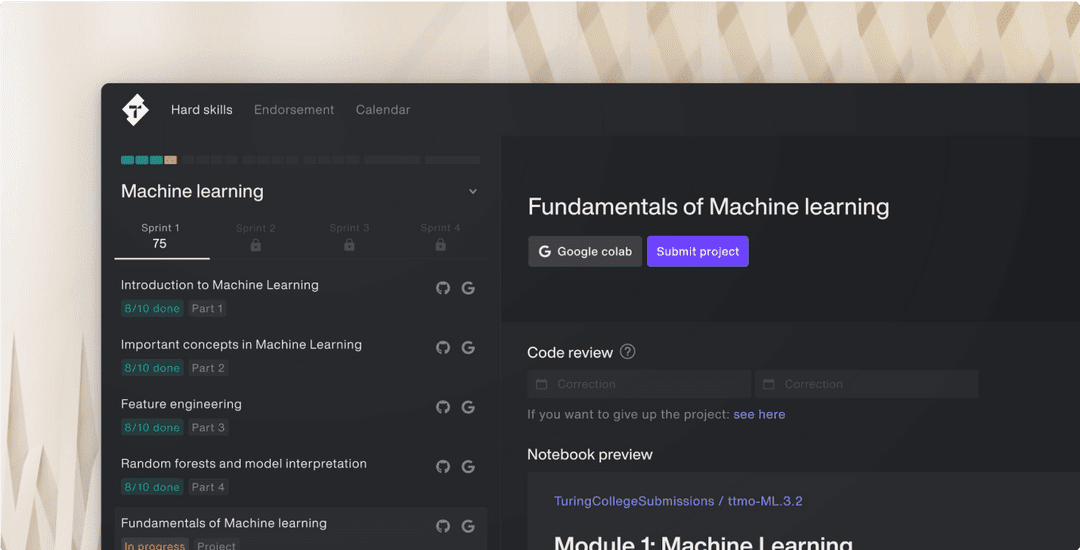 Flexibility to suit each lifestyle
Turing College offers adjustable, self-paced learning options that adapt to individual lifestyles. Whether you have a full-time job or other personal commitments, an it allows you to learn at your own pace. Students can dedicate 15 hours or more per week to focused learning. As a result, their graduation may be in either 24 months or an accelerated timeline of 6 months. This flexibility ensures that you can pursue your AI education without compromising on your other responsibilities.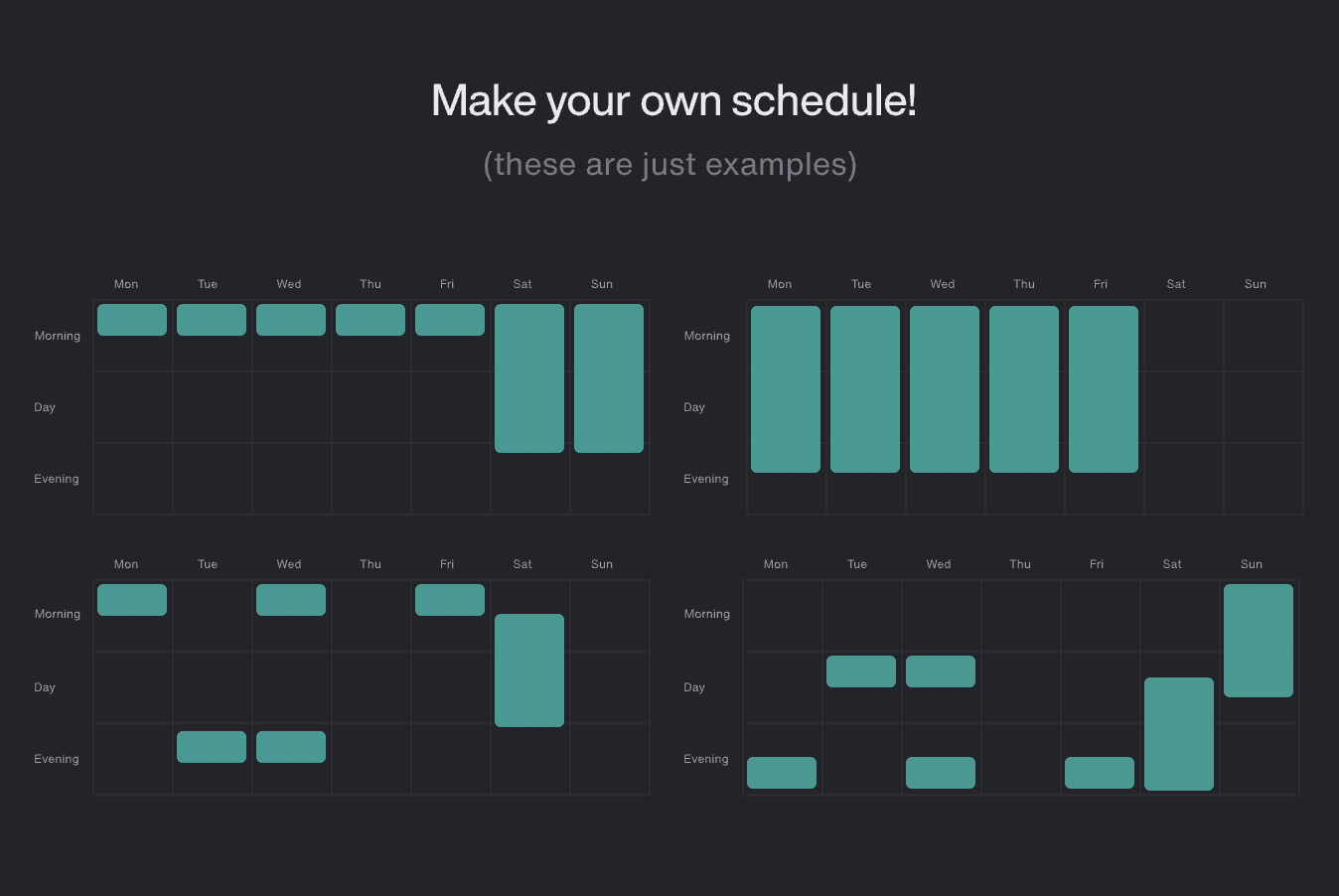 Vibrant learning community
If you've tried online learning platforms, you know how easy it is to suddenly lose motivation to learn mid-course. That's why Turing College's proven 1-on-1-centric approach makes it a journey that's meant to be shared. The college fosters a vibrant community of learners, creating an atmosphere of collaboration, support, and inspiration. Students are placed in groups of 30, forming lasting bonds and networking opportunities. 
Weekly stand-ups and drop-in sessions provide platforms for students to engage with seasoned industry professionals, share ideas, and seek guidance. The supportive community at this education institution fuels personal and professional growth, making the learning experience truly enriching.
But the support doesn't end there. Turing College boasts a vibrant community of over 600+ active learners who are always ready to share ideas and answer questions. This collaborative atmosphere fosters growth, inspiration, and a sense of belonging on a student's learning journey.
Tech company vibe
Imagine being immersed in an environment that mirrors a vibrant tech company. That's precisely what the Turing College offers to its students. With personalized feedback from experienced senior colleagues and managers, students receive guidance that replicates real-world tech team interactions. This immersive approach fosters a deeper understanding of industry dynamics and helps students develop the confidence and skills needed to excel.
Impressive job placement success
Not only Turing College equips students with technical skills but also provides comprehensive career support. In-house hiring managers assist students in refining their resumes, portfolios, and social media profiles. Mock interviews and coaching sessions prepare students to shine in both technical and behavioral job interviews. The remarkable job placement success rate of 97.9% within six months of graduation speaks volumes about the value and relevance of Turing College's programs. Graduates of this education institution have secured positions in reputable companies, proving the industry's demand for their acquired skills.
Reputation and accreditation 
When choosing an educational institution, reputation and accreditation are vital. Turing College stands as a reputable and EU-accredited institution affiliated with Woolf. This affiliation ensures that your educational achievements are recognized and respected in the professional world. By studying at Turing College students gain the advantage of learning from a trusted source, elevating their credentials and opening doors to exciting career opportunities.
Positive reviews and testimonials by students
But what do alumni have to say about Turing College? It receives glowing reviews and testimonials from students worldwide, praising the quality and flexibility of their programs. Students appreciate the industry-relevant materials for self-paced learning and real-world scenario projects.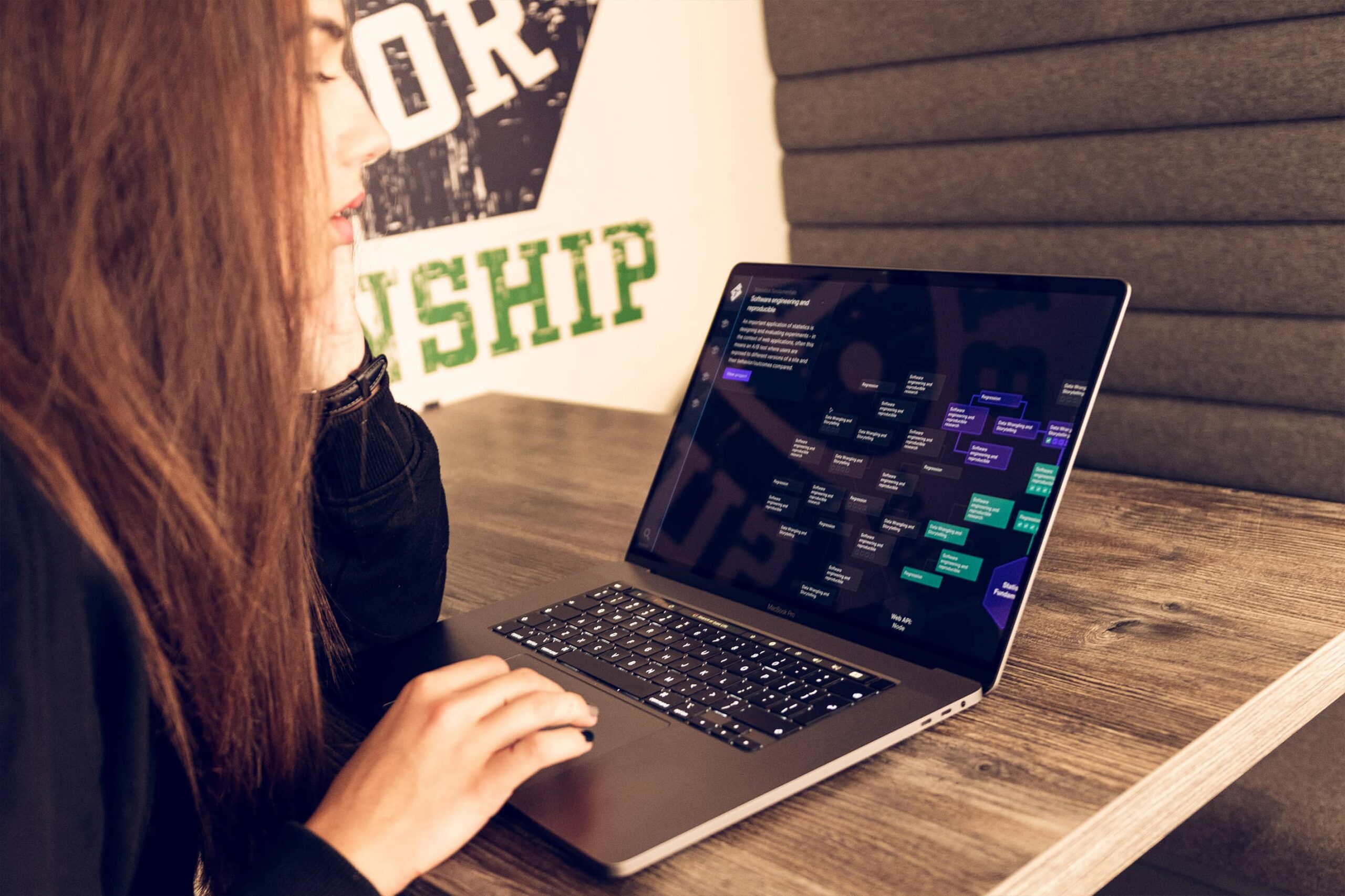 In conclusion
Turing College is a true trailblazer in AI education, offering a transformative learning experience that empowers students to thrive in the fast-paced world of technology. With its practical learning approach, personalized mentorship, and industry collaboration, Turing College sets the stage for success. The vibrant community, flexible learning options, and impressive job placement success further solidify Turing College's position as a leading institution in AI education. If you're seeking an educational journey that combines theory, practice, and endless possibilities, this college is the place to be.
Visit Turing College