Many want to find their own Solana in terms of investment profit. Therefore more and more investors are looking into the direction of crypto under $1. Two of the most prominent ones are TRX and SHIB. 
Let's investigate each of them!
What's on the Tron historical price chart?
TRON (TRX) is an open-source decentralized cryptocurrency. The TRON coin was founded by the Chinese company TRON Foundation, registered in Singapore. TRX works as a unit of account in a blockchain application where content creators can be rewarded for sharing content.
In the first half of 2018, the Mainnet protocol was launched on the TRON blockchain. It is assumed that its own network, independent of Ethereum, will help the project cope with criticism. Among other things, the protocol assumes a transaction speed of up to 1000 per second and very low commissions of $0.0000001. All this greatly influenced the Tron price chart analysis.
At the end of 2022, the TRON cryptocurrency was in 15th place in terms of capitalization among cryptocurrencies with $4,533,292,223. The 100% emission of tokens was traded on the market. 
The Tron price peaked at $0.30 in January 2018, but after that, the price fell to $0.04. The Tron historical price chart can be analyzed right on letizo.com.
Latest Shiba Inu coin news
Shiba Inu (SHIB) is a token on the Ethereum blockchain that has grown in popularity in 2021 thanks in large part to its unique ecosystem and dog theme, as well as speculation on its price by retail investors and the active participation of the coin community.
The digital asset was inspired by the Japanese dog breed of the same name, which sparked a viral meme trend in 2013 and subsequently led to the creation of another well-known cryptocurrency, Dogecoin (DOGE).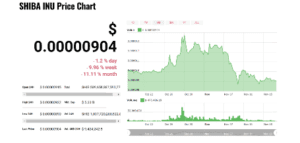 By the way, many Shiba Inu coin price predictions are based on the chart analysis of its older brother DOGE.
Typically, a meme coin offers owners little or no benefit compared to more established cryptocurrencies (like Bitcoin and Ethereum).
In the case of Shiba Inu, it looks like the design team is making an effort to provide more value to SHIB owners. So, in July 2021, the developers launched a decentralized exchange.
Being a joke coin SHIB still outperforms its today's competitor in market cap – 13th place.
Up to you
Is it the right time to invest in Tron and Shiba Inu? If you are reading this article then you believe in these two. So why not take advantage of market discounts?