There is a lot involved in ecommerce video marketing. You'd have to create your video branding elements, work with models, videographers, and more.
With these countless tasks and people to manage, you can easily get overwhelmed if you don't have a clear process in place.
Without a clear workflow, you are likely to wreck your marketing team's productivity and efficiency, causing you to encounter loads of firefighting and all while getting a lousy performance out of your video content marketing campaign.
To help you avoid just that, we'll cover several strategies to help streamline your ecommerce video content marketing.
1. Set clear goals and milestones.
Get your team on the same page by defining your video marketing goals and milestones. Make your goals realistic, time-bounded, and specific.
It's also crucial that you determine at the onset your target platforms for your video content marketing campaigns — whether you're optimizing for Google My Business, Twitter, LinkedIn, etc. After all, these networking sites each have differing video requirements, formats, and marketing-friendly features you'd have to consider.
Doing this further clarifies and solidifies your team's direction when creating promotional videos, reaching target audiences, and measuring your video marketing performance.
Examples of these goals include:
Receive at least 50,000 views and 500 likes by the end of three months;
Get 100 new YouTube subscribers by the end of August 2020;
Publish within 30 days 15 different types of video content on Instagram;
Increase follower engagement for all videos on Facebook by 15%.
Communicate these goals to everyone, ensuring they find the achievement feasible and agree to reach them.
Getting your team's commitment to these targets smoothens your collaboration along the way.
2. Define each member's roles.
Describe your team members' roles to avoid work overload, confusion among their tasks, and assigning responsibilities beyond their expertise.
Video marketing staff often go with your content marketing team, under the supervision of your chief content director. Here are some team member roles for your video content:
Video Content Specialist. Also called Videographer, Video Producer, Digital Producer, this specialist is primarily in charge of creating video content for whatever marketing purpose.
They work in pre-, during, and post-production phases, ensuring videos meet the brand's standards and are ready for distribution.
Video Editor. Video editors focus on transforming raw footage into the final output and editing the material. Their tasks include selecting and organizing clips, sourcing new media such as music, cleaning up the audio, executing color grading, and more.
3. Establish a marketing calendar.
Scheduling your video publication guides your team in determining when to produce video content, prepare actors and props, and do other tasks.
Let's say you're selling organic cosmetics and skincare products. Your video content marketing calendar for September might include tasks and due dates such as:
Creating one 60-second brand video – September 3
Announcing new product releases – September 10
Trailer for a webinar with personal development life coaches- September 15
GIFs of new products – September 17, 21, 30
Arrange your video content marketing calendar with tools such as Loomly.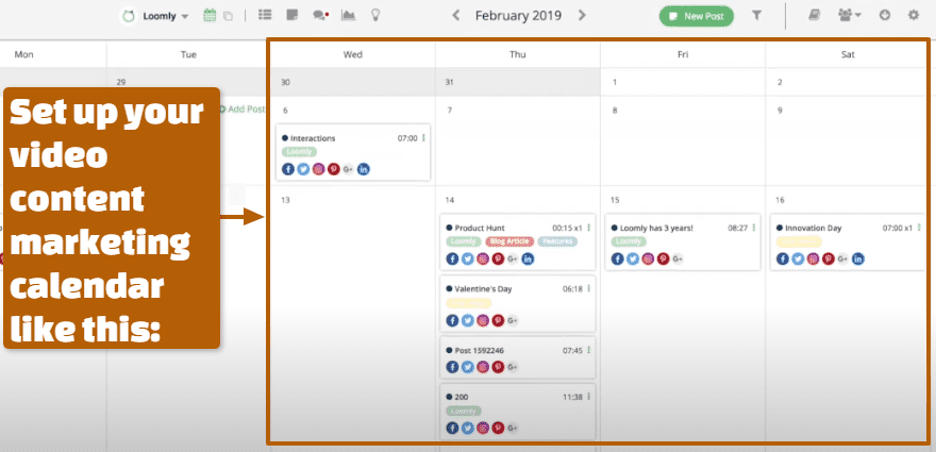 Loomly allows you to manage your content in calendar and list views, establish a master timetable, set up your calendar workflow, timezone, and specific details.
With your video content calendar in place, you won't miss your deadlines and milestones, and you can achieve your marketing goals on time.
4. Manage your video marketing projects.
Project management involves a ton of aspects, such as file sharing, team communication, and tracking updates, among others.
If you're doing all that on email, you and your team can get overwhelmed and lose focus. You'll mix up client messages and irrelevant entries with your video marketing tasks.
Instead, organize your video promotion tasks and team collaboration with marketing project management software, such as Monday.com.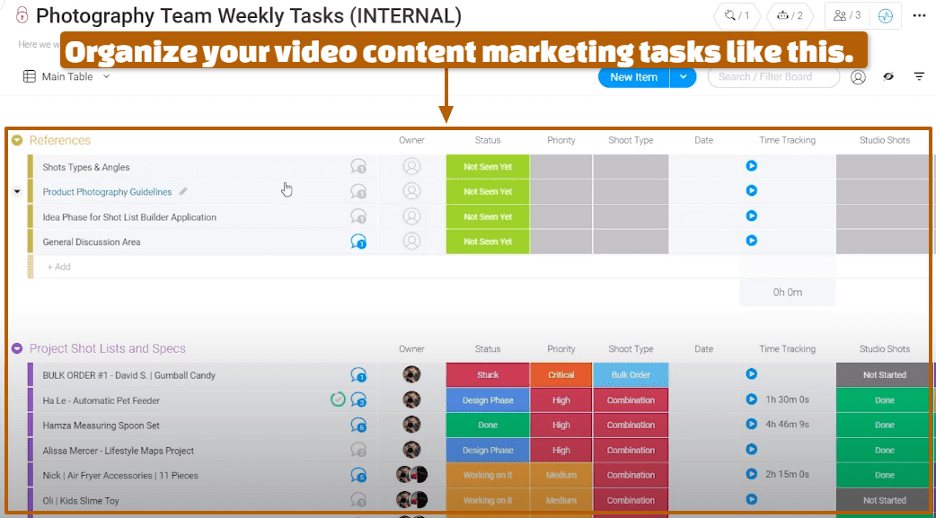 Monday.com lets you create and automate your workflows, adjust your team's workload, monitor your progress, and more, from a user-intuitive, visually appealing interface.
It offers multiple app integrations for time tracking, social media, customer relationship management, and more. It even generates quick visual reports on your project outcomes, etc.
With marketing project management tools, you can stay on top of things and arrange your video content marketing needs more smoothly.
5. Use the right tools to ease marketing tasks.
Compelling video content marketing entails targeting the right audience and attracting them with proper techniques, among others.
To maximize the effectiveness of your video content promotion, use the right online assistive marketing tools.
For instance, use keyword research tools to optimize your videos and improve your ranking in Google, YouTube, Instagram, and other channels.
One of these tools is Hypersuggest. It lets you type in your keyword, choose your location, platform, and language.
As a sample, I entered "tips to braid your hair" for YouTube and got these results: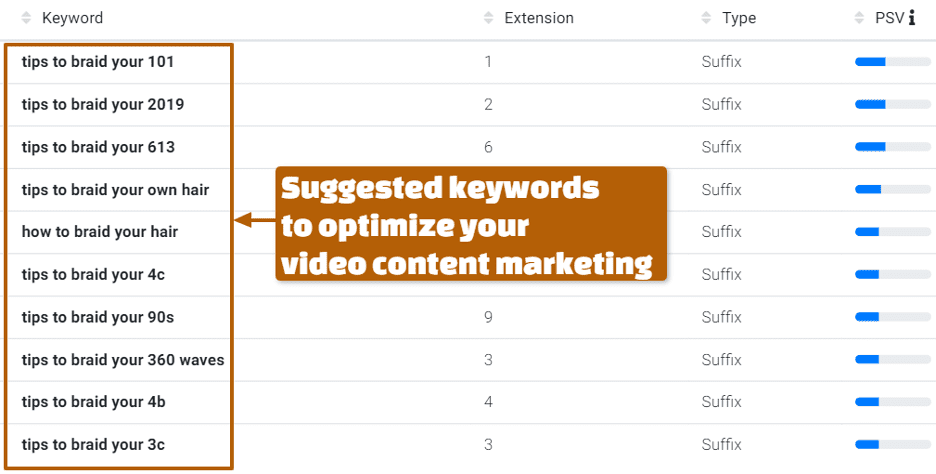 Hypersuggest suggests keywords and shows you their potential search volume (PSV), which depends on the keywords' ranking on the selected platform.
Another example is Omnisend to help you run your push notification marketing efforts. Push alerts update and invite your subscribers to check out your latest videos and others.
Additionally, pair these tools with a handy email or social media video checklist to ensure covering every critical element of your video marketing tasks and workflows.
Through these and other assistive marketing tools, you can get the best possible ROI from your video marketing strategies.
6. Store your video content securely.
Keeping your videos and related materials in safe storage is critical to a smooth, efficient content creation and marketing process.
Organize your folders so your present and future teams can easily find what they need. Employ proper naming strategies and templates, and don't put your files on your desktop.
Sync your devices as well, so you can work on the latest file versions, whether on your phablet or desktop. You can even back up your video materials on data centers and the cloud.
If you're using WordPress for your website, you can install WP backup plugins to support your additional repository needs for the videos on your site.
7. Meet often briefly.
Meetings help you align your team members' focus on your marketing goals, discuss your progress, and resolve issues as a team.
Set a regular meeting schedule and agenda, such as once weekly for updates, problems, and next steps.
Depending on your objectives, you can also schedule meetings for content brainstorming and planning.
Whatever your meeting may be, communicate your discussion points well in advance so everyone can make the necessary preparations.
However, meetings that run too long also eat uptime and productivity.
That's why, keep your discussions as short as possible, tackling only the most important and relevant matters.
Be straightforward, and communicate less significant concerns via your project management platform.
Streamline your video content marketing now.
With clear team structures and workflows, you can manage your video content marketing smoothly and accomplish things faster and on time.
Also, streamline your team communication and relationships to ensure everyone goes the same direction towards achieving your marketing and other business goals.