As of 2021, there were 202 million active iPhone users in the US, and the numbers keep rising. Likewise, WhatsApp is one of the leading social messaging apps, with two billion active users recorded every month (Source: Statista). Such statistics indicate that more people will want to transfer WhatsApp from Android to iPhone as they switch to their newly acquired Apple devices.  
However, most solutions burden the end-user with complex and technical procedures for transferring WhatsApp data to an Apple device. This leads to potential data loss and exposure to security vulnerabilities.
The ideal solution should:
Transfer WhatsApp messages from Android to iPhone.

Provide remote access for the WhatsApp data.

Provide a safe platform for securing and restoring your WhatsApp information. 
Below, we outline simple steps to transfer WhatsApp from Android to iPhone and restore WhatsApp from Android to iPhone quickly, securely, and efficiently. 
How to Transfer WhatsApp Data from Android to iPhone
There are three ways to migrate WhatsApp from Android to iPhone:
Method 1: Transfer WhatsApp Messages from Android to iPhone via Email
The email option lets you transfer WhatsApp messages to your iPhone without a computer. However, you'll not directly transfer to the iPhone's WhatsApp application. Why is this so? Android stores a WhatsApp backup in Google Drive, while Apple keeps the backups in iCloud. So you'd need a third-party solution to directly transfer WhatsApp data from Android to the iPhone's WhatsApp application. 
A third-party platform safely bypasses the different cloud storage restrictions to allow you to share all data to the iPhone's WhatsApp application directly. 
To transfer WhatsApp chats via email, use the steps below:  
First, go to your Android phone, launch WhatsApp, and then go to Settings.

Next, select "Chats", then scroll down to "Chat History."

Select "Export chat" to export your WhatsApp messages. You'll get a prompt asking you to select whether you want to export your chats with or without media. Next, choose your preferred export location. 

Next, select the email address.

Once the export is complete, open your inbox using the iPhone to access your WhatsApp messages.
Method 2. Transfer WhatsApp Chats from Android to iPhone with MobileTrans
Upgrading to a new iPhone from a previous Android device can be a headache if you don't know how to transfer your data between two contrasting systems. MobileTrans provides a direct way to access your chats, WhatsApp media, and business accounts between devices running different operating systems. 
With MobileTrans-WhatsApp transfer, you migrate your data in a few guided steps without using email. Also, you get to transfer all file types quickly and safely without resetting your devices or deleting any original data. Other features include:
MobileTrans supports data transfer, backup, and restore for WhatsApp business, Wechat, Kik, LINE, and Viber applications.

You can export WhatsApp chats to PDF/HTML directly from your PC.

Supports iOS 9.0+

Supports Android OS 7.0+
To perform the transfer, follow the steps below:
Step 1

: Download MobileTrans to You PC or Mac

Step 2

: Connect your Android and iPhone devices to a PC with a USB cable

Step 3

: Launch the MobileTrans application and click on the WhatsApp Transfer option.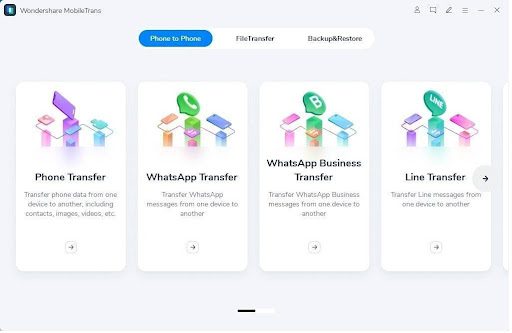 Step 4

: Next, tap on the WhatsApp icon from the pop-up window, then select the "transfer WhatsApp Messages" from the sidebar menu. MobileTrans will detect both devices and display them as the source (Android) and Destination (iPhone). Of course, you can always "Flip" the devices if their placement is incorrect, but the placement should be as indicated in the image below for this demo.





Step 5

: Tap "Start" to begin the data transfer process. 
Once the transfer process completes, you'll see the screen below and get a notification to unplug your mobile devices safely.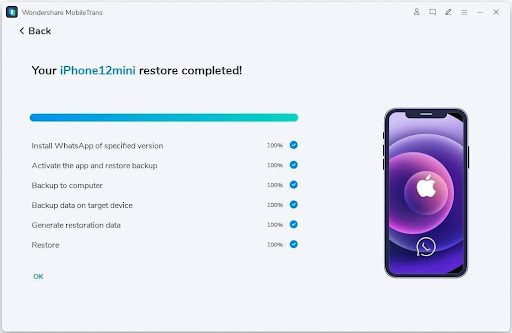 The WhatsApp application on the new iPhone will automatically detect all the data transferred from Android. So you won't need to download your chat history from your email or restore it from backups with MobileTrans.
A third-party data transfer platform saves you time and securely transfers all your data in a few clicks. It's a user-friendly solution that works even without any technical expertise. 
Transfer WhatsApp Chats From Android to iPhone Without PC
What if you don't have a PC or don't want to use a computer for a WhatsApp transfer?
The mobile version of MobileTrans is ideal for direct and fast WhatsApp phone to phone transfer. It is available as both an Android and App Store.
You can run a quick WhatsApp transfer and migrate chats and videos, images, audio files, emojis, attachments, and WhatsApp business accounts. 
Selecting the Best Solution for You
Wondershare provides multiple solutions for different use cases to quickly transfer, backup, and restore your data with no hiccups. 
You'll need a platform that does not bundle you with overly technical procedures and guarantees safe transfers with backup options. 
With MobileTrans, you can transfer mobile data via a PC or between phones for 18+ data types and over 8,000 device models. 
You can also transfer WhatsApp from Android to iPhone free of charge for up to ten images and get free backup on MobileTrans. But to get all transfer and backup features, including a two-year warranty, you can upgrade anytime with no hassle.