Not long ago, cryptocurrency was all the buzz, attracting investors with the promise of quick and easy profits. However, in the face of the current bear market, many investors and traders are turning their attention back to more traditional markets, more precisely – the stock market. But what if there was a cool way to bridge cryptocurrency with investing in stocks? 
This is where UTEX Exchange comes into play. And while there's no shortage of exchanges, none of the others offer traders the unique opportunity to invest in American stocks using USDT, all backed by an impressive 30x leverage.
Stocks to Invest in 2023: US Stock Market Analysis
With a possible recession still looming, investors are wondering which stocks to place their bets on. The analyst community expects volatility to continue in the near term due to lingering inflation and increasing interest rates. Needless to say, it's important to keep a close eye on the market and make your own judgments.
Investment opportunities can come from many different sectors, and you should remain vigilant to find the best investment options for you and avoid expensive mistakes. If you want to buy stocks in 2023, here are the best stocks to invest in the stock market.
Best stocks by one-year performance:
What is UTEX Exchange?
UTEX Exchange is a European exchange that was launched in 2020, initially specializing in cryptocurrency trading. Understanding the need for lower commissions, a more streamlined interface, and useful tools, the company set out to make it easier for traders. 
And while it's clear that the platform achieved these feats, this was just a start. The standout feature of the UTEX Exchange is that investors can use USDT (Tether) to purchase American stocks. So, for traders who are leery of crypto or for those who trade both, UTEX offers a cool opportunity without restrictions, all while enjoying 30x leverage.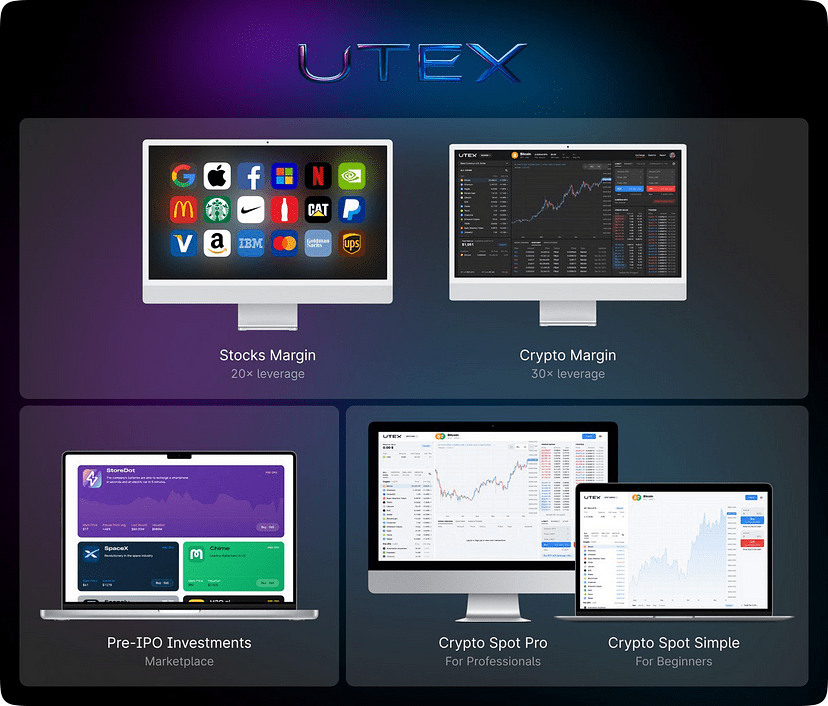 How Does UTEX Work?
When it comes to using UTEX Exchange, the first thing you'll notice is a clean interface that's easy to navigate, which is a bonus for traders of all levels. But with this exchange, it's all in the features. Let's take a look at what you can do with UTEX: 
UTEX MARGIN – Margin Trading
As we mentioned, one of the standout features here is that UTEX provides investors with the ability to trade cryptocurrency for US stocks with 30x leverage. Simply put, this means that you have the ability to use 30 times the amount of capital that you have in your investing account. 
With this leverage applied across a portfolio of over 50 cryptocurrencies and 9,000 stocks, nearly any instrument can be traded short or long. It's also worth mentioning that the platform has created its own risk management system. Therefore, UTEX doesn't charge service fees, and they keep transaction fees low, with the possibility of receiving custom rates. 
UTEX SPOT – Spot Trading
Aside from margin trading, UTEX also offers spot trading. Here, you can change between advanced and basic interfaces, so it's great for seasoned traders and novices alike. With this, the basic interface is nothing fancy, which keeps beginners from getting confused. For more experienced traders, the advanced interface offers everything you need, from candlestick charts and limit orders to your order book and more. 
USDT for US Stocks
Still, by far, the coolest feature of UTEX Exchange is that you can trade Tether (USDT) for American stocks with simplified deposits and withdrawals. All of this, combined with unlimited access to four American stock markets (BATS, Nasdaq, AMEX, NYSE), means you can choose from thousands of EFTs and stocks. And did we mention that there are no restrictions anywhere in the world, and you don't have to be a high net-worth investor? It's true! Plus, low transaction fees and no maintenance fees, which translates to higher profit for you!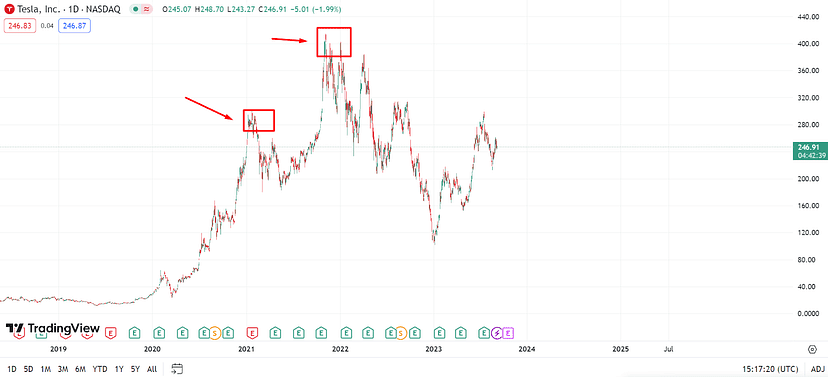 Why Trust UTEX Exchange?
We get it; in a world where cryptos and exchanges fly by night, why should you trust UTEX Exchange? The simplest answer is that it's the perfect solution for investors who want to trade American stocks for USDT with no restrictions and 30x leverage. If that's not reason enough, here are some additional reasons why UTEX Exchange is a no-brainer for traders: 
Wide Array of Financial Instruments:

From Tesla and Apple stock to Bitcoin and Tether, there's a seemingly endless array of investing opportunities on this exchange.
Dual Interface System:

UTEX offers both a basic and advanced interface allowing traders of all skill levels to easily invest. Here, the basic interface is simple and requires no additional training. However, if you're a more advanced trader and want to review candlestick charts, order history, order book, etc., then they also have you covered. 
Price Protection:

For users sending large volume market orders, UTEX guarantees the order will be executed at the specified price. This feature works great to help avoid unfavorable transaction costs.

 
 

Spread Warning:

When the ask in and best bid in the spread is more than 3%, the system automatically sends a notification to warn that it's a potentially illiquid asset. This is huge for traders to avoid bad investments. 
Fee Discount:

All investors holding UTT tokens in their wallets are eligible for a 50 percent reduction on commission fees. We highly recommend everyone take advantage of this feature! 
Affiliate Program:

By simply sharing a unique link, you can attract new members to the platform. In return, you receive a 30% commission on all trades executed by your referrals. At this time, this is one of the most competitive affiliate programs in the industry.
Know Your Customer (KYC):

The most important reason to trust UTEX is that they have a KYC system. Of course, this is necessary for any exchange to operate on the market, but the platform took a different approach. With their system, the more info you share, the higher your deposit and withdrawal amount. For example, with just a verified email address and full name, the deposit limit is 1,000 Euros per month, but if you also include a selfie photo and verified passport, the limit rises to 50,000 Euros per month. See the chart below.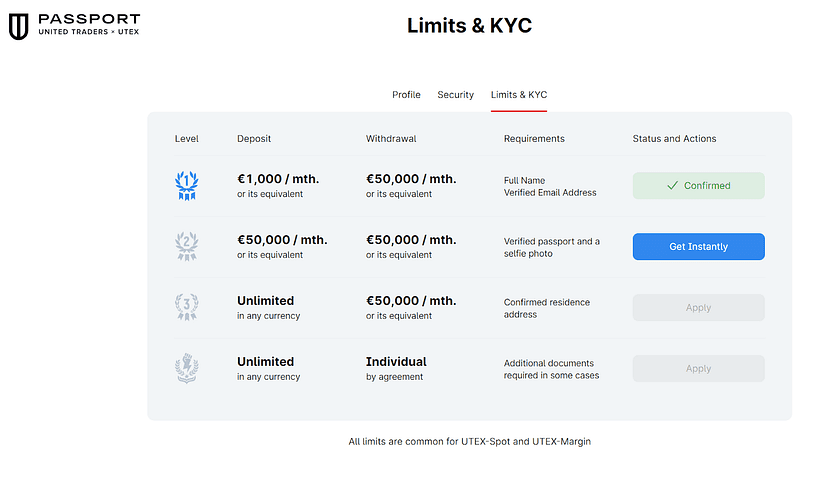 How to Get Started on UTEX Exchange
The allure of this platform is undeniable. If you want to get started today, here's a quick step-by-step guide: 
Locate the "Fund Your Account" option.

Here, choose between funding with a bank card or cryptocurrency.
Once your account is funded, take the time to familiarize yourself with the available trading tools for stocks.
Locate the "Margin" tab.

This section allows you to trade with leverage up to x30 per USDT.

Select a stock, make a purchase, and monitor its returns in your wallet.
Locate the "Spot" tab.

This section is ideal for those who prefer cryptocurrency trading without futures.
Is UTEX Safe and Legit?
UTEX is a reliable platform with a necessary pool of instruments for trading. It has a range of security features, including two-factor authentication, wallet protection, and password protection, to ensure the safety of users' funds and information. From personal experience, UTEX confidently takes a place in the top 5 exchanges in the rating among hundreds of other projects.
Unlock the Power of 30x Leverage Today
The key takeaway here is that if you're an investor interested in both crypto and stock trading, then UTEX Exchange is the platform you've been missing! From low fees and 30x leverage to a dual interface and access to more than 9,000 stocks and 50 cryptocurrencies, you can't go wrong. This is a cool platform that's worth learning more about. If we've piqued your interest and you want to get started, check out UTEX Exchange today!