What Is Tradervue?
Launched in 2011, Tradervue is a trading journal for experienced traders looking to keep track of all their investments while gaining valuable insights. To start using Tradervue, you have to link it with your favorite brokerage. It will automatically pull all the data about your trades and create personalized reports with actionable information so you can fine-tune your investing strategy.
Tradervue is compatible with the largest online brokerages and trading platforms and supports US equities, futures, options, and more. Tradervue has a very affordable subscription compared to other trading journals, and the free, basic plan is a good starting point for all traders.
In this quick Tradervue summary, I will go over all the best features of this platform. If you want to read a more in-depth analysis, check out our full Tradervue review.
Pros & Cons of Tradervue
Pros
Compatible with 80+ of the largest online brokerages
Track your investments: US equities, futures, options, and forex
Auto-import your trades directly from your broker
Access advanced reporting tools
Very affordable premium subscriptions ($29-$49)
Free basic plan
Advanced charting & mentoring features
Cons
No mobile app
No real-time data
Synchronize With More Than 80 Brokerages
Tradervue is compatible with more than 80 online brokerages, and they're continually expanding their offering. You can check the complete list on their website, but some of the largest brokerages supported include:
Interactive Brokers
Robinhood
Questrade
CMEG
Schwab
TD Ameritrade
If your broker is not listed, you can always import your trading information manually or as a CSV file. To sync a broker, log in to your account, navigate to the Import tab, select your brokerage, and follow the prompts.
Access Advanced Trading Analysis Tools
Through the Tradervue dashboard, you can access comprehensive analysis tools like Automatic Price Charts and Global Filters to stay on top of your investments across all brokerages and track the Commissions & Fees you pay – all from one place.
After you record a trade in your journal, Tradervue will automatically create Price Charts with multiple time-frames (from weekly to 1-minute) for all your recorded trades so that you can visualize entry and exit points at a glance. You can also filter your trades by ticker, duration, or date and tag them accordingly for future reference.
For beginners, Tradervue has a unique Coaching/Mentoring feature. If you work with a mentor, you can grant them access to your trading records, and they can leave comments or recommendations for you on specific trades.
Advanced Reports
Tradervue offers advanced reporting tools and eight different premade reports. The Overview Reports is the best option to see recent performances at a glance and includes metrics like volume, win%, daily and cumulative P&L, and more. The other reports available are:
Comparison Reports
Tag Reports
Advanced Reports
Tick-based Reports
Risk Analysis
Liquidity Reports
With the basic subscription, you will only have access to the basic reporting tools; if you want complete access to the advanced reports, you will need a silver or gold subscription.
If you're a new investor looking for educational resources, we recommend checking out Trade Ideas. It has somewhat higher fees than Tradervue but offers a lot more in terms of education, and most of its resources are free.
Tradervue Fees
Basic Subscription: Free
Silver Subscription: $29/month
Gold Subscription: $49/month
Tradervue doesn't currently offer any annual plan. Alternatively, you can try out Trademetria, which also has a free plan and slightly lower fees; the tradeoff is that you have to enter all your trades manually.
Sign-Up Process
Anyone can register and create a Tradervue account, and there are no special requirements. To get started, you just need a valid email address. Here are the steps:
Visit Tradervue's website
On the top right, click Sign Up
Select a subscription
Enter some of your basic information
If you use our link to create your Tradervue account, you'll gain full access to a 7-day free trial for both the Silver and Gold subscriptions. Keep in mind they offer no refunds, but you'll get notified when your trial is running out.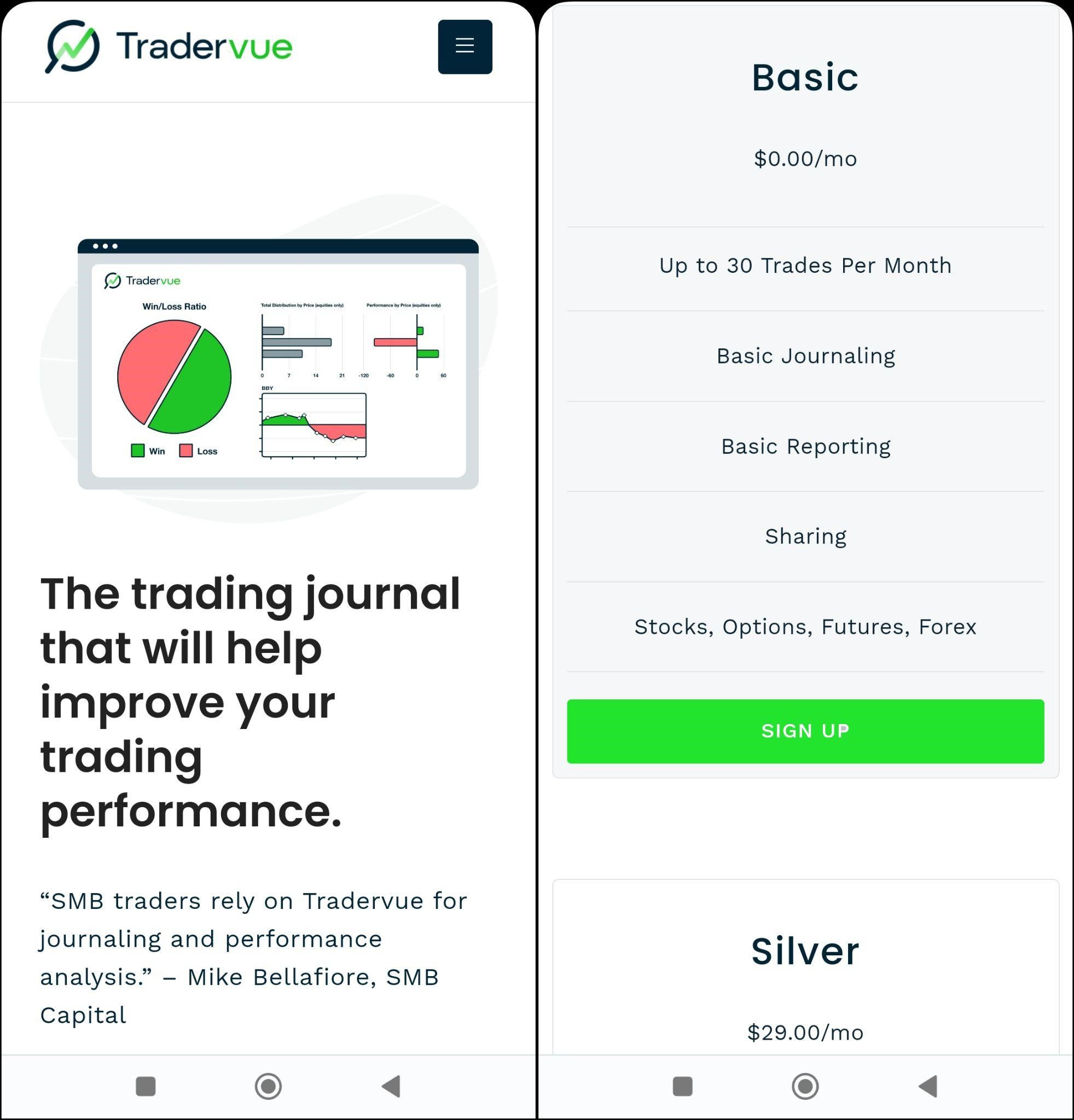 If you are not entirely convinced that this particular service is for you, or you're looking for a more robust trading journal, we recommend TraderSync, one of the most advanced trading journals.
Final Thoughts
Tradervue is an online trading journal for traders looking to gain insights into their investments and improve their trading strategies. Tradervue's best features include comprehensive reporting tools with personalized recommendations and actionable information, so you zero in on any systematic error you may be committing when trading. With Tradervue's charts, you can visualize at a glance all your past trades and filter by ticker, date, or tag them so you can access them quickly. Tradingvue offers a completely free basic plan, and it's an excellent option for beginners and experienced traders alike.