TraderSync is a trading journal designed for experienced traders looking to keep track of all their investments while gaining valuable insights with personalized reports. TraderSync was launched in 2014, and it's fully compatible with more than 240 of the biggest brokerages worldwide; after you link your brokerage, all your trades are imported automatically, and you can request a personalized report at any time.
With TraderSync, you can easily access interactive charts and intraday charting tools, must-haves for options, and day traders that need to digest the most information at a glance.
Launched in 2011, Tradervue is an online trading journal for traders looking to optimize their trading strategies, access mentorship programs, and get specialized reports with actionable recommendations. Tradervue is compatible with 80 online brokerages and is continually increasing its support. One of its best features is a testing environment where traders can test different strategies and get feedback without the risk of losing any asset.
Keep in mind this is a quick summary of these products; for a more in-depth analysis, check out our full TraderSync vs. Tradervue side-by-side comparison.
TraderSync Vs. Tradervue Plans – Side By Side
Starting with the similarities, both platforms:
Support the largest asset classes, including equities, futures, options, and forex
Synchronize with your favorite brokerage
Import trades automatically
Affordable subscriptions
Advanced analysis tools & reporting
TraderSync has three premium subscriptions: Pro, Premium, and Elite. TraderSync subscription fees range from $29.95-$79.95/month – or $26.00-$69.50/month if you sign up with our link) – and there're no free or basic plans.
Tradervue has a very similar fee structure with prices ranging from $29-$49/month – the main difference is that it does offer a basic, free subscription. The basic subscription is very limited, but it covers all the basics, and you'll get a clear idea of how the platform works.
| | | |
| --- | --- | --- |
| Platform | Tradervue | Tradersync |
| Compatible with other brokerages | Yes. Compatible with 80+ of the largest brokerages | Yes. Compatible with 240+ of the largest brokerages |
| Supports | Equities, futures, options, and forex | Stocks, Options, Forex, Futures, and Futures Options |
| Import trades automatically | Yes | Yes. Import trades with no limits |
| Advanced reporting tools | Yes. Choose from 8 specialized reports | Yes. Limited |
| Subscription fees | $0-$49/month | $29.95-$79.95/month |
| Free basic plan | Yes | |
| Charting tools | Yes. Automatic price charts, Global filters, and more | Yes. Interactive charts and intraday charts |
| Educational resources | Mentoring features | Limited |
| Advanced trading analysis tools | Yes | No |
TraderSync and Tradervue premium subscriptions offer full compatibility with the largest brokerages so that you can import your trades automatically. TraderSync has a slightly broader reach, already supporting 240 brokerages – compared to Tradervue's 80. If your brokerage is not currently supported, both platforms offer the option to enter your trading information manually or using CSV files, which you can download directly from your broker.
For experienced investors, Tradervue offers eight technical reports to choose from, including Comparison, Tag, Tick-based, Risk Analysis, and Liquidity reports. These reports are particularly useful if you want to improve all aspects of your trading and minimize any systematic error you may be committing. We go deeper into all the benefits in our full Tradervue review.
TraderSync only offers one type of personalized report – with recommendations – based on your last trades. It also includes a unique trading simulator where you can implement all the recommendations from the report and run them on the Evaluator to test the performance with real data in a safe, risk-free environment.
Our Recommendation
If you're still unsure which platform is a better fit for you, these are our recommendations.
If you're not looking to spend a lot of money, Tradervue's Basic account doesn't charge any fee and offers basic journaling and reporting
If you want an easy-to-use trading journal that supports the broadest range of brokerages, we recommend any TraderSync subscription, which includes support for more than 240 brokerages
If you're a beginner investor looking for coaching/mentoring features, we recommend Tradervue's Silver subscription
If you're an advanced investor looking for detailed reports that will help you take your investing to the next level and a safe testing environment, Tradervue's Gold subscription is for you
When it comes to choosing a trading journal, or any investing platform, for the long term, it's usually a good idea to get a feel for the platform before committing to any subscription. For those reasons, we recommend all new investors start with the Tradervue Basic account and work their way up, if necessary.
If you're ready to go for a more premium platform, we recommend checking out Edgewonk vs. Tradervue review. On the one hand, Edgewonk has slightly higher fees than Tradervue and TraderSync. Still, it offers a broader support of assets, including crypto, a trade planner/calendar, an equity graph, and more.
TraderSync Fees vs. Tradervue Fees
TraderSync
Pro Subscription: $29.95/month (or $312/year)
Premium Subscription: $49.95/month (or $520/year)
Elite Subscription: $79.95/month (or $835/year)
If you sign up using our link, you'll get a 13% discount on all annual subscriptions; you will only pay $26.00, $43.20, and $69.50/month for the Pro, Premium, and Elite subscriptions, respectively. We go deeper into the discounts and additional features in our full TraderSync review.
Tradervue
Basic Subscription: Free
Silver Subscription: $29/month
Gold Subscription: $49/month
Signing Up With TraderSync
Anyone can create a TraderSync account, and there are no special requirements. To get started, you need a valid email address; here are the steps:
Visit TraderSync's website
Open the top right menu and click Sign Up
Enter your email address and create a password
Click Sign Up and verify your email
If you use our link to sign up, you'll have complete access to a 7-day trial; no credit card information is required. Additionally, you'll get a 13% discount on the yearly subscription plus full access to a 7-day trial.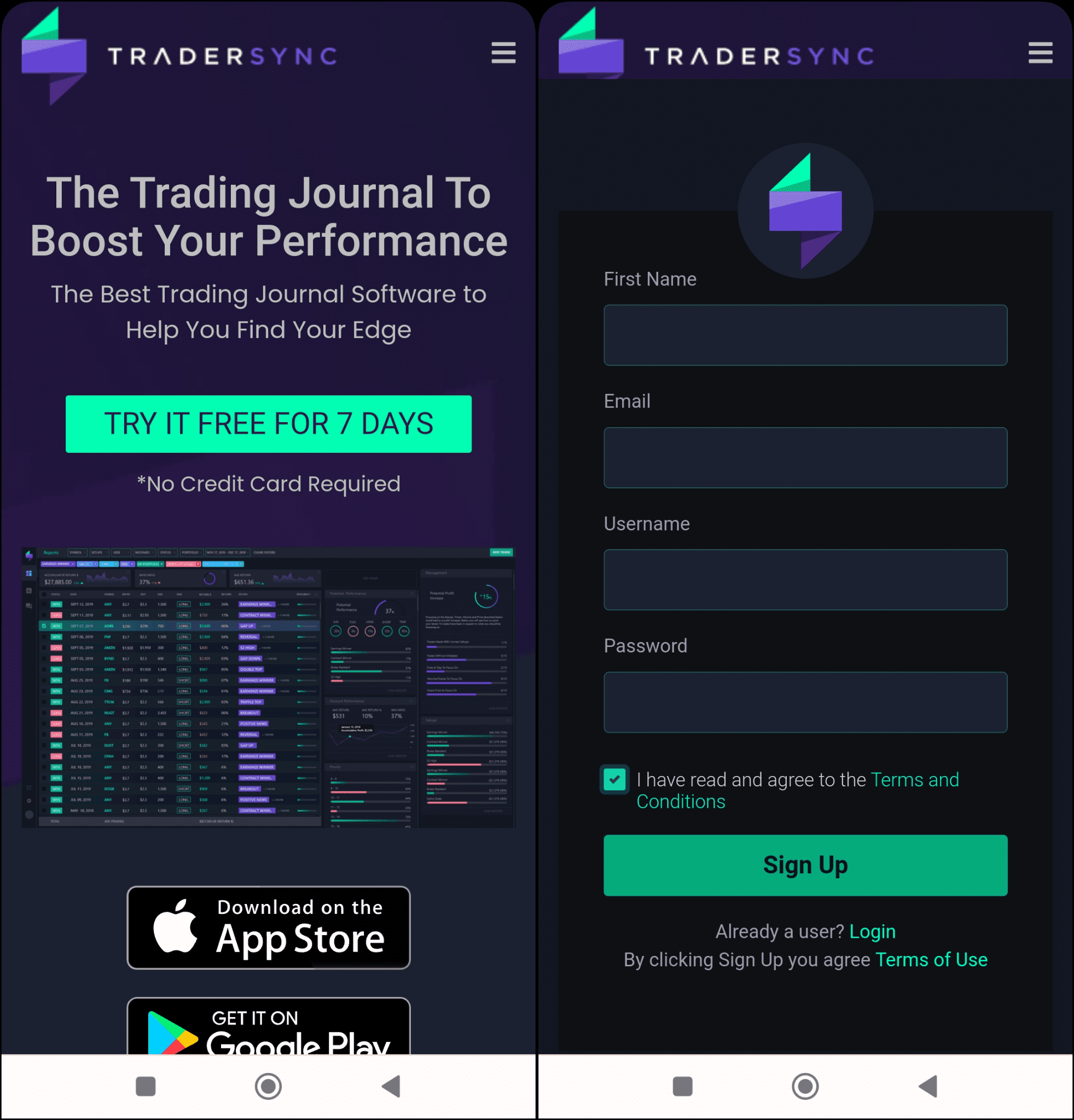 Signing Up With Tradervue
Anyone can register and create a Tradervue account, and there are no special requirements. To get started, you need a valid email address. To get started:
Visit Tradervue's website
Click Sign Up on the top right
Choose a subscription
Enter some of your basic information
Sign up using our link, and you'll gain full access to a 7-day free trial for the Silver and Gold subscriptions. Make sure to cancel before the trial period ends, and you won't get charged.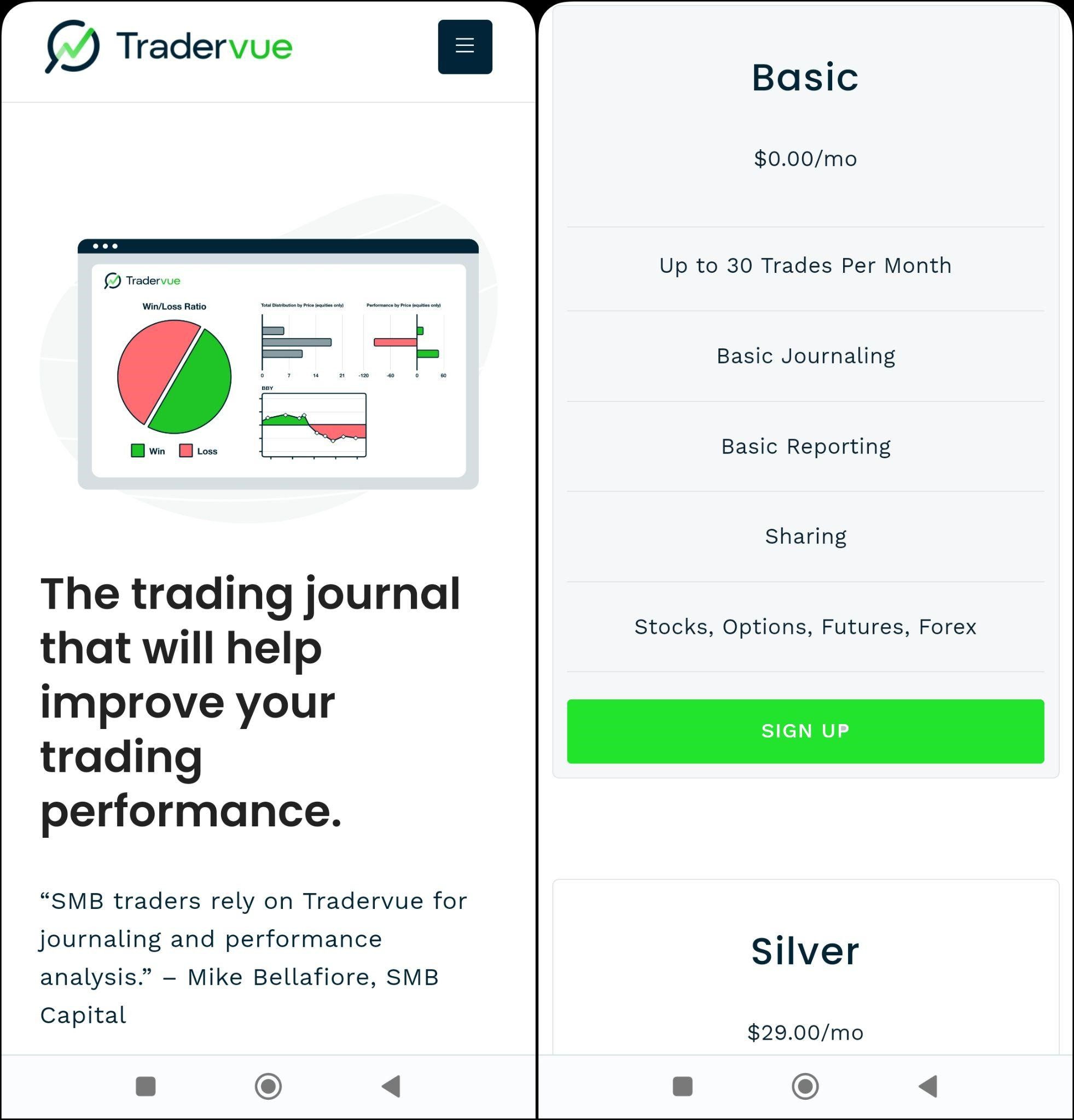 Conclusion
TraderSync and Tradervue are two of the best online trading journals in the market, and at their core are very similar. Tradervue is better suited for new investors unfamiliar with this type of journal, as it offers a basic account and has a comprehensive coaching and mentoring program. TraderSync provides some of the best interactive and intraday charts in the market and is better suited for experienced investors looking for broader support from online brokerages. Both are reasonable options, and you can't go wrong with either.