What Is Trade Ideas?
Launched in 2002, Trade Ideas is a stock scanner and robo-advisor platform designed to help experienced day traders gain an edge over the competition. It is a highly customizable platform powered by an A.I. robo-advisor known as Holly. The Trade Ideas platform can be accessed on any browser or downloaded as an MS Windows application.
Through Holly, you'll be able to access 60 expertly made, advanced strategies and start implementing them in all your trades. Some strategies available include The 5 Day Bounce, Breakout, Bullish Pullback, and Bullish Trend Change. Additionally, you'll be able to test all your strategies in a Simulated Trading environment using historical data before risking any of your hard-earned assets.
For beginners, Trade Ideas offer one of the most complete learning centers, from videos and guide to daily webinars and access to The Trading Room, where you can interact with peers and professionals who will answer all your questions.
In this quick Trade Ideas summary, I will go over all the best features of this platform. If you want to read a more in-depth analysis, check out our full Trade Ideas Review.
Pros & Cons of Trade Ideas
Pros
I. powered stock recommendations
Supports 60 of the most successful intraday strategies
Choose from Conservative, Moderate, and Aggressive risk tolerance
Real-time market scanner and charting tools
Actionable recommendations through signals
Test your strategies in a safe, Simulated Trading environment
Comprehensive learning resources, including videos and live webinars
Downloadable MS Windows application
Cons
High fees
No trial period
The downloadable version is not available on macOS
Trade Ideas Features
1) Access To An A.I. Virtual Trading Assistant
Trade Ideas picks are powered by Holly, an A.I. robo-advisor that runs thousands of algorithms and evaluates millions of scenarios before making a recommendation. It also offers real-time suggestions to premium users and signals the optimal times to enter and exit a position. It supports over 60 of the most successful intraday trading strategies, including:
The 5-Day Bounce
Alpha Predators
Bon Shorty (Short)
Breakout
Bullish Pullback
Bullish Trend Change
Holly works by testing its 60 strategies every night and weighing the most likely scenarios. It then provides detailed recommendations every morning, including entry and exit prices, stops, targets, and more. In total, it completes between 5 and 25 trades every day. It is one of the most successful robo-advisors out there and has shown very positive returns since 2020 – and it can only get better.

Depending on the type of investor you are, you can choose from three risk profiles:
Conservative Mode: Holly will consider five order types (stop & target hit, profit save, reduce risk, and timed exit)
Moderate Mode: Holly will consider two order types (stop hit & timed exit)
Aggressive More: Holly will only consider one order (timed exit)
You can also set up the risk by size – you can fully customize Holly to purchase a certain number of shares or spend a certain amount of money. We're just scratching the surface here – Holly is so customizable it can fit any investing profile.
2) Market Scanner, Charting Tools, & Signals
With Trade Ideas Stock Scanner, you can track events and price fluctuations in real-time from their alert window. You can fully customize it by adding channel bars, which include parameters like volume, crypto, and social, plus time frames like premarket, after-hours, and more. This is very helpful in getting a broader view and a complete understanding of the current landscape.
You can also set up trade notifications and signals to suggest the optimal time of Entry or Exit based on your risk profile.
3) TI Swing Picks Newsletter
Trade Ideas also offers a Swing Picks Newsletter with five weekly recommendations. They pick their stocks using relative strength, compared to the market, and use quantitative analysis to determine if those have the potential to outperform the market.
Swing Picks Newsletter has very positive returns – since 2018, it has beaten the SPY Index by more than 200%. That's comparable to the returns of the Motley Fool's biggest service Stock Advisor compared to the S&P 500.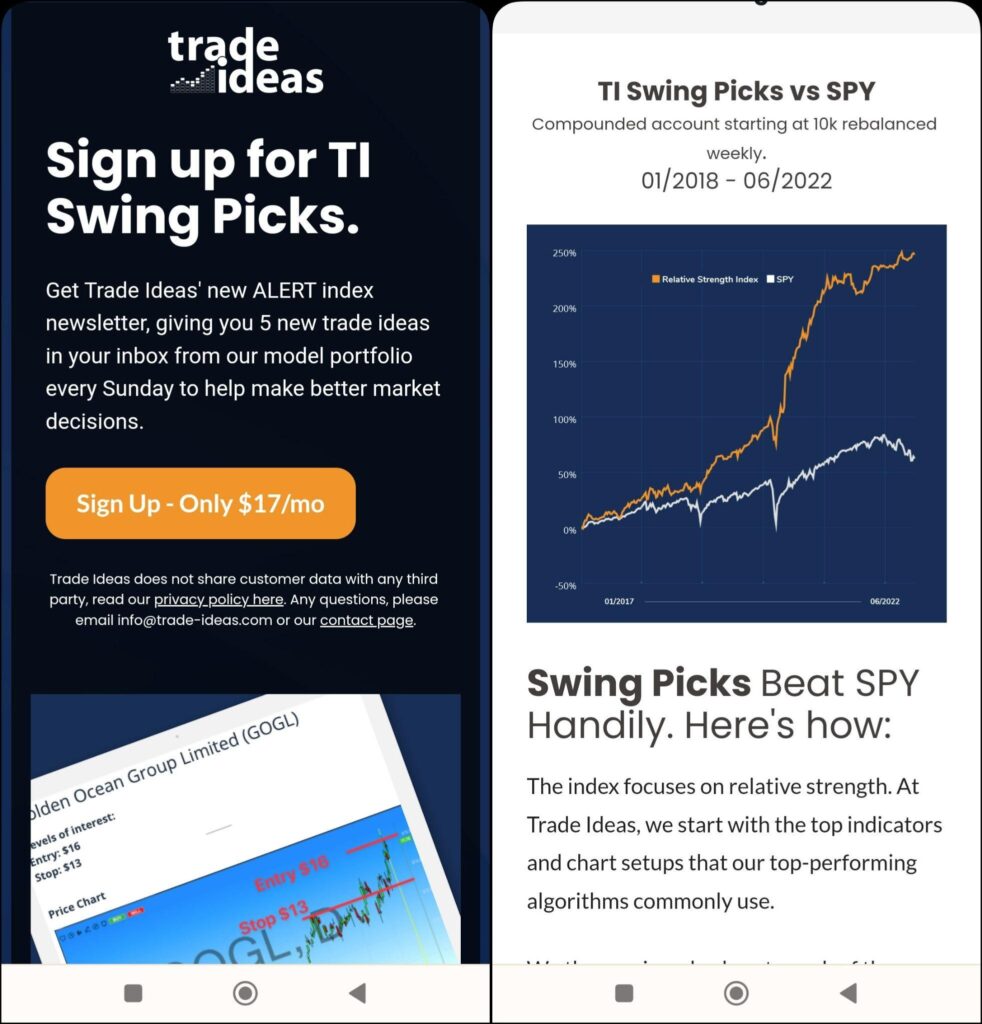 4) Strategy Tester
Similar to a demo environment, Trade Ideas offer Simulated Trading that works in tandem with Holly, their A.I. robo-advisor. It is ideal for experienced investors looking to fine-tune their strategies, and you can use historical data to test out how it would perform in a realistic environment. There's also an idea generation tool that can help you develop your own strategies from scratch; couple that with prompt feedback, and you'll be able to correct mistakes and optimize your strategy. You don't need any programming experience to use this tool.
5) Free Learning Resources And Access To The Trading Room
For beginners, Trade Ideas offers comprehensive educational videos that will guide you step by step in your trading journey. The Getting Started Series covers:
Download & Installing Trade Ideas
First Startup
How To Use The Toolbar & Right Click Magic
Layout Styles: Customizable, Floating, And Docked Layout
Intro To Scans
Intro to Charts
After watching these short videos, you will have a much clearer on how to use this platform. Additionally, the Trade Ideas team has daily support sessions five days a week with Chris Varley and other experienced investors. You can ask questions, and they will be more than happy to assist you.
If you'd rather try out a more advanced learning resource, you can join the Free Trading Room with Barrie Einarson. Barrie is an experienced day swing and options trader and very proficient with the Trade Ideas technology. He will not only explain what he does – he will show you exactly how he uses the platform and how he trades in real-time.
This is invaluable if you want to become a better investor and are interested in moving to advanced day trading and options trading platforms like Option Strategies Insider, which requires some experience.
Trade Ideas Fees
Standard Subscription: $118/month (or $999/year)
Premium Subscription: $228/month (or $1,999/year)
If you're considering using this for the long term, we recommend signing up for their annual plan. You will save up to 11% on fees compared to the monthly subscription.
Sign-Up Process
Signing up with Trade Ideas is very easy and won't take more than a couple of minutes. This platform is available in over 65 countries worldwide, but they pay special attention to US and Canadian equity markets.
If you use our link to sign up, you'll get a 15% discount on your first purchase – this applies for monthly and annual subscriptions.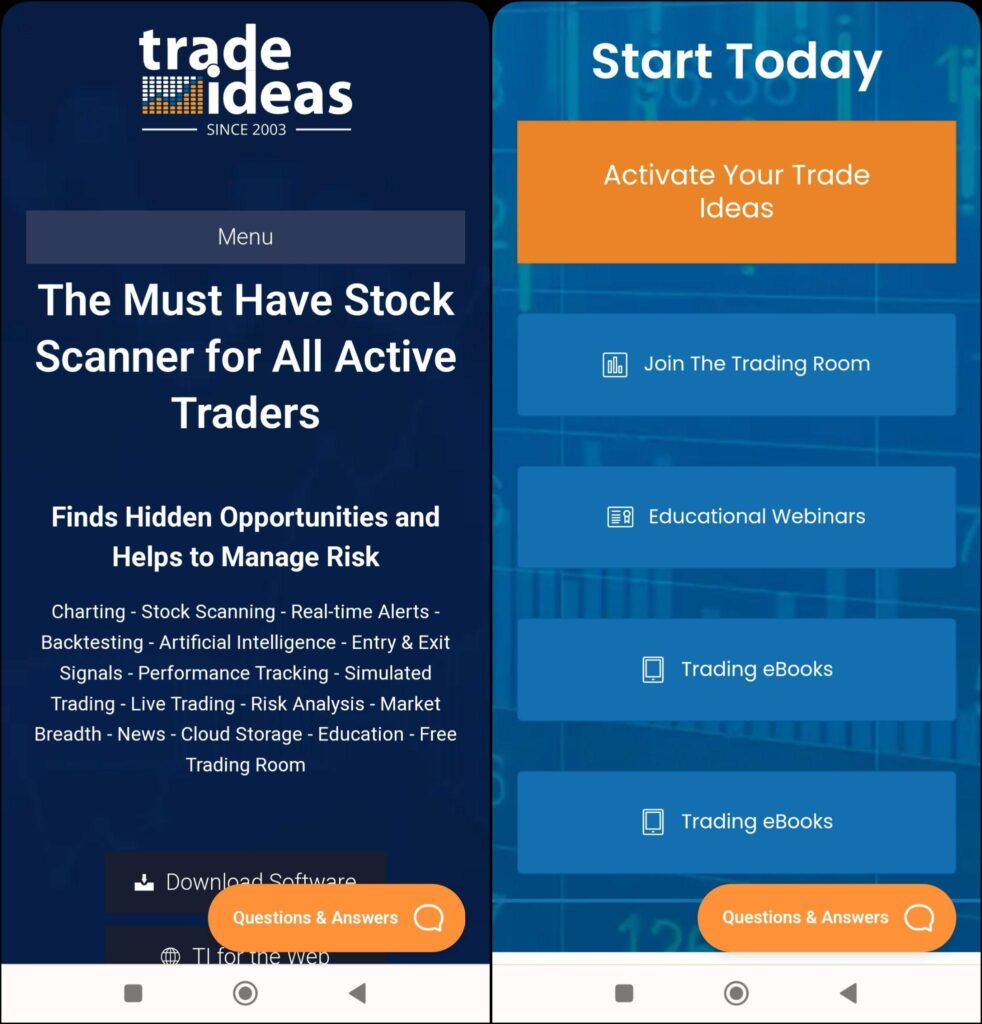 Trustpilot Reviews
Trade Ideas has good reviews on Trustpilot and holds an average rating of 3.8. Here's what some of their users have to say about it:
"I was a beginner trader and didn't know where to turn. I stumbled upon Trade Ideas from several review sites so I thought I'd give it a shot. I tried their Test Drive, which gave me 2-week access for only $10, and became quite intrigued, so I committed to a subscription. I haven't regretted it since." – EB. J.
"The only scanner that truly uses real-time data against a database for the same symbol. Swing trader or Day trading scalper. This program is irreplaceable in my trading method." – Steve G.
"This is the best trading tool I have ever used. I would not trade without it." – Kayla A.
If you are not entirely convinced by this platform, we recommend checking out TradingView. It supports charts, graphs, and excellent visualization tools – plus their proprietary Raindrop Charts, which can be a game changer for experienced investors.
Final Thoughts
Trade Ideas is an excellent option if you're looking for an AI-powered advisor. It runs thousands of algorithms, evaluates millions of different scenarios, and calculates the probabilities of success – all to make the absolute best recommendations. If you're an experienced investor, you can tweak parameters and choose from 60 different strategies. If you're a beginner you'll be able to access learning resources including videos, guides, and webinars. All in all, I'm confident in recommending Trade Ideas as one of the best stock scanning tools and day trading platforms in the US.