Lawfully helps you track, analyze, and get consultation on your immigration/visa cases. In this interview with TechBullion, Joon Ahn, CEO of Lawfully will be telling us more about the app in detail.
Please tell us more about yourself?
My name is Joon Ahn, a scientist turned entrepreneur, co-founder and CEO of Lawfully, Inc. My education background starts with a B.S. in Physics from the Advanced Institute of Science and Technology (KAIST), the best university for engineering in Korea. I have a MS in Nuclear Engineering from the Tokyo Institute of Technology with a Monbusho Scholarship from the Japanese Government and a PhD in Physics from the Imperial College London Chevening with a Scholarship from the British Government. As a data analysis expert, I have 15+ years research experience at national laboratories & universities.

After having experienced complicated visa processing for my visa, I founded Lawfully with Judy Chang, a veteran immigration lawyer. Lawfully is a legaltech startup reimagining the legal industry with innovative technology solutions for both immigration applicants and lawyers.
What is Lawfully and what unique services do you provide?
a) Lawfully is built by immigrants for immigrants. Lawfully is a legaltech startup reimagining the legal industry with innovative technology solutions for both immigration applicants and lawyers. Lawfully is the first and only company that offers both analytics of individual immigration cases and financial services tailored to immigrants. 
b) Since 2020, Lawfully has presented ground-breaking solutions to problems in the US immigration market through an all-in-one platform. Lawfully combines its immigration law and data science expertise with cutting-edge technologies including artificial intelligence and machine learning algorithms to offer mobile and web products for immigrants and lawyers, such as case tracking and analysis, video legal consultations, and mock interviews. Today, Lawfully has surpassed 600,000 registered cases and 500,000 app downloads from over 219 countries, with an app rating of 4.7. 
c) We are committed to building a community as a playground where every immigrant can play and work together and help each other on their immigration journey. Our ultimate goal is to make immigration easy for everyone.
Immigration/visa solution is a very vital part of the travel industry, how big is this market and what is the level of demand for the services you provide at Lawfully?
Every year 1M new green cards and 10M long-term nonimmigrant visas are issued. While our focus is on immigration, our products address the process and worry involved in securing visas. 
Reflecting the anxiety and worry of getting a visa, I built the first version of  "Lawfully Case Tracker" and released it on the app store just to see if this is what immigrants are looking for. Surprisingly enough — it spread quickly among people who have pending immigration cases and were tired of checking the USCIS website every day. Within a year of the first launch, it hit +300K registered cases, now +600K and is expected to reach 1M cases by the end of this year.  
Following the remittance service launching, we plan to add features that every immigrant is looking for. I believe this addition will stretch market size as well as our customer base and accelerate our growth.  

Could you give us a walkthrough of the Lawfully platform and the specific products you offer?
1) Our first product, Lawfully Case Tracker, specifically targets immigrant anxiety and frustration; by not knowing when their immigration case might be processed (and what the outcome might be), immigrants cannot plan their lives. 
2) Through a deep analysis of years of immigration data, Lawfully Case Tracker is able to predict the length of time each step of any given immigration case will take, shining a light on the traditionally opaque processing timeline and allowing immigrants to follow the development of their case in real-time. It empowers immigrants to  track and predict their US visa applications based on A.I. empowered algorithms. 
3) For Case Analysis Pro, our premium feature, we analyze the present data of ongoing cases, giving an insight to where they currently stand compared to other users sharing a similar timeline. We also provide statistical probabilities of the likelihood of a successful application as time goes by,  granting immigrants the ability to make informed decisions as their case unfolds.
4) The importance of this service is that we can direct users to many additional services they need for living in the US (eg, legal consultation, interview prep, Community at present). Financial service is our first major expansion beyond the immigration case management, out of which remittance is the first feature. All such services are available on a single mobile app, Lawfully Case Tracker. Now it is an essential tool that any immigrant should always have in their pocket. 
5) Remittance
Lawfully just launched a secure, fast, and free international money transfer service for immigrants in the US. With Lawfully Tracker users can transfer funds through the Lawfully Tracker app, quickly and easily. Money transfers will be available from the US to Mexico, Philippines, India and more countries will be added soon.
Other services charge an average 5% money transfer service fee and the process takes several business days. Lawfully's Remittance service offers free unlimited money transfers for subscribers with no hidden cost and competitive exchange rate better than old-school banks/remittance services such as Remitly, Xoom, Wise, etc. Transfer time is within 24 hours.
What is the Lawfully Community all about, what can you find in the online community?
Launched last September, it's already one of our most popular features. Our community section provides users a space to share their issues and communicate freely. Many users share the timeline created by Lawfully to discuss their case status and ask for advice from community members. It's not only a place for sharing information but a comfort space for users, making immigration a less solitary journey. You can find Lawfully Community at https://www.lawfully.com/community/categories/all
What kinds of U.S immigration related resources can you find on the Lawfully website?
Immigration 101 (https://www.lawfully.com/resources)
-USCIS Forms You May Need to File an application
-Tips for Your Green Card Application
-What is USCIS Case Tracker? How to Track My Case?
-How to Track Your National Visa Center (NVC)
-Case-Immigration Q&A with Attorney
-How to Track Your National Visa Center (NVC) Case
-H-1B Eligibility Criteria and Required Documents
How does the case status explorer work and what are the benefits?
USCIS Case Status Message Explorer provides a percentage of users who have received the same message and the average time it takes to receive it based on Lawfully's advanced data analysis.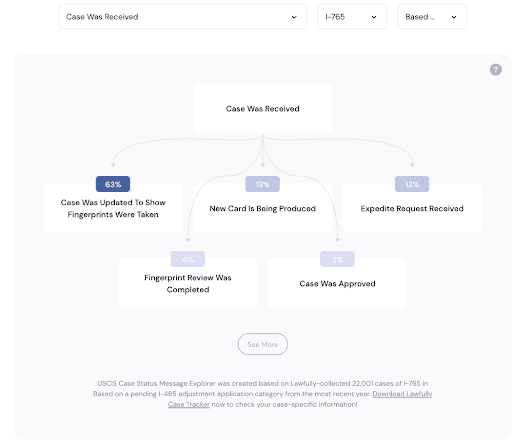 What are you currently working on at Lawfully and what is next on your roadmap?
We launched the new remittance service in May and are going to expand coverage from 3 countries to 10 countries before the end of this year. 
Our Case Prediction provides personalized prediction of case processing time, case approval rate and REF probability, based on our data and algorithm.  Our engineering team is continually working to enhance accuracy of our prediction modeling. We continue to work hard to deliver more value to our users.

Please stay tuned for the upcoming advances on our analytics!
Do you have any available opportunities for investors or partnerships at Lawfully?
On the investment front, we are in the midst of closing Seed round and plan to open Series A round around Q4, 2022. We are looking for angel investors or VC's with a focus on legaltech, fintech or AI as well as any interest in immigration.
As for partners, we are always open to any immigrant advocates, companies and organizations that are building immigrant communities and improving immigrants' lives.  We especially welcome successful immigrant founders that want to pay it forward as mentors, advisors or brand evangelists. 
Any success stories or other information you would like to share with our readers today?
Our advisor, Younghee Noh, visionary entrepreneur and angel investor, shared her immigration story with the Lawfully team. See Review from our happy user. This may help your readers understand why Lawfully aims to be your definite immigration companion.