What Is A Topstep Funded Account?
Topstep-funded accounts are upgraded Topstep Trading Combine accounts that you unlock after you complete the qualification process. To start working towards your Topstep Funded Account, you will need to first subscribe to one of the Trading Combine accounts and follow the 'rules.' These rules are designed by the Topstep team to teach you the key skill that all successful traders should know and include concepts like risk management, reaching profit goals, and minimizing losses.
Trading Combine accounts exist in a simulated environment so that you won't risk any money. After you get approved for your Topstep Funded Account, you can start trading on live markets backed by Topstep's capital.
Topstep – also known as TopstepTrader – was founded in 2010 by Michael Patak, and the main goal was to build a platform that would help traders reach their financial goals. Topstep is available worldwide, with investors from more than 140 different countries. In 2021, more than 8,000 traders qualified for their Topstep Funded Account, and Topstep processed more than $3 million in payments to funded traders.
Get Your Topstep Funded Account In 8 Days
With Topstep, any investor who completes the Trading Combine is guaranteed a Funded Account. To navigate the two-step Trading Combine process successfully, you will need to follow the rules:
You can't exceed the Daily Loss Limit (ranging from $1,000 to $3,000)
You can't exceed the Trailing Maximum Drawdown limit (ranging from $2,000 to $4,500)
You can only trade permitted products
You must follow the Scaling Plan
The Daily Loss Limit ranges from $1,000 to $3,000, based on the buying power of your account ($50k, $100k, or $150k). The Trailing Maximum Drawdown is calculated using your account balance high to encourage you to protect your profits. Similarly to the Daily Loss Limit, the Trailing Maximum Drawdown is tied to the type of account and ranges from $2,000 to $4,500.
Keep in mind that if you break any rules while on the Trading Combine account – before your Topstep Funded Account is approved – you can reset your progress and try again to reach the requirements. Read more about the requirements to qualify for a Topstep Funded Account.
Here are the fees for the three types of Trading Combine accounts based on buying power:
$50K Buying Power: $165/month
$100K Buying Power: $325/month
$150K Buying Power: $375/month
How Does A Topstep Funded Account Work?
After you've completed the Trading Combine, you will have access to a Funded Account. The fee system is different than that of Trading Combine accounts, so your monthly subscription will be turned off automatically, and Topstep will notify you about the upgrade.
Topstep will then send you the Funded Account Agreement; after you fill it, they will take care of setting up your account with their brokerage partners. With the Funded Account, you can start trading on live markets backed by Topstep's capital. We recommend checking our comprehensive guide of all the Topstep features before you start trading.
Keep in mind that you will still need to comply with the Daily Loss and Trailing Maximum limits to keep your account – if you break any of the rules, your account will be reverted back to a Step 2 Trading Combine account. Unlike Trading Combine accounts, there are no resets, and you need to work your way back.
What Are The Fees For The Topstep Funded Account?
When you start trading live capital using Topstep, you start being considered a Professional Trader – this is relevant regarding fees. Topstep offers access to four different exchanges (CME, NYMEX, COMEX, & CBOT) and 14 different investing platforms, each with its own fees and permitted products. Here are the fees for each:
TSTrader & TradingView: $122/month
All other platforms: $116/month
You can also try out some of their free investing platforms: TSTrader, TradingView (basic), T4, and RTrader. You will also have complete access to their educational resources.
How Much Can You Earn With A Topstep Funded Account?
The payout policy for the Topstep Funded Account is up to 50% of your total account balance. The only requirement is that you accumulate 5 'winning' days – that is, days when your profits are at least $100 (calculated using your Net P&L).
Keep in mind there's no time constraint; you can take as long as you want to reach your five 'winning' days, and you don't have to 'win' five consecutive days.
So, for example, assume you start your Topstep Funded Account with a $0 balance. Then you 'win' your fifth day to accumulate the required 'winning' days, and your final account balance is $7,000. In that case, you can request to get paid – 50% of your earnings, that is, $3,500. You can repeat this any time you accumulate five 'winning' days.
Additionally, you will get a bonus of $165 to $375 when you request your first payout based on the Buying Power of your account. Payments are processed within 2-5 business days, and the payment methods include ACH wires and standard bank wires. Here you can read more about the advantages of using Topstep.
Sign-Up Process
The Topstep funded account is available for traders worldwide, with no limitations. There are no special requirements to create an account; you only need an email address.
If you sign up using our link, you will have a free 14-day trial with complete access to all the features. Additionally, you will get a 20% discount applied to your first Trading Combine subscription.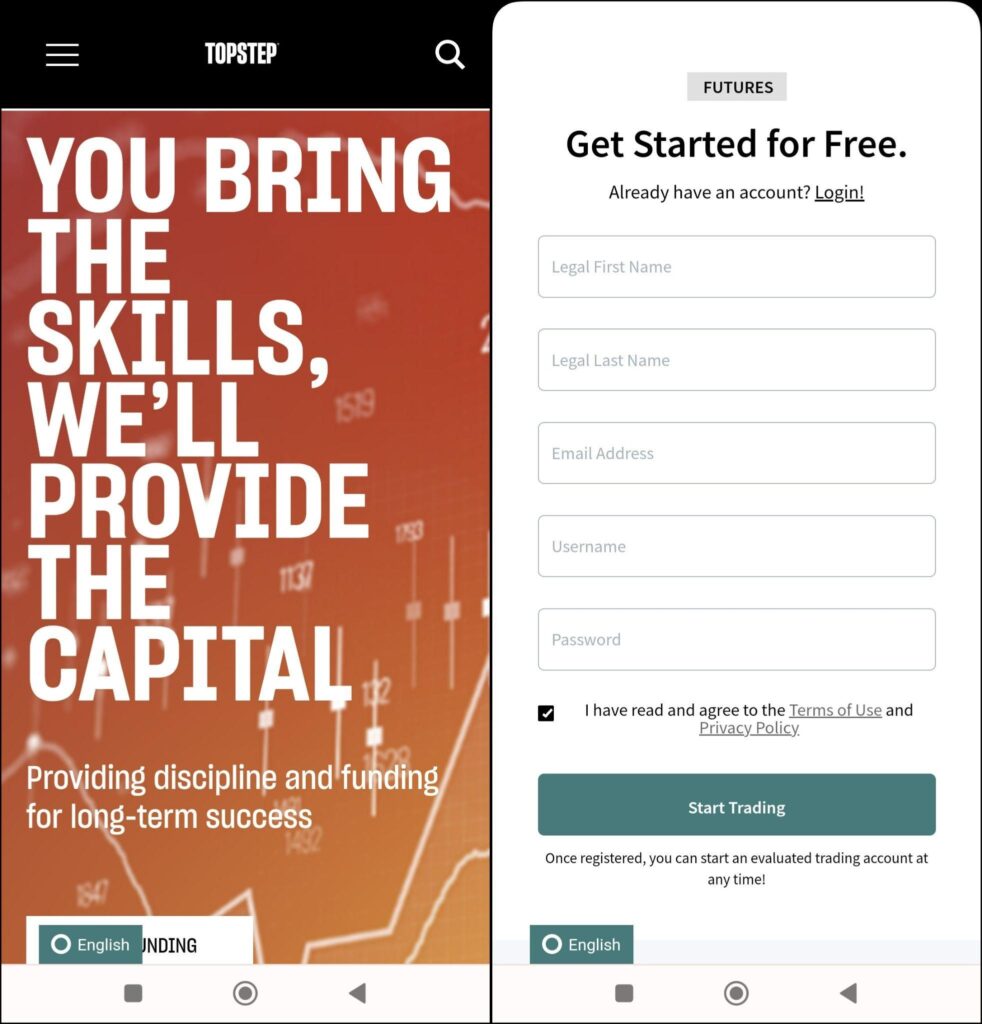 Topstep Funded Account Trustpilot Reviews
Topstep has an average rating of 4.4 on Trustpilot and excellent reviews from its users. Still, you may wonder: Is Topstep legit? The short answer is yes – and here's what some of those users have to say about their Topstep:
"Very fast answer, very helpful and they follow through every time. Besides that, as a funded trader, I would recommend it to any trader." – Hermes E.
"Great way to learn how to start trading. The parameters require a disciplined trader mindset and force you to be patient." – Austin U.
"The Topstep trading evaluation allows me to trade futures while using the Tradingview platform, which I prefer over other platforms. I recently passed Step 2 of the evaluation and have been trading a funded account for about a week. The overall experience with Topstep has been great." – John M.
"Just passed the test and waiting for my funded account. TopStep has been great, and surprisingly I found the rules to be really reasonable." – Lin Z.