In today's digital age, social media platforms have become an integral part of our lives. Facebook, being one of the most popular platforms, is widely used to share and watch videos. However, there are times when we come across captivating videos that we'd like to download and save for offline viewing or sharing with friends. If you've ever wondered how to download videos from Facebook, this article has got you covered. We'll explore the top websites that allow you to download Facebook videos hassle-free.
Understanding Videos Content on Facebook
Facebook has progressed from a simple social networking site to a platform that includes a wide range of multimedia content, including videos.  With billions of users actively sharing and consuming video content, videos have become an essential tool for marketers, content creators, and individuals to connect with their audiences. From entertaining clips to informative tutorials, Facebook videos cover a wide spectrum of content, making it crucial for users to have the option of downloading them.
While Facebook users can watch videos directly on the platform, there is no built-in system to download them. This limitation has resulted in the rise of numerous websites that allow users to download Facebook videos for offline viewing.
Top Websites for Facebook Video Download
Here is a list of the top websites that provide a seamless way to download Facebook videos:
Snapsave is a widely used third-party facebook video downloader. It has gained popularity for its user-friendly interface and seamless downloading capabilities which is why we have chosen it as the top choice for this article. With just a few clicks, you are able to download Facebook videos directly to your devices in HD and with the video MP3 in sync. 
Speaking as a social media enthusiast and regular Facebook user, I can say that this simple website has made my jobs (as well as my hobby) so much less time-consuming and more enjoyable. I don't know what to expect more from a website that does a wonderful job as it promised. While other third-party apps and services make me watch a ton of ads just to download a single video, with Snapsave, the ads are limited and are very easy to ignore. And the best part was the variety of video formats they offered. I could choose the perfect format to suit my needs.
How to use Snapsave for Facebook video download
Although using these websites are very easy, I want to provide a easy to follow guide for beginners internet users out there: 
Step 1: Open Facebook and find the video you want to download. Find the Copy Link option to get the video link. 
Step 2: Paste the link into Snapsave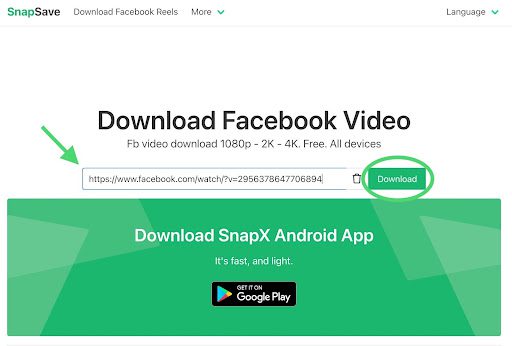 For quick access, you can visit Snapsave website via this link: https://snapsave.app/
Step 3: Select video quality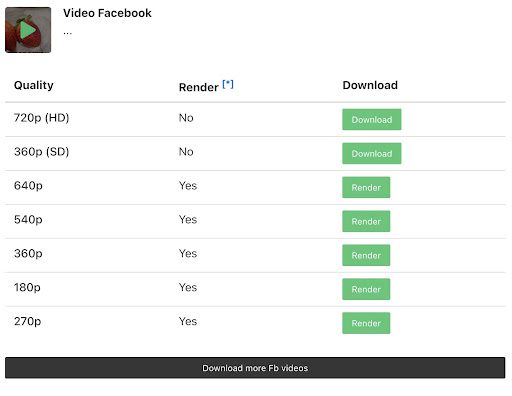 Step 4: Hit Download
Wait a few moments so that the website can process and download Facebook video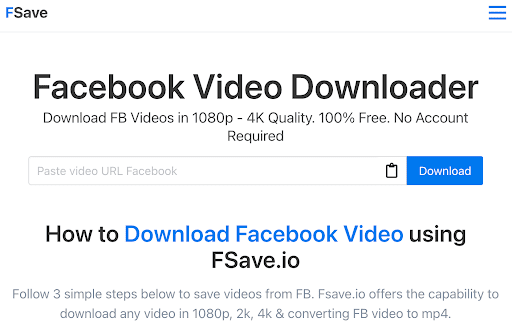 As an alternative to SnapSave, I have found that FSave is a reliable website that offers a quick and straightforward way to download Facebook videos in HD quality. It has been a favorite among users for its simplicity and quick download speeds. It also needs to be mentioned that FSave can actually download private FB videos as well which SnapSave currently does not offer (it used to but not anymore)
My experience using Fsave for downloading Facebook videos was absolutely fantastic. First off, the interface was so clean and straightforward; I didn't have to fumble around trying to figure out what to do. What blew me away was the download speed. It was lightning fast. I didn't have to wait around for ages; the video was ready for me in no time. I must admit, I was a bit skeptical about these online video downloaders at first, mostly due to privacy concerns. However, testing has shown that the website is safe, reliable, hassle-free. It does not appear to save any users data and also does not require any installation or registration. I couldn't help but feel like a pro when using FSave, even though I'm not particularly tech-savvy.
All you have to do is copy the URL of the Facebook video I wanted to download and paste it into the provided field. It's very similar to SnapSave as you can see.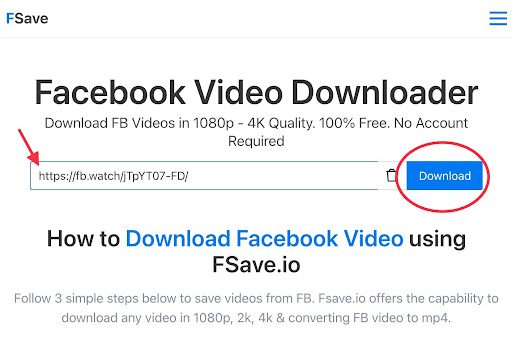 If you're someone who loves saving and sharing Facebook videos like me, I highly recommend trying out FSave, you can click here to go to the website. This website is so easy to use, even for beginners. It's like having a magic tool at your fingertips that brings all your favorite videos to your device effortlessly.