In 2023, we will keep enjoying the rapid growth of digitisation and virtualisation of different industry niches and societies. The requirement for sustainability, ever-evolving data volume, fast computing networks, etc., can be the major drivers for a digital transformation.
The economy will keep being influenced by transparency, agility, customisation, and intelligent thinking. More and more companies have realised the significance of digitalisation in an ever-changing business environment.
The software development industry has widely adopted modern technologies in all industry markets and for the continuous digitisation of business practices and government services. 
As organisations globally keep facing business challenges due to the worldwide health crisis, quick modernisation in custom software development aids in dealing with market scenarios and revenues.
Revenue of the software market globally – 2016 to 2027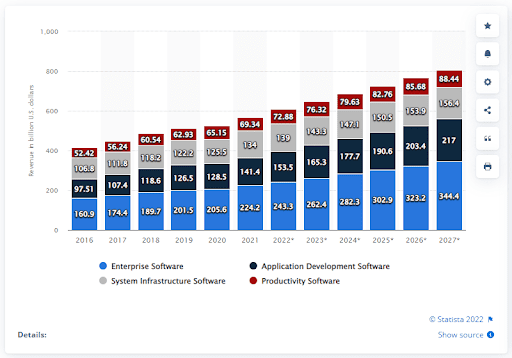 In this article, we have mentioned trending software development technologies that businesses must have a deeper insight into in 2022.  
What are the latest development trends in 2023 and beyond?
|1. Artificial Intelligence (AI) and Machine Learning (ML)
For years, AI has been in the root direction of the software development industry. Businesses use it to automate tasks that ultimately save time, money, and resources. Many industry sectors are already leveraging these innovations and becoming more familiar with time as AI and ML technology integrates into software apps. 
ML depicts computer science where an algorithm anticipates future data on the basis of formerly generated data. Artificial Intelligence epitomises the next move in Machine Learning, where an algorithm builds data-based intelligence and performs significant operations itself. 
AI improves the project planning stage accuracy and aids in competent monitoring. 

AI-enhanced project management tools help teams make the right decision in terms of resource allocation. 

AI-enabled applications are more far-reaching in terms of the complexity of statistical approaches and problem analysis.

AI sums task statuses to make weekly status reports, calculates the budget, the effect of modifications to scope and timeline, and monitors risk.  

AI enables developers to write optimised code and help quality analysts identify bugs to resolve them.
According to Bloomberg, the $422.37+ Billion Global AI (Artificial Intelligence) Market Size is expected to increase at 39.4% CAGR throughout 2022-2028
|2. Data Science 
It is becoming more clear with each passing day that there is tremendous value in data processing and analysis, and that is when data science comes into the picture. Leaders know how data science is a big industry and how data scientists are modern-day superheroes. 
There is no meaning in Data until it gets converted into valuable information. Data science includes mining large-sized datasets involving structured and unstructured data and discovering hidden patterns to have an actionable view. 
The importance of data science depends on its infinite uses ranging from day-to-day actions like asking Siri/Alexa for suggestions to more complicated apps like operating a self-driving car. The versatile Data Science field contains Computer Science, Inference, Statistics, Predictive Analysis, Machine Learning Algorithms, and new technologies. 
Help with better business predictions 

Offer business intelligence 

Boosts information security 

Helps in sales and marketing

Complicated data interpretation 

Improve decisions making 

Automates recruitment process 
In 2021, the market size of data science platforms was anticipated at USD 96.3 billion. It is predicted to raise around USD 378.7 billion by the end of 2030 at a CAGR of 16.43% from 2022 to 2030.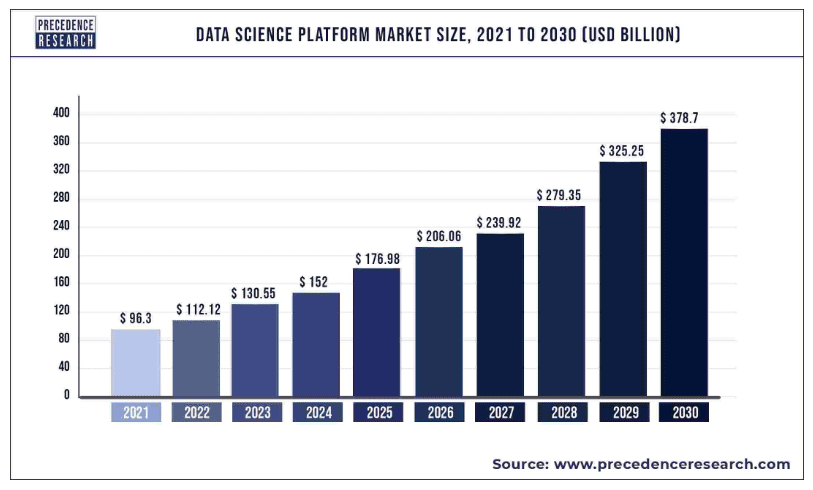 |3. Robotic Process Automation  
It is a term that is more than just about robots. It helps to implement particular technologies that can automate day-to-day activities, standardise operations, and deliver higher productivity and value with little investment. 
A software or software bot receives and interprets apps for processes that include data manipulation, executing transactions, creating responses and collaborating with different digital systems within the domain. This RPA is quickly gaining popularity because of the multiple advantages it offers.
More productivity across the board 

Provide accuracy goals with consistency 

Better efficiency for better savings 

Increased business data security   

Offer scaling opportunities

Follow non-disruptive approaches for automation 

Deliver an improved user experience 

Provide data for essential analytics 
RPA is the new technological saviour for businesses that boost productivity and efficiency. Additionally, when integrated with standard business solutions, it encourages digital transformation. Enterprises can deal with end-to-end business processes for continuous process enhancement. 
The RPA Market was estimated at 2.65B US dollars by the end of 2021. It is expected to be valued at 23.9B US dollars at a CAGR of 27.7% from 2021-2030.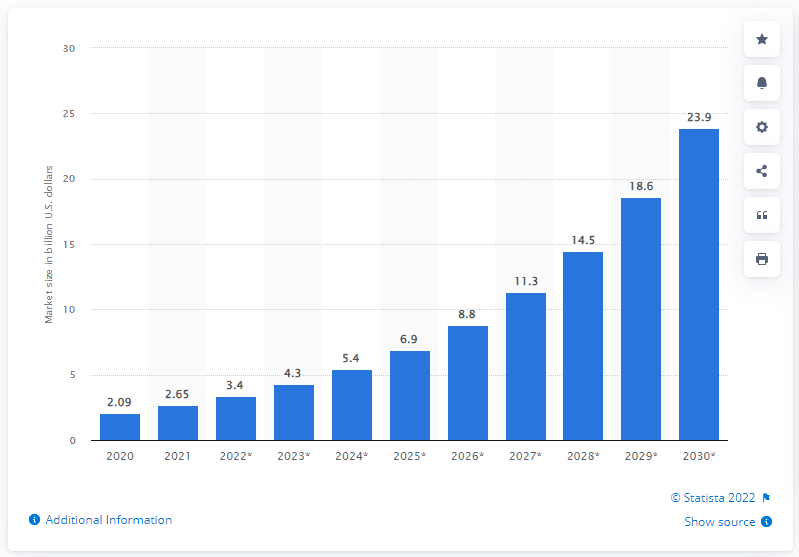 |4. Edge Computing   
It is a computing model that keeps fundamental processing tasks within the framework/environment where data was created. It is a framework that helps with data creation, storage and processing where it is generated without using a data centre/central data computing environment. 
With an edge computing framework, there is no need to collect data from different points to make it back to centralised data services to get processed and assessed. Instead, data gets processed on the go within the same environment they are generated. 
Improves performance 

Heightened security 

Mitigate operational costs 

Improves reliability and resiliency 

Helps to follow regulatory and compliance needs

Supports AI/ML applications 

Uninterrupted connections 

Functionality in far-flung locations 

Low latency 

Cost-effective 

Place apps where they make the most sense 

Better workplace safety 
Edge computing has superior applications in IoT devices. In terms of IoT, an actual device you need to deal with your smartphone need not access data from centralised storage that might be located thousands of kilometres away. Instead, data should be available as near the device as possible. 
Edge computing lets the data stay at the cloud's "Edge" and the device for processing so that commands can be followed within a short time frame.    
The global edge computing market was esteemed at 7.43 billion USD by the end of 2021 and is anticipated to grow at a CAGR of 38.9% from 2022-2030.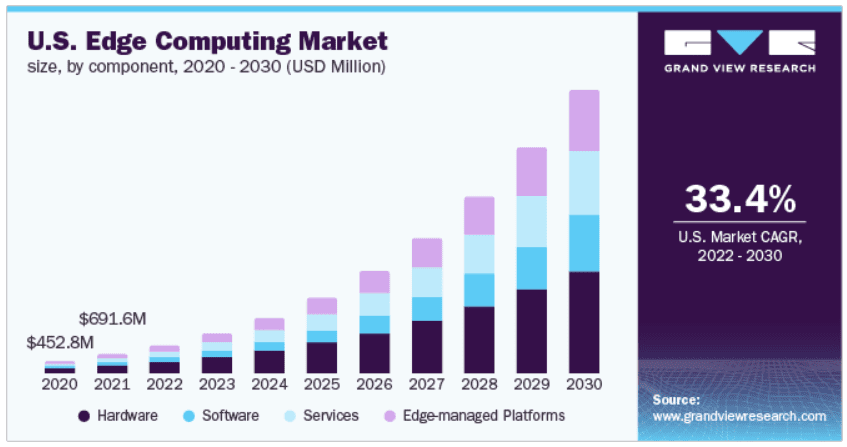 |5. VR (Virtual Reality) and AR (Augmented Reality)   
Virtual Reality (VR) engages you in a virtual environment using a headset with various screens showing a virtual world. These headsets also use head-tracking technology that lets you search the environment by actually moving your head. The display will follow in all the directions you go, providing you with a 360-degree view of the virtual world. 
Augmented Reality (AR) lets you experience the world around you with digital images coated on it. There are a couple of AR headsets accessible currently. AR can also be used on devices like mobiles and laptops without headsets. 
Better learning experience 

Unique interactive reality 

Improved business performance 

Better consumer engagement 

Brand fidelity boost 

Time-saving technologies 

Ease of mobility 

Offer best opportunities 

Advertising and marketing  

Improved communication 
Both Virtual Reality (VR) and Augmented Reality (AR) technologies are expanding at a rapid pace. Many anticipate that these technologies will keep emerging in the future as well. As technology becomes highly advanced, it'll be thrilling to watch how it gets implemented in enterprises and day-to-day life.  
The AR and VR market share is anticipated to grow by USD 162.71B from 2020-2025, with a CAGR of 46%.

|6. 5G   
5G is the fifth generation of cellular wireless technology that offers higher speed, more bandwidth, lower latency, and increased potential than 4G networks. It is one of the speedier and most dependable technologies individuals have ever experienced. 
It provides quick downloads, significantly lower lag and a crucial impact on how everyone lives, works, and plays. 5G speed and other connectivity benefits make businesses more productive and enable consumers to access more information more quickly. Connected vehicles, advanced gaming, Smart cities, massive IoT, real-time supply chain tracking, etc., will depend on 5G networks. 
Powering innovation 

Less tower congestion  

Up to 10x faster than what you have nowadays 

Quicker and more secure than public Wi-Fi

High-resolution and bi-directional large bandwidth shaping 

More effective and efficient 

Quality gaming on your phone 

Easily manageable with the previous generation 

Provide gigantic broadcasting data to short more than 60k connections
5G has started developing in each corner of the world, yet we are just at the initial stage of this Smart technology which extensively affects our future. 
The worldwide 5G services market size was estimated at USD 48.25B by the end of 2021 and is anticipated to grow at a CAGR of 56.7% from 2022-2030.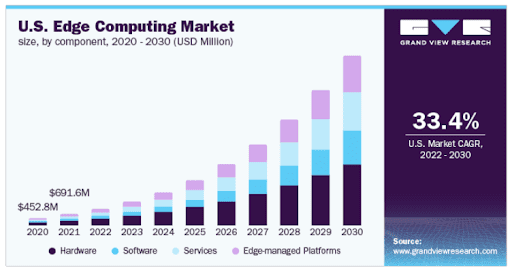 |7. Blockchain   
Blockchain is a P2P decentralised distributed ledger technology making digital asset records highly transparent and unchangeable and mitigates the need for any third-party intermediary. 
It is an evolving and transforming technology gaining attention due to its ability to decrease risks and fraud in a scalable manner. 
Introduced by its connection with cryptocurrency and NFTs, blockchain technology has since emerged as a management solution for different industries globally. 
Nowadays, you can find blockchain offering complete transparency for the innovating gaming, food supply chain, healthcare data safety, and overall transforming how we deal with data and ownership on a large scale. 
Open 

Verifiable 

Permanent 

Free from censorship 

Tighter security 

Immutability 

Efficiency 

Cost reduction 
According to Statista, worldwide blockchain revenues will experience extensive growth, with the market anticipated to rise to over USD 39 billion by the end of 2025. 
In a Nutshell 
Software shapes the basis of various leading-edge gadgets like PCs, Smartphones, tablets, IoT, and Network Systems on which we rely very strongly in our daily life. 
While software development is a multi-billion dollar industry, B2B software has lifted many modern market giants of various sectors. There are tons of COTS (Commercial-of-the-Shelf) software catering to the companies' needs, yet most businesses opt for custom software development. 
At the same time, software development companies globally are addressing all-time high software demands with the latest technologies, specifically mobile apps for Gen Z and automation tools for transforming businesses worldwide.