Sudden Cardiac Arrest (SCA) is a cardiovascular disease in which the heart fails to beat rhythmic and pump blood continuously to organs due to an electrical malfunction. The first few minutes since cardiac arrest occurs is the best time for rescue. If timely and effective treatment is not obtained, the patient is likely to suffer from respiratory distress due to lacking oxygen and blood, resulting in irreversible brain damage or even death. Previously, the low survival rate of cardiac arrests worldwide due to the inadequate deployment of rescue protocols has prompted many corporate organizations and even individuals to pay attention to SCA rescue.
CPR and defibrillation have been proven to be the most effective resolutions for SCA. Studies have shown that if the first defibrillation can be achieved within 3-5 minutes from the time an SCA patient collapses, the survival rate of SCA patients will increase 2.62 times.[1][2] However, SCA occurs without warning, which means that you cannot predict at all when and where it will occur. If an SCA occurs in the hospital, professional medical staff can get a defibrillator in time to defibrillate the patient; however, if it occurs outside the hospital, the outcome will be uncontrollable.
This is because, according to studies, usually, the fastest time for an emergency medical services (EMS) team to reach the incident is 7-8 minutes[3], which far exceeds the prime time of 3-5 minutes for an SCA. In addition, hospital defibrillators are not suggested to be used outside the hospital, not only because of their size and the need to be electrified but, more importantly, because they require specialized medical personnel to operate. Thanks to the continuous efforts of healthcare professionals and researchers, automated external defibrillators (AED) have been created to maximize the survival rate of out-of-hospital SCA.
An automated external defibrillator is a portable and intelligent advanced life support device designed specifically for out-of-hospital SCA rescue. It can be installed in a conspicuous location in public or private places, with a prominent "AED" logo on the AED box, just like a fire hydrant, one of the emergency lifesaving devices. To make up for the emergency medical services teams arriving on the scene in time, AED devices are designed to be convenient and smart enough so that bystanders without any medical background can follow the voice and visual image guidance step by step and successfully defibrillate a patient. Taking the AED pads as a medium, the automated external defibrillator restores the heart to a normal heart rhythm by analyzing the chaotic heart rate and delivering a high-energy shock to the SCA patient as the shock conditions allow.
People's awareness of preventing sudden cardiac is increasing as they access AED training. And with people realizing the importance of AED, different kinds of AEDs are emerging on the market. So how should we choose the most appropriate and cost-effective AED device (since we know starting an AED program costs a lot)? Among all AED brands, Mindray is gaining more and more attention thanks to its technological innovation and reputation in the field of AED devices. The technology investments and achievements in emergency care solutions have made Mindray the first choice of partner for a growing number of corporate organizations.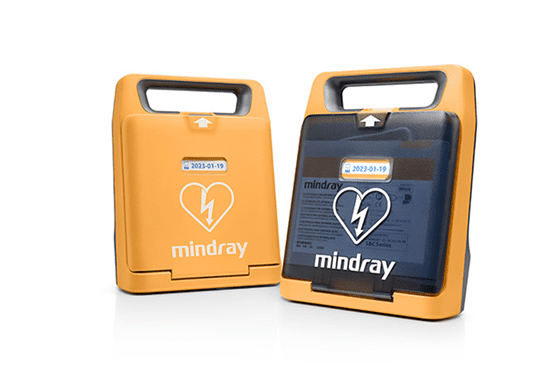 The following will tell you the top 7 reasons for choosing Mindray AED solution based on the main needs of AEDs in the current market and the factors to pay attention to when buying an AED device.
High-Cost Performance
Regardless of what kind of items you are going to invest in or purchase, the cost is an important point of concern. The high cost has become the biggest gap in access to AED equipment for many companies and institutions. In this case, seeking AED grants is one solution, while choosing reliable AED suppliers that offer cost-effective AED equipment is another.
The lifespan of accessories is one of the standards to measure whether an AED is cost-efficient or not since they have their expiration date and need to be replaced regularly. An AED with high-quality accessories can prolong the replacement cycle, helping you save money on maintenance. Mindray broke through the technical barriers to extending the shelf life of its AED accessories to an industry-leading 5 years, which aims to reduce cost as a low frequency of subsequent replacement of the accessories is required. Therefore, compared to other AED brands, Mindray defibrillator price has an absolute competitive advantage.
User-friendly
Everyone has the right to use an AED but considering those bystanders without any medical background, AED is the best when it is designed to be user-friendly and help responders defibrillate patients effectively. To make it easier for users to master the use of the AED device, Mindray incorporates the patented ResQNaviTM technology, providing interactive voice and visual image guidance to users. That is, users can choose whether the more detailed or simple version of voice guidance is appropriate to their proficiency with the AED device. In addition, during the CPR instruction phase, Mindray AED will continuously output positive words to encourage responders to successfully complete CPR.
Considering the language barrier, Mindray's AED is also equipped with three different languages according to local language habits, making it easy for responders to choose the language they are familiar with. Most importantly, Mindray AED will automatically switch between adult and child modes once the corresponding AED pads are sensed, so responders have no need to worry about forgetting to switch to the correct mode due to panic.
Rapid Shock Delivery
Time is of the essence in SCA rescue. The sooner a patient receives effective defibrillation, the higher the chance of survival. Mindray AED adopts QshockTM technology, which integrates the steps of charging and heart rhythm analysis, allowing the delivery of the first shock in less than 8 seconds, which greatly improves the efficiency of SCA rescue.
Versatile Application Range
SCA can happen to anyone, whether it is the elderly or children, men or women. For people with high physical impedance, the industry default power rating of 200 joules may not be able to successfully defibrillate in one session but requires multiple consecutive defibrillations or higher energy shocks. In view of this, Mindray is committed to technological innovation and has adopted 360J biphasic defibrillation technology to reach a wider range of SCA patients with high physical impedance and to improve their survival rates.
Quality and Durability
AED solutions placed in public places are inevitably subject to the risk of damage from harsh weather, collisions, and drops. Mindray AEDs, including Mindray BeneHeart C1A and BeneHeart C2, have passed the CE certification, 1.5m drop test, and achieved an IP55 waterproof rating, which is proven to be safe and reliable. Moreover, they are able to withstand multiple collisions and drops and cope with a variety of harsh outdoor environments.
Professionalism of the producer
Mindray is one of the world's leading medical solution providers, respecting every life and putting patient care first. The company has been witnessed to invest 10% of annual revenue in advancing technologies and devices and be committed to supporting clinicians and ensuring the integrity and continuity of patient data through a systematic approach to solving clinical challenges.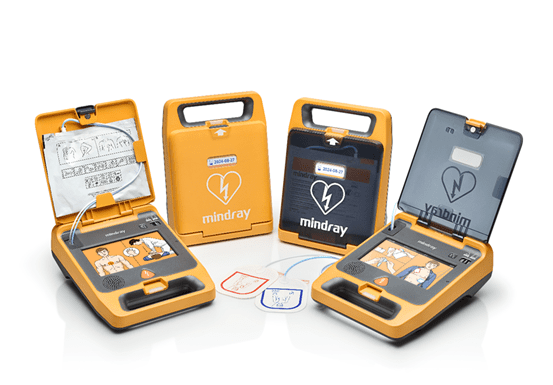 Complete AED solutions
To assist users in successfully implementing an AED program, Mindray also provides comprehensive AED solutions, including AED wall-mounted solutions, AED remote management software, CPR feedback devices, and AED training kits.
The use of an automated external defibrillator plays a key role for patients experiencing cardiac arrest since the benefits of AEDs are numerous and well-known. But to make the most of these devices, it is necessary to purchase devices that are as easy to use and user-friendly as Mindray AED. If your workplace or community has not configured an AED solution yet, it is best to act now to show that you are prepared for an emergency situation like sudden cardiac arrest.
References:
[1] Impact of Bystander Automated External Defibrillator Use on Survival and Functional Outcomes in Shockable Observed Public Cardiac Arrests. AHA Journal, Circulation. May 15, 2018, Vol 137, Issue 20. Pages 2104–2113. Available at: https://www.ahajournals.org/doi/10.1161/CIRCULATIONAHA.117.030700 (Accessed: 23 February 2022)
[2] Consensus document regarding cardiovascular safety at sports arenas: Position stand from the European Association of Cardiovascular Prevention and Rehabilitation (EACPR), section of Sports Cardiology. European Heart Journal, Volume 32, Issue 17, September 2011, Pages 2119–2124. Available at: https://doi.org/10.1093/eurheartj/ehr178 (Accessed: 23 February 2022)
[3] The Effect of Ambulance Response Time on Survival Following Out-of-Hospital Cardiac Arrest. Dtsch Arztebl Int. Volume 115(33-34), August 2018, Pages 541–548. Available at: https://www.ncbi.nlm.nih.gov/pmc/articles/PMC6156551/ (Accessed: 23 February 2022)