Every year, more and more companies choose Salesforce and its products for running their business. This is no surprise since Salesforce is the leading CRM system that can meet all business needs: from sales, service, and marketing to commerce, analytics, and digital experiences.
Companies that use Salesforce Experience Cloud may look for the enhanced functionality to meet their specific business needs and effectively manage their communities. That's where AppExchange community moderation add-ons for Salesforce come into play.
In this article, we will explore the seven best Salesforce community management add-ons and tools available on the AppExchange that can significantly streamline and enhance your community management experience.
Top 7 Salesforce Add-ons for Community Management
Whether you're a small business or a large enterprise, utilizing the appropriate AppExchange apps can be essential for managing your Salesforce community effectively.
Whether you're in need of data integration or reputation management tools, or a solution for automated member management for Salesforce, you can find an AppExchange solution that caters to your business requirements.
What is AppExchange?
In case you're not familiar with AppExchange, it's an application store that offers third-party apps designed for the Salesforce platform. These apps expand the standard functionality of Salesforce and can fulfill your feature requests that are not provided by default.
The solutions available on AppExchange are created by Salesforce Lab (apps developed by Salesforce employees) or Partners (who can create and publish custom apps for the Salesforce platform through the Partner Program). Users can browse for the solution, read reviews, watch demos, and decide which app to download.
Meet the best AppExchange tools for community management in Salesforce:
1.       AC Events Enterprise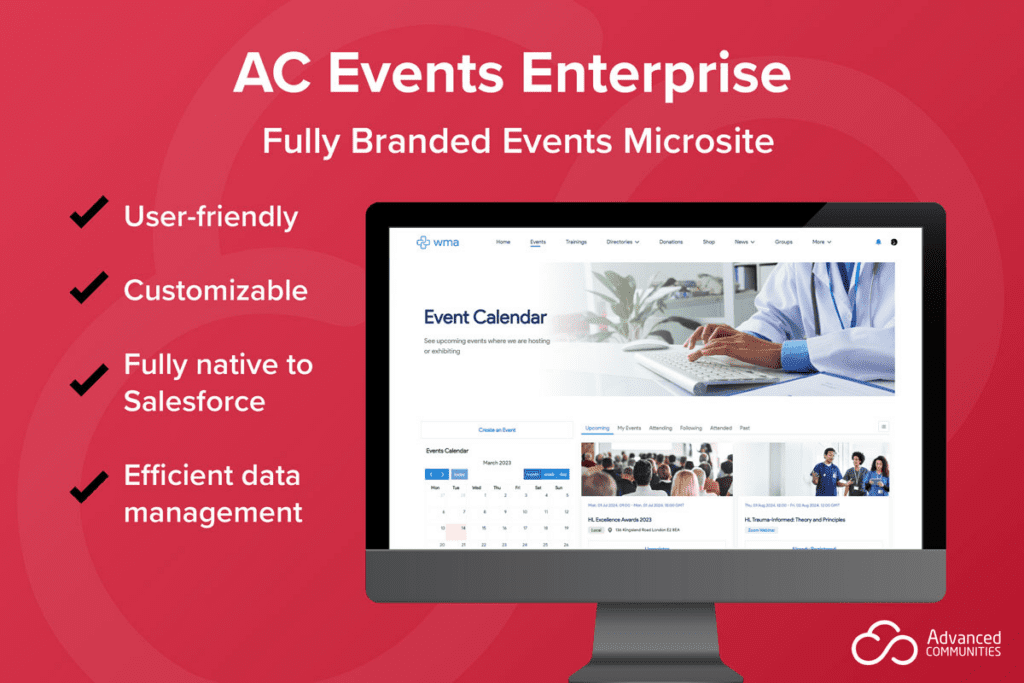 AC Events Enterprise is a robust event management software that operates natively on Salesforce, providing a comprehensive set of tools to create, promote, manage, track, and analyze virtual, hybrid, or in-person events of any scale.
It's an ideal all-in-one solution for businesses seeking to simplify event management, enhance participant interaction, and acquire valuable event data.
Main features:
Free and paid events, both simple and complex
Event Creation Wizard for internal event managers
Integration with UTM sources via URL
Recurring events
Multi-track, multi-session, and multi-day events
Event microsites with unlimited subpages
Online events with Zoom integration
2.     DocuSign eSignature for Salesforce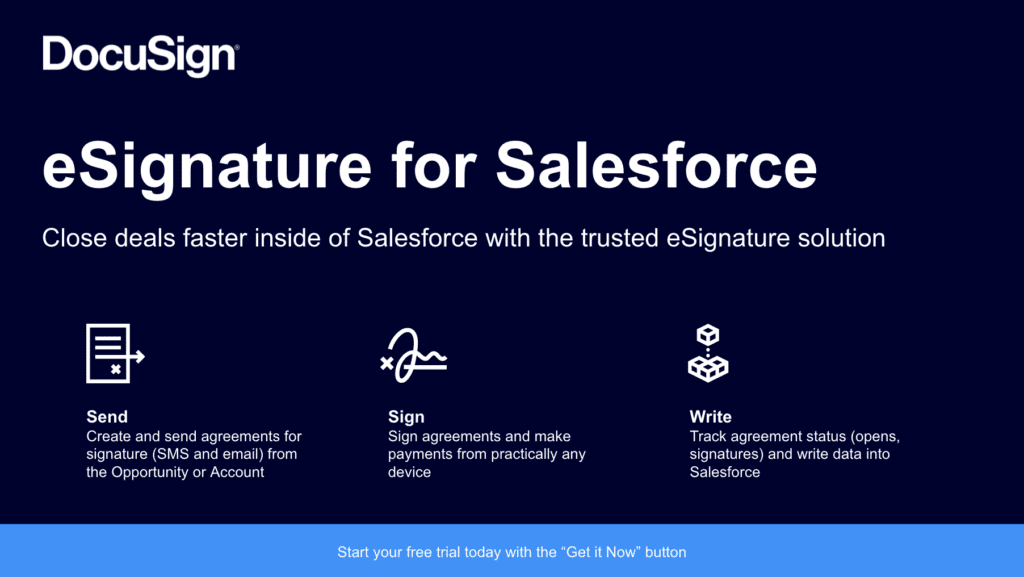 DocuSign is one of the most popular electronic signature applications on AppExchange to send, sign, track, and store contracts within Salesforce. It streamlines and automates the entire agreement process, enabling organizations to prepare, sign, execute, and manage agreements with ease.
As part of the DocuSign Agreement Cloud, eSignature is the world's leading electronic signing solution, compatible with almost any device and available from anywhere, anytime.
3.     AC MemberSmart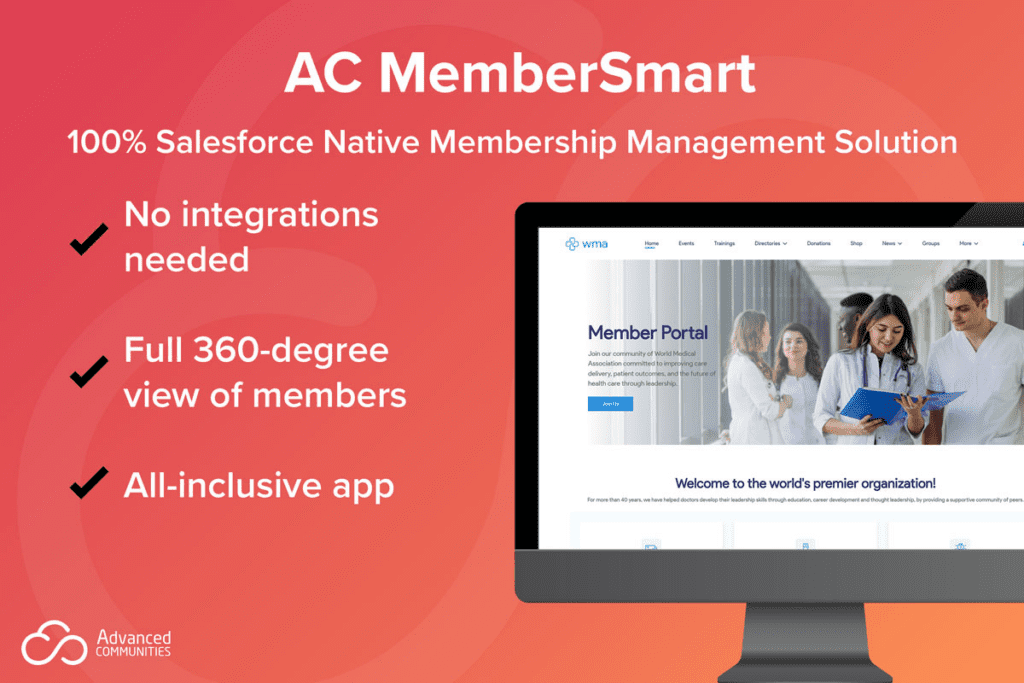 AC MemberSmart is the ultimate solution for professional and trade associations, membership organizations, and nonprofits. Native to Salesforce, this powerful member management addon was designed to meet the specific needs of membership associations with enhanced functionality and flexibility.
With AC MemberSmart, you can accept membership payments, subscriptions, and renewals, collect donations, offer various products, services, or courses, and track all revenue and fundraising sources.
Main features:
Extensive business analytics
Easily manage the full membership experience
Control engagement scoring
Manage payments and donations
360-degree member view
4.    Stripe Connector for Salesforce Billing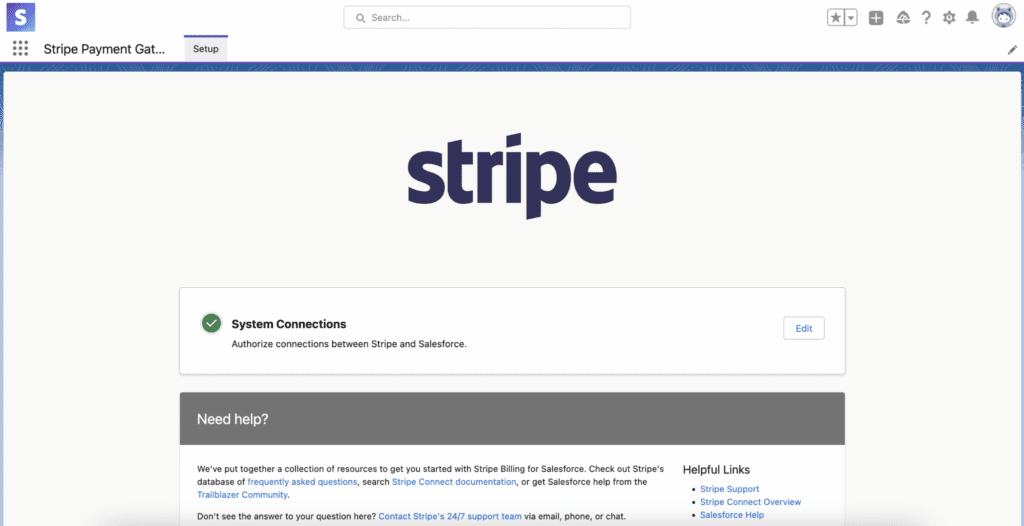 This payment software helps you simplify and secure your payment processes. With this app, you can effortlessly receive payments from customers in 135 countries worldwide, reduce processing fees, and eliminate foreign exchange (FX) fees using dynamic currency conversion that caters to your customer's location. Enjoy hassle-free payment processing, no matter where your customers are based.
5.     AC Knowledge Management Enterprise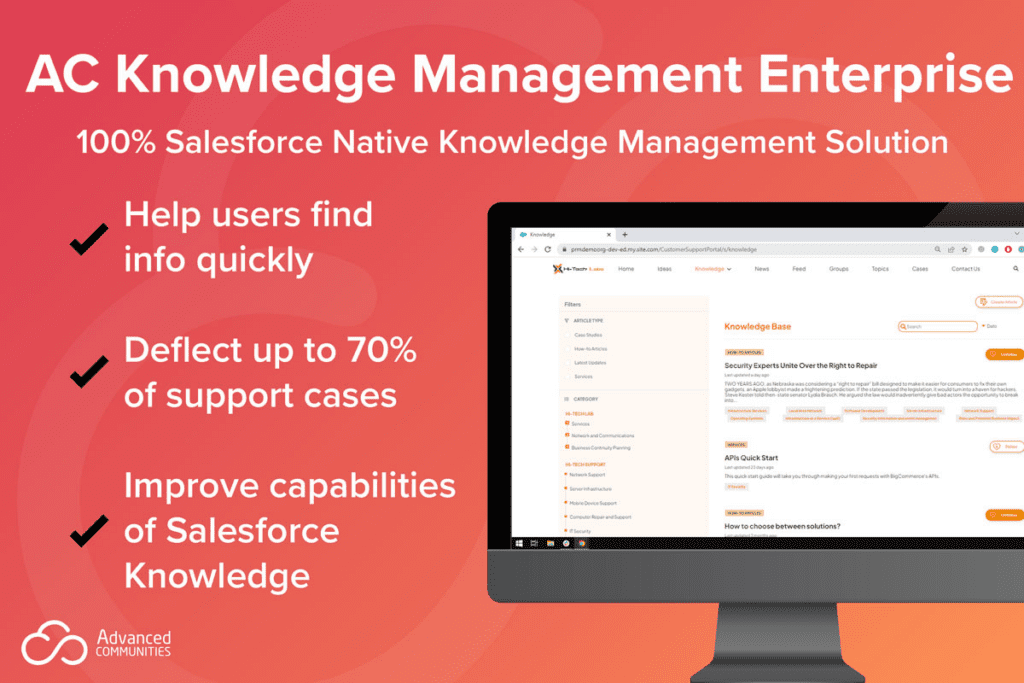 AC Knowledge Management Enterprise is a powerful knowledge management tool for Experience Cloud. With its exceptional features and benefits, it outshines other knowledge-based software options by ensuring smooth and comprehensive knowledge management. It keeps all data well-structured and easily accessible for users, while also promoting self-service and collaboration.
Main features:
Data categories and article types as filters
Create articles from the Experience Cloud site
File attachments support
Support multibases.
6.     Duplicate Check for Salesforce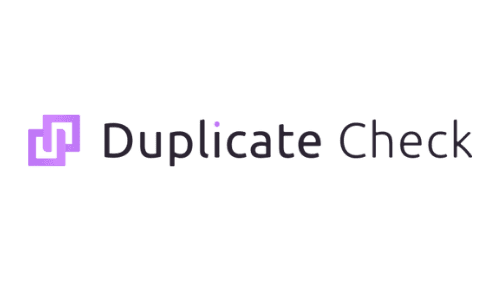 This is a 100% native duplicate management solution designed to simplify the process of identifying and merging duplicate records in leads, contacts, accounts, and all other custom objects. It seamlessly integrates with Salesforce, providing companies around the world with a hassle-free deduplication experience.
7.     AC Ideas Ultimate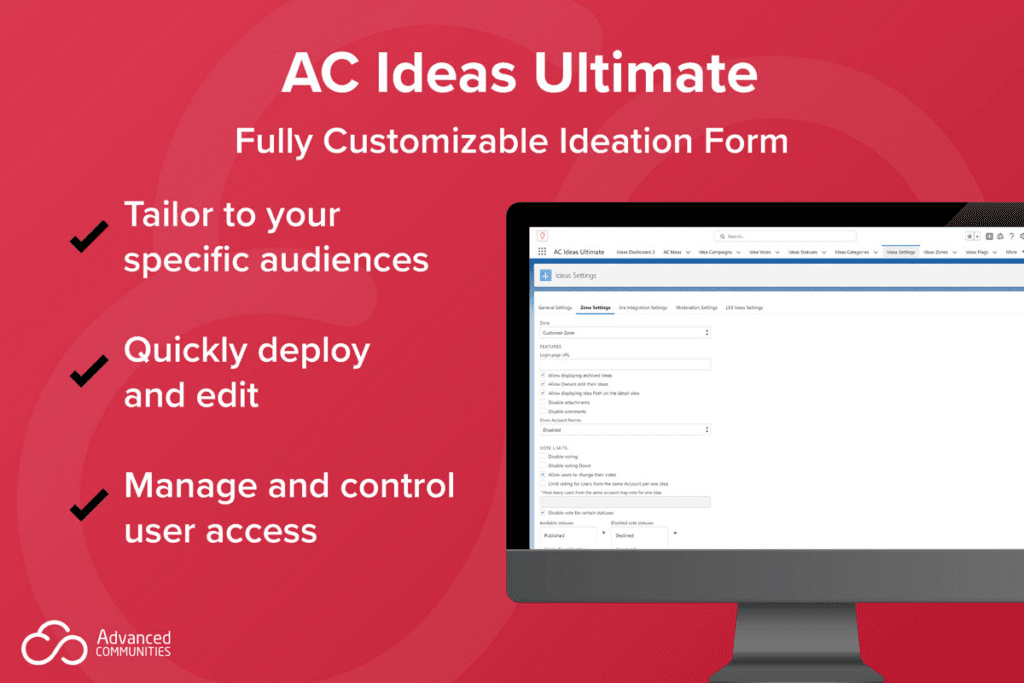 AC Ideas Ultimate is an application that is natively integrated with Lightning Experience. It assists with managing ideas from your Experience Cloud site, by allowing you to collect feedback and insights from community members, prioritize ideas and suggestions, and include them in your development roadmap.
Main features:
Flexibility to organize ideas by creating separate zones within your site
Ability to capture important information through custom fields and fieldsets
Launch limited-time and topic-focused idea campaigns for specific purposes
Ideas performance analysis with customizable reports and dashboards
Idea flagging feature to let site members flag ideas they like or dislike
Advanced Communities as a leading AppExchange provider
For over a decade, Advanced Communities has been a prominent leader in the Salesforce Experience Cloud space, providing a range of award-winning 100% native products through AppExchange.
We also offer consulting and implementation expertise, so if you want to build your online community with Salesforce – we're here for you!
Visit us at advancedcommunities.com to see many impactful community engagement tools for Salesforce Experience Cloud.