Shopify PWA development encompasses building smooth, responsive, and conversion-oriented Shopify stores that result in:
enhanced store performance,

highly-optimized storefronts,

consistent user experience,

decreased bounce rates, and

increased pages per session.
To infuse these PWA capabilities in your Shopify store, you need assistance from an experienced Shopify development company. And we've already found some of them for you. 
Check out the top 5 Shopify PWA development companies and make an informed decision.
Company #1: Aureate Labs
Aureate Labs is an expert in developing headless PWA for Shopify. The company has successfully reduced bounce rates and re-engaged customers with headless PWA storefronts for many eCommerce brands. 
It can help you:
build a customized and blazing-fast Shopify store from scratch,

customize your existing Shopify PWA store, and

convert your Shopify store to headless PWA.
Besides custom store development, Aureate Labs also assists you post-release to ensure a smooth and bug-free experience for your customers. 
Team size
50-250 employees are working from different geographical locations. 
Reviews
Here's what people are saying about working with Aureate Labs.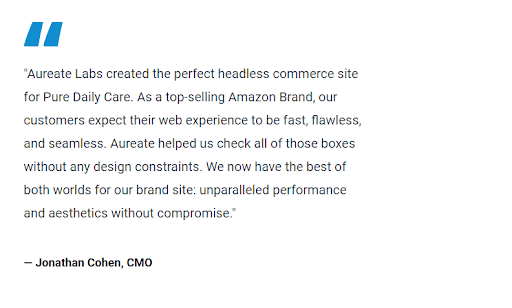 Rates per Hour
$25-$49/hour 
Benefits of working with Aureate Labs 
Design no-code landing pages to skyrocket your sales

Integrate your CRM, ERP, PIM, and other similar systems with Shopify

Customize your Shopify store on your terms

Get a 50% boost in your conversion rates

Increase your Shopify store's speed by three times

Decrease cart abandonment and re-engage your customers

Create a specialized UI/UX strategy to gain more traction
Company #2: Orange Mantra 
Orange Mantra secured its place in this list with its rich Shopify PWA development portfolio across various industries. It has worked with reputed brands, including  Nestle, Panasonic, TATA, and Decathlon, establishing its global presence. 
The company has been in business since 2001, specializing as a tech-solution and digital transformation partner for online retailers. 
Orange Mantra can help your Shopify stores with: 
transforming your online store's website to give an app-like experience across multiple devices,

building a connectivity independent web app for your Shopify store,

making your web apps discoverable on Google, and

adding re-engageable features like push notifications to your store. 
The company extends its support beyond these services and helps you build a future-ready eCommerce platform with its headless CMS solutions. 
Team size
250-999 employees are working from different geographical locations.
Reviews
Here's what brands are talking about their experiences with Orange Mantra.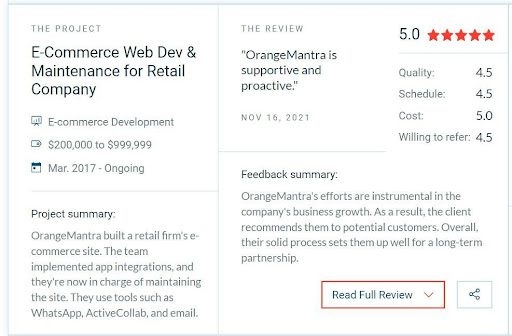 Rate per Hour
$20-$25/hour
Benefits of working with Orange Mantra
Create a smooth shopping experience for your customers

Improved rankings on the SERPs

Make your web app discoverable on search engines like Google

Effective communication and timely technical support 

Cost-effective solutions 

Fast turnaround
Company #3: Scandiweb
Scandiweb has been launching conversion-oriented Shopify stores since 2014. It builds, upgrades, and customizes PWA storefronts for popular brands across industries. These brands include PUMA, The New York Times, Bonnier, Technodom, etc. 
Scandiweb is also adept at building custom Shopify apps for the specific needs of eCommerce brands. It has launched a free and open-source Shopify PWA theme based on a headless architecture that is:
built on React,

modular,

extendable,

consistently coded, and 

packed with ten ready-to-use extensions.
Scandiweb also provides automated documents for its PWA theme to help developers and business owners better understand and customize the code. 
Team size
250-999 professionals are working from different geographical locations.
Reviews 
Here's what brands are talking about Scandiweb.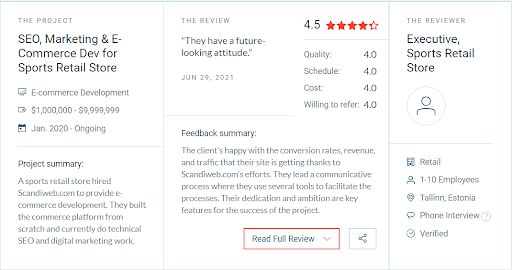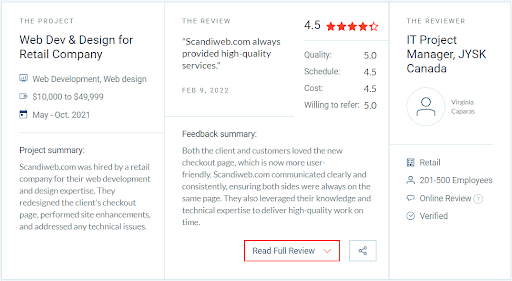 Rate per hour
$50-$99/hour 
Benefits of working with Scandiweb
Build a lightning-fast UI for your Shopify store

Get adaptive front-end solutions without interfering with your usual business workflow

Work with the world's biggest dedicated development team 

Get 24/7 support after your Shopify PWA store goes live

Use Modern JS technologies (React, Vue.js, Next.js, etc.) to your benefit

Try demo Shopify PWA stores before building one for your business
Company #4: Webkul 
Webkul is a 100% self-bootstrapped company that established itself as a global marketplace solution expert within 12 years of its operation. With its multifarious technology stack, it has served 1.5 lacs+ happy clients across the globe. 
The company outshines its competitors with the largest partner network, which includes brands like PayPal, Adobe, Google, Stripe, Shopify, and Zoho. 
Webkul built a custom Shopify app, PWAfy, which allows Shopify store owners to convert their stores into PWA. The best part is — your customers don't have to install the app on their device but add it to the home screen and use it. 
Apart from this, PWAfy:
is suitable for devices flaky networks

uses very light memory on a device

works offline

features push notifications to customers

makes your Shopify store blazing-fast
Team size 
650+ employees are working from different geographical locations. 
Reviews
Here's what people are saying about Webkul.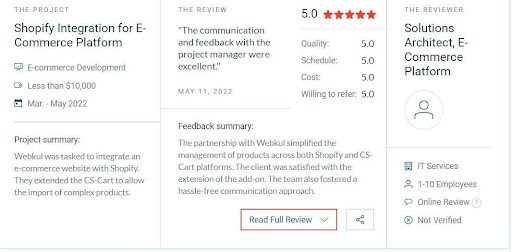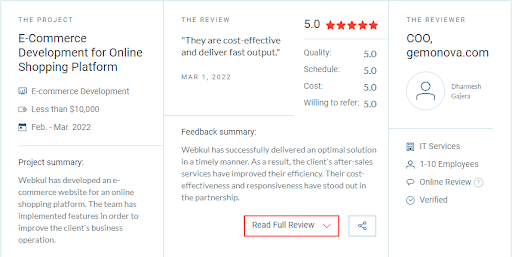 Rate per hour
$50-$99/hour 
Benefits of working with Webkul
Get ready-to-use Webkul products to create PWA/AMP (accelerated mobile pages) for your Shopify store

Use custom PWA plugins for any eCommerce platform

Give a mobile-app-like experience to your customers with your online store

Build a platform-agnostic PWA for your store

Customize your web app with your brand icon and desired splash background 
Company #5: Emizentech 
Emizentech made its place in the Shopify PWA development industry by providing continuous growth and success to eCommerce brands. It has been offering customized Shopify development solutions for more than 8 years. The company's eCommerce solutions are at the core of 450+ successful businesses like Rebellious Fashion, Body Kraze, KIA Motors, Curacao, etc. 
Emizentech helps eCommerce businesses with:
custom Shopify PWA store development 

UI/UX and theme design 

payment integration

plugin development

store support and maintenance
Team size 
50-249 employees are working from different geographical locations.
Reviews 
Here's what businesses are saying about Emizentech.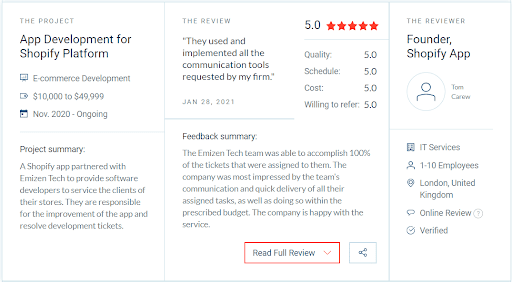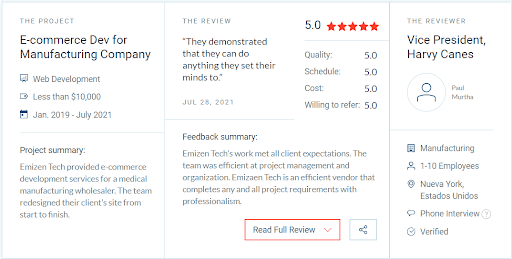 Rate per hour 
$25-$50/hour 
Benefits of working with this company 
Build a scalable Shopify PWA store

Get a mix of traffic, sales, and conversions from your store

Work with highly experienced and senior Shopify development experts 

Get a customized and functionality-packed Shopify store 
The bottom line
Progressive web apps have become mainstream in the eCommerce industry and if you are to gain a competitive advantage, get assistance from the industry leaders. 
Specify your business requirements and hire a Shopify PWA development company to understand them and build a scalable Shopify store for you.