Today, companies are striving to make a balance between remote and in-office work. However, no matter what, cybersecurity will remain the top choice of enterprises in 2023. And, with cyberattacks increasing at an alarming rate, the demand for cybersecurity professionals is surging.
According to the most recent Cyberseek data, there are over 700,000 cybersecurity job opportunities in the United States, and CISOs claim that they can't find enough qualified candidates to fill the vacancies.
Cybersecurity certificates can help those wishing to develop their careers or break into the field to get jobs, improve careers, or stay safe against job loss if chosen carefully.
Our blog provides detailed information about the following best cybersecurity certification course deemed most beneficial for both aspiring and experienced cybersecurity professionals:
Best Cybersecurity Certifications
To help you compare certifications, here's a quick overview of each:
United States Cybersecurity Institute (USCSI®):
If you aim to become a sought-after cybersecurity expert, then USCSI® is the provider of comprehensive and best cybersecurity certification programs. They are a distinguished member of the American National Standards Institute (ANSI) as well as the Institute of Credentialing Excellence.
Their main goal is to develop excellent minds in the in-demand domain. They designed the most effective and robust cybersecurity certification programs to develop essential skills to find, evaluate, analyze, and prevent any cyber threats that can impact organizations.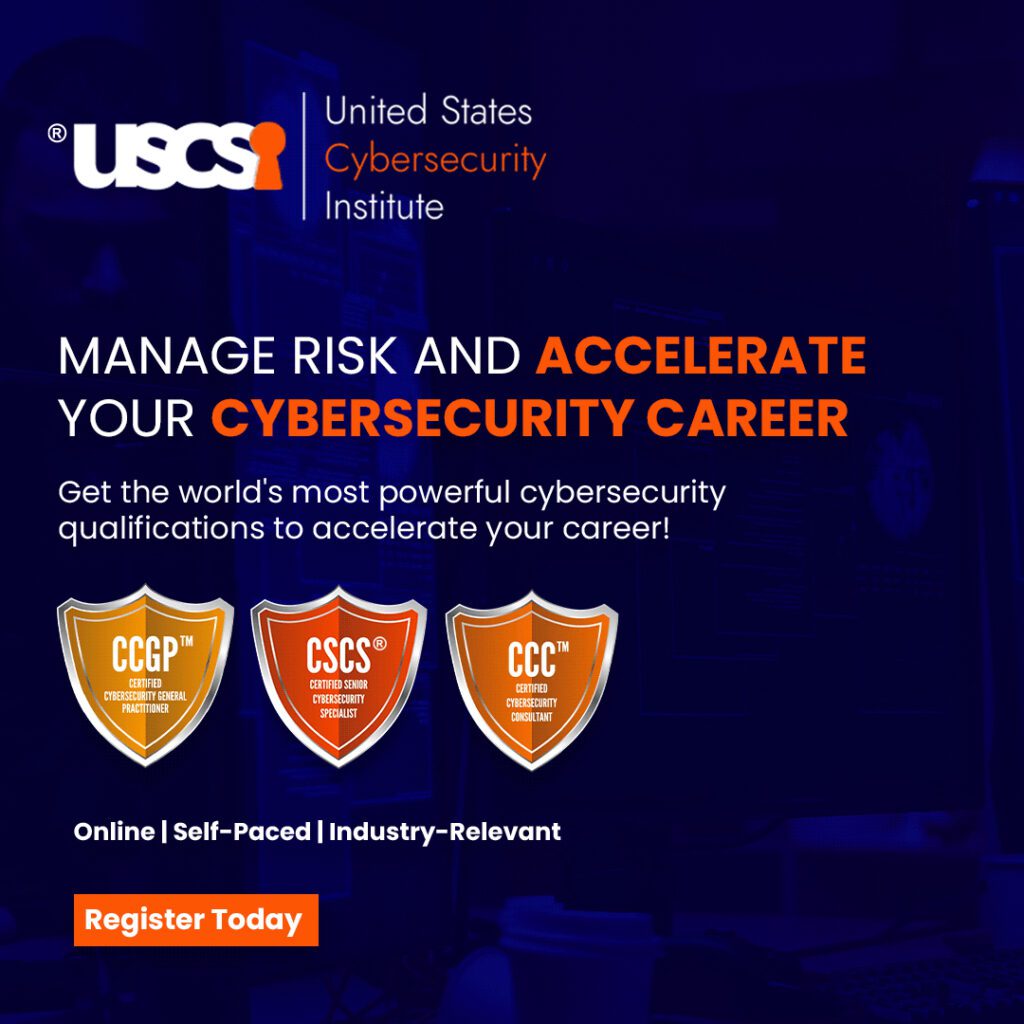 There are three top cybersecurity certifications offered by them based on the level and interest of the enthusiastic learners which includes students, individuals, professionals, academia, and governments around the globe. Here is the list:
Certified Cybersecurity General Practitioner (CCGP™)
(For teaching basics of cybersecurity for beginners)
Certified Cybersecurity Consultant (CCC™)
(Developing Cybersecurity skills in mid-level professionals)
Certified Senior Cybersecurity Specialist (CSCS®)
(Providing specialist-level skills to Cybersecurity professionals)
Features:
Online and self-paced program
Certificate after successfully clearing the exam
Rescheduling exams
Two attempts for examination
2. Advanced Cybersecurity Certificate by Stanford University
The demand for cybersecurity professionals is soaring as more threats and breaches are identified. In that case, the Advanced Cybersecurity program at Stanford will prepare you to excel in a cybersecurity career. Because it's an online and self-paced course, it is taught by top-notch Stanford teachers and staff.
Features:
Learn online, anytime anywhere
Learn at your own pace
Complete 6 courses to get a Certificate of Achievement
3. Certified Cloud Security Professional (CCSP)
The CCSP certification offers hands-on experience to IT professionals in cloud security architecture, design, operations, and services. It is specifically designed for security professionals with experience in information technology, IT architecture, governance, cloud, and web security engineering.
The CCSP certification by National Initiative for Cybersecurity Careers and Studies provides cybersecurity professional with hands-on expertise in cloud security architecture, services, and operations; resulting in increased productivity.
CCSP, which also needs at least five years of expertise, includes topics such as cloud data security, cloud architecture and design ideas, infrastructure security, cloud operations, and compliance.
Features:
Classroom
Online, Instructor-Led
4. Cybersecurity Graduate Certificate
Cybersecurity Graduate Certificate is a sought-after program provided by Harvard Extension School. It helps professionals gain a crucial understanding of the technological requirements, weaknesses, and threats in cybersecurity.
Although, this graduate certificate, you will gain knowledge of the tools as well as protocols required to use, navigate, and manage security technologies. Also, it helps cybersecurity expert get insight into the social, legal, and political dynamics of the cyber field.
Features:
No Application Required
Online and On-Campus Options
Four courses to be completed
5. NIST Cybersecurity Professional (NCSP)
The NIST Cybersecurity Framework was developed in 2014, and by 2015, it was being used by 30% of US enterprises. The NCSF certifications teach you how to plan, construct, test, and manage cybersecurity programs using the framework.
The following certifications are now offered through the NCSP Program:
NCSF Foundation Certification: This program is designed for business professionals, executives, and IT professionals who want a basic understanding of NCSF. It is specifically used to develop a company-wide NCSF vocabulary.
NCSF Practitioner Certification: This program teaches you how to minimize risks and secure crucial assets through a business-focused cybersecurity risk management program. It is for creating and building complete cybersecurity programs.
Significance of Cybersecurity Certification
Because cyber threats are always evolving and need innovative solutions, a job in cybersecurity may be both logically stimulating as well as challenging. Thus, keeping up with cybersecurity trends may give you an understanding of this field. And a cybersecurity certification can separate you from other candidates and improve your marketability in an extremely competitive job market.
The cybersecurity certification program is crucial because it gives evidence of a person's cybersecurity knowledge, competencies, and expertise. It can help candidates take the next step in their careers in the companies they are working for.
When hiring cybersecurity specialists, employers frequently demand or prefer certificates. Certification is also necessary for organizations that require to adhere to industry rules or security standards.
Many certifications that are mentioned in this blog are globally recognized and can assist firms in meeting their compliance needs. It is crucial organizations and individuals must ensure that they have the information, skills, and experience required to effectively prevent cyber threats.