Maintaining control over Azure costs and knowing exactly where your spending goes is essential to stick within your budget limits and minimize the risk of paying more for idle or unused resources.  
So this blog will discuss the significance of Azure cost management and a few popular tools in the market that can help you, monitor, analyze and optimize Azure spending more reliably. 
Top outcomes of managing your Azure Cost 
It is generally "pay for what you use" with Azure services, which is super-convenient but makes planning, budgeting, and estimating the cost of those services a bit challenging. Here is where Azure cost analysis steps in empowering you to; 
Cut down the cost:

With the right cost management strategies and technologies, it is possible to swiftly identify underutilized or idle resources and deactivate them, eventually cutting down the cost.

 
Optimize resource usage:

Get visibility into the resource usage and enable auto-scaling/load balancing to rightsize the resources based on utilization and working hours.
Desired performance:

To ensure optimal application performance without increased costs, it is essential to provision resources in the right pricing tier, which can be achieved with precise planning and budgeting.

 
Forecast budgets:

With all the historical data about the spending and resources utilized, you can set the budget more accurately, avoiding any unexpected spikes in your monthly bills.

 
However, the native-Azure cost management tools make it possible only to track the cost spent on individual resources and not on the entire Azure application, which would be the requirement in most cases. 
Hence, utilizing an Azure cost management tool is essential to get all the necessary insights on resource usage and pricing at the application level without wasting excessive effort or time. 
Top 5 Azure Cost Management Tools 
Serverless360 Cost Analyser 
Serverless360 is a unique cloud management platform for Azure that combines monitoring, analytics, tracing, governance, and documentation under one roof, making it an excellent choice for managing modern Azure applications. 
In addition, there is another brand-new feature called "Serverless360's Cost Analyser", which gives you a thorough breakdown of your Azure cloud expenditures and points out where you have been spending the most.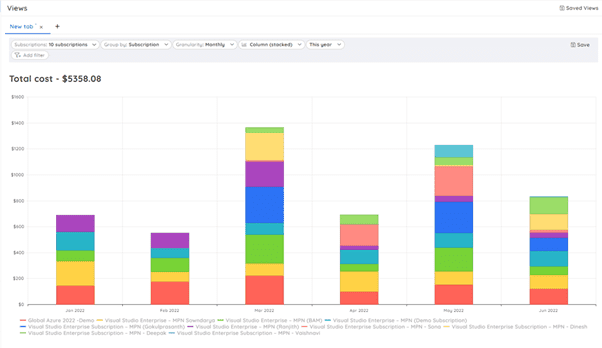 Pros 
It makes it simple to correlate and manage costs associated with resources distributed across multiple Azure subscriptions

 

Dashboards for cost visualization to quickly understand which resource of your application is consuming more

 

Get filters to visualize cost based on resources, resource groups, tags, etc

 

Performs deep spending analysis on different environments, including development, testing, and production

 

Real-time monitoring for the cost spent on your Azure application rather than just the siloed resources

 
Set up a monthly or daily limit on your Azure spending to get alerted whenever the threshold is exceeded

 

Forecast the spending based on the historical resource consumption and billing data

 

Facilitates integration with various third-party notification channels for alerts, letting you immediately know about the cost spikes

 
Cons 
The support for multi-cloud setup is currently not available

 
Native-Azure Cost Management Tool 
Azure Cost management is a native tool available in the Azure portal to give insights on your billing, with a high-level overview of spending. It provides the opportunity better to understand every Azure resource's cost spending trends and alerts you when the maximum budget is reached. With that, you get to know of any abnormal spending hike. 
Pros 
Monitors cloud spending and tracks resource usage

 

Know the cost incurred for a specific resource, resource group, or location

 
It provides best practices and suggestions for cost optimization

 

Offers cost management for both Azure and AWS

 

Allows setting up budgeting alerts

 
Cons 
One major drawback is that you don't get to manage/monitor the cost associated with your whole Azure application

 
The built-in reports generated are essential and offer very minimal automation features when it comes to cost management

 

Environment-wise cost analysis is not possible, and no visibility of idle or unused resources

 
CloudCheckr 
CloudCheckr is a SaaS platform that helps you take control of cloud cost, along with features for improving security and compliance. By providing actionable insights and charts to visualize spending trends, the platform allows you to minimize any cost wastage. It supports managing the single and multi-cloud (AWS, Azure & GCP) infrastructure. 
Pros 
Keeps track of the resource and pinpoints the one that's increasing your cloud billing

 

Identify wasted resources and get suggestions for rightsizing the same

 

Understand your cloud cost and resource consumption with the cost query engine

 

Get alerts and share the reports across teams for improved collaboration

 

Offers cloud cost best practices to get visibility into the saving opportunities

 
Cons 
CloudCheckr can seem to be a bit expensive for smaller/mid-sized organizations

 

The UI could be more intuitive. It also turns out to be a bit slow at times.

 

The features for automated rightsizing of resources need improvement in certain areas

 
myCloudDoor 
myCloudDoor is a cost management tool that lets users figure out how much they spend on each cloud service and forecast costs. It addresses three key areas to reduce any monumental amount of wastage in spending: resource consumption management, expense allocation, and reports/alerts. 
Pros 
Monitors the costs and resources deployed in your cloud environment

 

Visualize the cost associated with particular resources over some time

 

Sends automated alerts if there is any deviation in the cost

 
It showcases cost projections based on the resource usage trends

 

You can access it using Azure Active Directory

 
Cons 
Offers only the features that are similar to the free Microsoft Cost Management service

 

It is limited only to Microsoft Azure and AWS; not suitable for managing costs spent on hybrid solutions.

 
 nOps 
nOps provides a bird's eye view of the resource allocation and costs. The platform helps you have cloud costs under control by identifying mismanaged resources, eliminating waste, and rightsizing computing services. AWS was its prime focus and has just extended its support for Azure. 
Pros 
View cloud infrastructure changes that affect the overall cost

 
Performs month-to-month cost comparison 

 

Get alerted and stay informed of billing anomalies 

 

Identify the underutilized resources to the correct size or deactivate them

 
Cons 
Understanding the tool and making the most of all its features would require some time

 
Supports cost management only for Azure/AWS and not for the GCP cloud

 
Conclusion 
With the right management tool and cost optimization strategies, organizations can tremendously reduce spending while taking full advantage of the Azure cloud for faster application development and scaling.