Do you often find yourself struggling with blurry images that lack the crispness you desire? Whether it's a cherished photograph, an important presentation, or an image for your website, image quality matters. Blurry images can be frustrating, leaving you dissatisfied with the final result. But fear not, as there's a game-changing solution to this problem – VanceAI Image Sharpener! In this article, we will delve into the key features of VanceAI Image Sharpener, understand why sharpening images is crucial, and also explore the top 5 sharpening tools, with VanceAI taking the lead.
Why do we need to sharpen a picture?
When you capture a photo or work with digital images, several factors can lead to the loss of image clarity. Factors like camera shake, low resolution, or simply poor focus can result in blurry images. Blurriness can affect the overall impact of your visuals, making them less appealing and less professional. That's where image-sharpening tools come into play. These tools are designed to enhance the sharpness and details in your images, making them clearer and more visually striking.
AI Image Sharpener stands out as one of the most effective and user-friendly solutions to this problem. With just one click, you can transform blurry images into clear and vibrant visuals. VanceAI utilizes advanced AI algorithms to analyze and process images, identifying areas that need sharpening and enhancing details without causing distortion or artifacts. Whether you are a professional photographer, a graphic designer, or a regular user, VanceAI Image Sharpener empowers you to achieve stunning results without any hassle.
Top 5 sharpen tools review
VanceAI Image Sharpener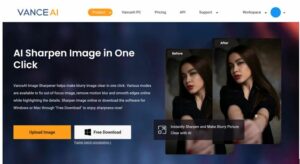 VanceAI Image Sharpener has gained immense popularity for its ability to effortlessly sharpen images and bring out hidden details. Let's dive into its key features, pros, and cons, and learn how to make the most of this powerful tool.
Key features:
One-click sharpening: VanceAI Image Sharpener simplifies the image sharpening process by allowing you to achieve professional results with just a single click. It automates the complex task of sharpening, saving you time and effort.
Multiple sharpening modes: This AI-powered tool offers various sharpening modes tailored to different types of blurriness. Whether you're dealing with an out-of-focus image, motion blur, or soft edges, VanceAI has you covered.
Online and offline options: VanceAI Image Sharpener provides the flexibility to sharpen images online without any downloads or installations. Alternatively, you can choose to download the software for Windows or Mac for a seamless offline experience.
Detail enhancement: Apart from sharpening, VanceAI's algorithms excel at enhancing image details, making your pictures appear more lifelike and captivating.
User-friendly interface: You don't need to be an expert to use VanceAI Image Sharpener. Its intuitive interface makes it accessible to beginners and professionals alike.
Pros
Outstanding results: Users have praised VanceAI Image Sharpener for its ability to deliver remarkable results in image sharpening. The AI-powered approach ensures high-quality outputs.
Time-saving: Compared to manual sharpening techniques, VanceAI Image Sharpener drastically reduces the time required to enhance images. The one-click solution is a game-changer for productivity.
Versatile: Whether you're working on photographs, graphics, or digital art, VanceAI Image Sharpener can handle various types of images and deliver consistent quality.
Cons
Internet dependency: While the online version offers convenience, it requires a stable internet connection. Users without internet access might prefer the offline software.
Limited editing features: VanceAI Image Sharpener specializes in image sharpening and detail enhancement, but for more advanced editing tasks, additional software might be needed.
How to use VanceAI Image Sharpener?
Using VanceAI Image Sharpener is a breeze. Follow these simple steps to sharpen your images effortlessly:
Visit the VanceAI website and navigate to the Image Sharpener tool.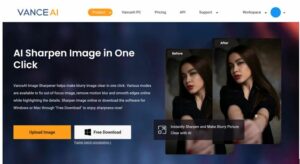 Upload the image you want to sharpen by clicking the "Upload Image" button.
Once the image is uploaded, select the sharpening mode that best suits your image's blurriness.
Click the "Start" or "Sharpen Image" button, depending on the version you're using (online or offline). You can see enlarge option in this workspace. You can use it by visiting VanceAI Image Upscaler.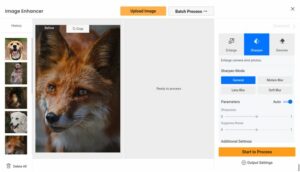 Within seconds, VanceAI's AI algorithms will process the image and sharpen it.
Preview the sharpened image and, if you're satisfied with the results, download the enhanced image.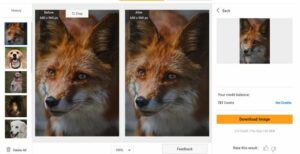 With VanceAI Image Sharpener, you no longer need to worry about blurry images. Embrace the power of AI and elevate the clarity of your visuals effortlessly. More edit choice like cutting out this shape by BGremover also seem great.
About VanceAI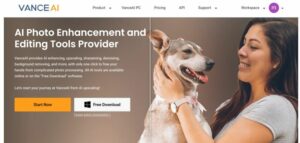 Before we continue with the other sharpening tools, let's take a moment to understand more aboutVanceAI, the company behind the innovative Image Sharpener.
VanceAI is a leading AI technology company that specializes in developing cutting-edge solutions for image and video processing. Their AI algorithms are designed to enhance visual content, making it more captivating and impactful. VanceAI Photo Restorer can restore broken pics quickly. With a focus on user-friendly tools, VanceAI aims to democratize AI-powered image editing and empower users of all skill levels.
Luminar NEO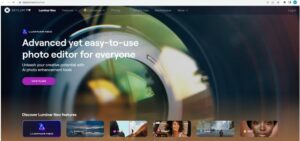 Luminar NEO is another popular choice for photographers and designers when it comes to image sharpening. Let's explore its key features, pros, and cons. VanceAI recently launched a guide about AI Face Generator, you can read to know more about how to use AI Art Generator.
Key features
Advanced sharpening tools: Luminar NEO offers a variety of advanced sharpening tools, allowing users to have precise control over the sharpening process.
Customizable presets: The software comes with pre-defined presets for different types of images, making it easier to achieve specific sharpening effects.
Non-destructive editing: Luminar NEO's non-destructive approach ensures that the original image is not altered during the sharpening process, providing greater flexibility for future edits.
Collaboration with other Luminar tools: Luminar NEO seamlessly integrates with other Luminar tools, creating a comprehensive editing environment for photographers and designers.
Pros
Versatility: Luminar NEO offers a wide range of editing features beyond sharpening, making it an all-in-one solution for photographers and designers.
Customization: With its detailed sharpening tools, users can fine-tune the sharpening effect to suit their specific preferences and creative vision.
Cons
Learning curve: For beginners, Luminar NEO's extensive features might be overwhelming at first, requiring time and effort to master.
System requirements: Due to its robust features, Luminar NEO demands relatively higher system specifications, which might pose a challenge for users with older hardware.
Topaz Studio 2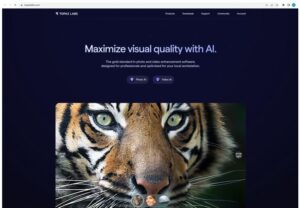 Topaz Studio 2 is a popular choice among photographers and creative professionals. Let's explore its key features, pros, and cons. Besides the function above, VanceAI provides some guides on using AI Portrait Generator, hope this may help to enhance your creativity.
Key features
Precise sharpening controls: Topaz Studio 2 provides a range of precise controls for sharpening, allowing users to adjust the amount, radius, and threshold to achieve the desired effect.
AI-powered sharpening: With the power of AI, Topaz Studio 2 intelligently sharpens images, enhancing fine details without introducing artifacts.
Masking and selective sharpening: The software allows users to apply sharpening selectively to specific areas of the image using masks, providing more control over the editing process.
Integration with Topaz AI tools: Topaz Studio 2 seamlessly integrates with other Topaz AI tools, creating a comprehensive editing ecosystem.
Pros
AI technology: Topaz Studio 2's AI sharpening produces impressive results, making it suitable for a wide range of images.
Non-destructive workflow: Users can experiment with sharpening settings without altering the original image, ensuring flexibility and easy reversibility.
Comprehensive editing features: Besides sharpening, Topaz Studio 2 offers an array of editing options for creative image enhancements.
Cons
Standalone software: Topaz Studio 2 is a standalone application, which means users need to download and install it separately.
Learning curve: For beginners, the various controls and options might require some learning and practice to fully utilize.
AILab Tools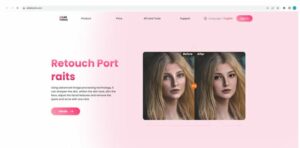 AILab Tools is a collection of AI-powered software designed to enhance image and video quality. Let's focus on their sharpening tool and explore its key features, pros, and cons.
Key features
AI-driven sharpening: AILab Tools employ advanced AI algorithms to automatically sharpen images and bring out intricate details, resulting in visually appealing outputs.
Batch processing: Users can sharpen multiple images simultaneously using AILab Tools' batch processing feature, saving time and effort.
User-friendly interface: AILab Tools prioritize simplicity, making their sharpening tool accessible to users of all levels of expertise.
Pros
Fast and efficient: AILab Tools deliver quick results, making them suitable for users who require speedy image processing.
Cost-effective: AILab Tools offer good value for their AI-powered sharpening capabilities at an affordable price.
Cons
Limited editing features: While AILab Tools excel in sharpening, they might lack some advanced editing options found in other comprehensive software.
Movavi Photo Editor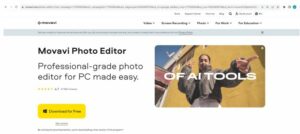 Movavi Photo Editor is a versatile photo editing software that includes sharpening features. Let's discover its key features, pros, and cons. Also, if you ever dreamed to become a Vtuber, you can try some Vtuber Maker start this trial with the guide in VanceAI.
Key features
Intuitive sharpening tools: Movavi Photo Editor provides easy-to-use sharpening tools, enabling users to enhance image clarity with minimal effort.
Customizable presets: The software offers a range of presets for sharpening, catering to different levels of blurriness and image types.
Additional editing features: Movavi Photo Editor includes various other editing tools for comprehensive image enhancements.
Pros
User-friendly: Movavi Photo Editor's straightforward interface makes it accessible to users of all skill levels.
Affordable: The software provides a cost-effective solution for basic image sharpening and editing needs.
Cons
Basic functionality: While effective for simple sharpening tasks, Movavi Photo Editor may not offer the same level of precision and advanced options as specialized sharpening software.
Conclusion
There is no shortage of sharpening tools available to enhance the clarity of your images. VanceAI Image Sharpener stands out as an excellent choice, offering a one-click solution with impressive AI capabilities. Luminar NEO, Topaz Studio 2, AILab Tools, and Movavi Photo Editor all have their strengths, catering to the diverse needs of photographers and image editors.
When selecting a sharpening tool, consider your specific requirements, editing expertise, and budget. Whether you opt for VanceAI's ease of use, Topaz Studio 2's precise controls, or AILab Tools' affordability, each tool can help you achieve stunning results.
Now that you are equipped with valuable insights into the top sharpening tools, it's time to take action and elevate the quality of your images. How was it? This time we summarized the top 5 sharpening tools, including VanceAI Image Sharpener, to help you make an informed choice. Please take this opportunity to try out these tools and experience the transformative power of image sharpening for yourself. Happy editing!