When it comes to mobile first-person shooters (FPS games), the player experience is paramount. The enjoyment largely hinges on the fluidity of running and gunning, which is why clunky gameplay, poor performance, and frustrating controls simply won't suffice for the best Android games. 
Additionally, it's crucial for FPS titles to continually improve and ensure compatibility with popular Android gaming controllers. This enhancement provides a much-needed boost in quality of life, optimizing the shooting experience. Taking into account these crucial factors that can either make or break a player's satisfaction, we have undertaken the task of analyzing and evaluating the FPS games on Android that truly deserve your time. Let's delve into it!
Call of Duty Mobile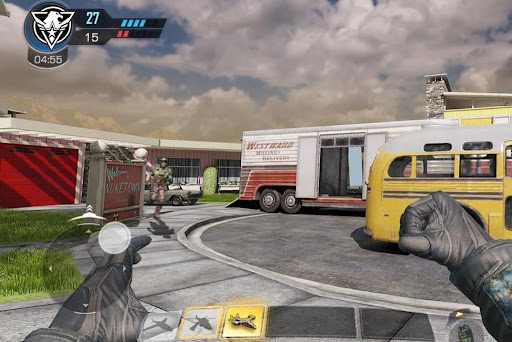 Call of Duty Mobile stands out as one of the top FPS games on the Android platform, with an impressive record of over 500 million downloads since its launch in 2019. Despite being a few years old, the game continues to thrive and maintain its popularity. This is quite remarkable considering that FPS games often struggle to keep up with advancing hardware and players' increasing expectations. Why invest in a new phone when the graphics and performance of your favorite games remain unchanged? However, Call of Duty Mobile has defied this trend by being ahead of its time and building a dedicated fan base. 
The game offers a comprehensive selection of game modes, including zombies, battle royale, and classic modes like team deathmatch, featuring a wide array of beloved maps from previous games. It's an all-encompassing experience that provides everything players could desire, making it a fantastic package overall.
PUBG Mobile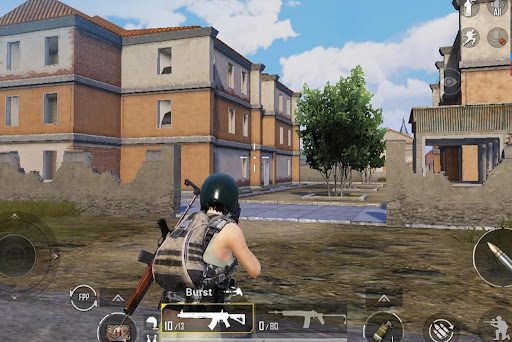 When discussing PUBG Mobile, we cannot overlook its sister game, PUBG: New State. PUBG: New State is equally impressive and, in some aspects, more optimized for mobile devices. However, there are differences in age and content between the two games. PUBG: New State is newer and has the potential to surpass PUBG Mobile in popularity. 
Currently, PUBG Mobile holds the veteran status in the battle royale genre and boasts a larger player base. Both games offer intricate weapon upgrade systems, with New State also featuring weapon customization. As New State catches up, it will become increasingly challenging to determine which game deserves the spotlight. For now, PUBG Mobile remains the dominant choice for most players.
Standoff 2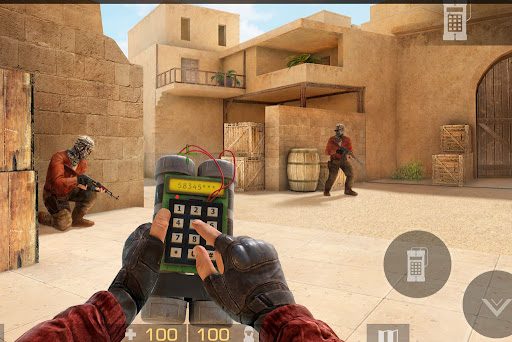 Standoff 2 offers an FPS experience that closely resembles CS: GO rather than Call of Duty. Unofficially, it brings the essence of CS: GO to mobile devices. The game allows players to collect weapon skins, engage in both single-player and multiplayer modes (including ranked matches), join clans, and even sell skins in the marketplace. 
However, due to CS: GO's slower-paced gameplay compared to the standard arcade-style FPS, it may not appeal to everyone. Succeeding in Standoff 2 requires patience as you carefully navigate small maps to eliminate opponents. Rushing into battles without a plan is the quickest way to lose, emphasizing the importance of practice for long-term success in Standoff 2.
Combat Master Mobile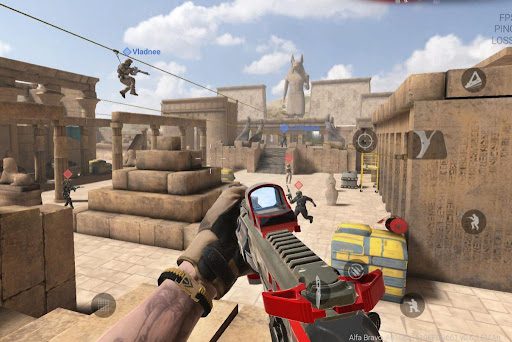 Combat Master Mobile possesses all the necessary elements to become an excellent FPS game and a worthy alternative to Call of Duty Mobile (one of our favorites on this list). It is commended for its satisfying gunplay and fluid movement. Although the game's content may be somewhat lacking, its core gameplay remains enjoyable. 
Combat Master Mobile offers various multiplayer modes, including battle royale, quick play, and team deathmatch, with seasonal updates introducing new modes like Bomb Plant and Arms Race. While it shares similarities with Call of Duty Mobile, the smaller map size and personalized experience make it an exciting choice for adrenaline-fueled running and gunning on Android.
Critical Ops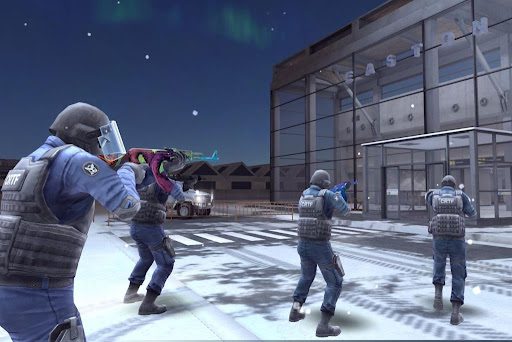 Critical Ops is an outstanding unofficial CS: GO clone for mobile devices. 
The game regularly updates with seasons, offering a critical pass, thematic mini modes, limited edition skins, and other content enhancements. In addition to the seasonal content, players can earn a wide range of weapon skins and enjoy various custom game modes, including team deathmatch and ranked matches. 
With over 96 million downloads, Critical Ops has gained significant popularity. The developers and community demonstrate a strong commitment to the game's success, evident through their active presence on social media platforms like YouTube and Reddit. They continuously release updates to enhance the user experience, including anti-cheating measures, bug fixes, and stability patches. The trust and collaboration between the developer and the community contribute to the game's longevity and thriving community.
Modern Combat 5: mobile FPS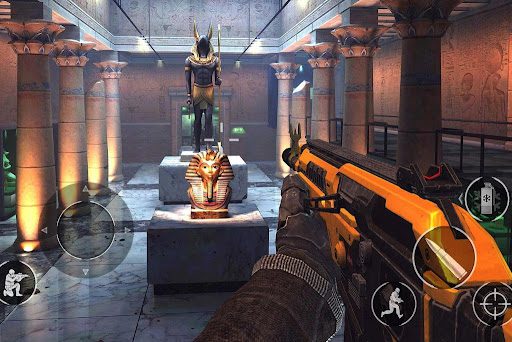 Modern Combat 5: Mobile FPS is the ultimate destination for a highly customizable FPS experience. With a choice of 10 classes, including sniper, assault, and marauder, you have the freedom to tailor your gameplay. Engage in the gripping campaign or dive straight into thrilling pub matches. 
The game offers a diverse range of online play and PvE modes, with regular event cycles introducing battle royale, team deathmatch, and capture the flag. Native voice chat support elevates team communication to the next level. Thanks to its popularity, finding matches with fresh matchmaking is never a concern in Modern Combat 5. 
The game's ongoing popularity motivates the developers to stay up to date with updates and improvements. Both the developers and players are actively engaged, ensuring the game remains vibrant and far from experiencing the fate of abandonment that can plague FPS mobile games.
Into the Dead 2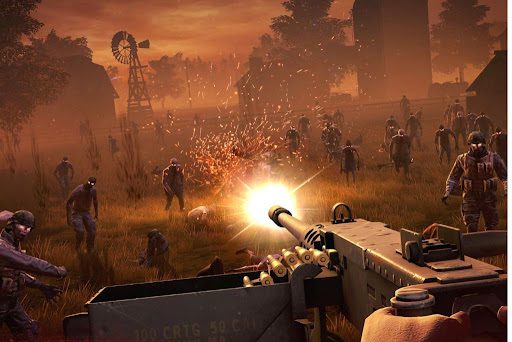 If you're seeking a break from the standard PvP gameplay dominating other titles, Into the Dead 2 offers a refreshing focus on the personal journey through a zombie apocalypse. Survival and the quest to save your family become paramount. 
Test your FPS zombie-killing skills and determine if they are enough to avoid a grim outcome. Into the Dead 2 introduces new story chapters, daily and special event modes, faithful canine companions as allies, and multiple endings, allowing you to shape the narrative. The best part is that you can enjoy this game entirely offline. It offers free access, with optional in-game purchases available. The fate of your character lies in your hands—will you persevere and live to see another day?
Shadowgun Legends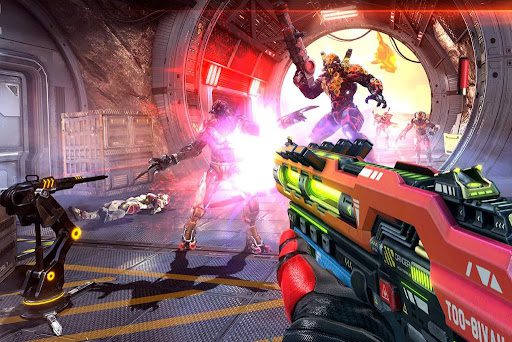 Shadowgun Legends offers a well-rounded gaming experience with stunning visuals, a sci-fi setting, and a wealth of PvP and PvE content. It caters to a wide range of players, whether you're seeking a looter shooter experience, cooperative campaign missions, or intense multiplayer battles against your friends. 
The game supports controllers, allowing you to enjoy your FPS fix without relying solely on touch controls. Shadowgun Legends draws inspiration from acclaimed titles like Gears of War, Destiny, and Halo, which adds to its appeal for those seeking FPS games that offer a unique setting and gameplay distinct from Call of Duty and PUBG.
Hitman Sniper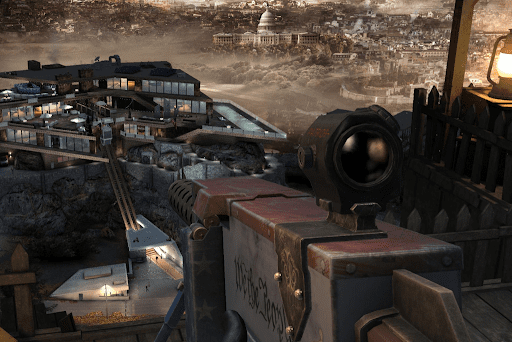 If you find the satisfaction of precision sniping to be incredibly rewarding, then Hitman Sniper is the game for you. It offers a unique twist on the typical FPS experience, emphasizing tactical shooting and target prioritization as you navigate through puzzle-like contracts. 
For added variety, Square Enix has introduced a post-launch mode that involves defending against zombies, adding another exciting layer to the game. Hitman Sniper is widely regarded as the top choice for the sniping format, though it does come with a price tag of approximately one dollar to unlock the full game.
Gun Strike: FPS Shooting Games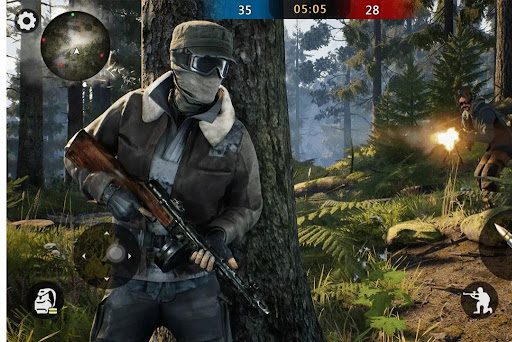 Gun Strike: FPS Shooting Games is one of the top offline FPS apps available for Android. In this thrilling game, you'll assume the role of a highly skilled counter-terrorism operative, eliminating enemy camps that pose a threat to your country. With a wide range of weapons at your disposal, including pistols, grenades, snipers, and automatic rifles, you'll face intelligent enemy AI that will keep you on your toes. 
Strategic planning is essential before engaging in combat. Gun Strike offers a diverse selection of missions and maps, ensuring the gameplay remains engaging and dynamic. Regular updates keep the game optimized for a wide range of devices, allowing even average phones or tablets to run it smoothly. This title is perfect for those seeking a break from competitive PvP modes or lacking a stable internet connection.
​​​​Guns of Boom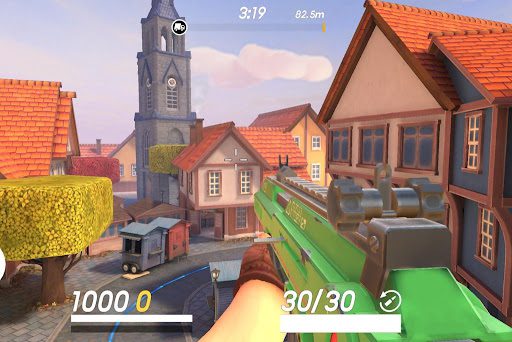 Games like Guns of Boom are a valuable addition to gaming libraries, particularly for older or average non-gaming phones and tablets. Developed with mobile platforms in mind, the game delivers outstanding performance and features comfortable and intuitive controls that make it accessible to all players. Guns of Boom offers a satisfying gameplay experience accompanied by flexible character customization, including perks and equipment skills that cater to different playstyles. 
However, one potential drawback is the reliance on resources like health packs, which may introduce an element of pay-to-win in certain game modes. Nevertheless, Guns of Boom remains an excellent choice for satisfying your FPS cravings on both older and modern devices.
Pixel Gun 3D — FPS Shooter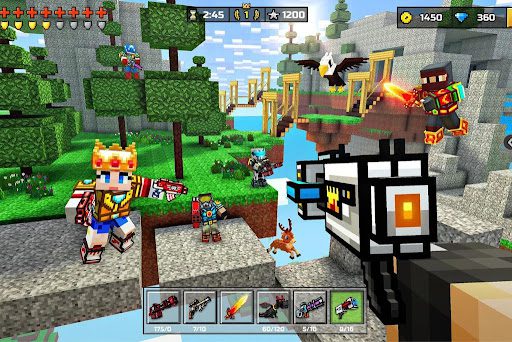 Pixel Gun 3D – FPS Shooter, released in 2014 and continuously updated, offers vibrant maps, unique skin customization, and a diverse range of game modes to cater to all preferences. Whether you crave battle royale, sniper tournaments, or intense deathmatches against friends, Pixel Gun 3D has it covered. With features like clans and leaderboards, the game fosters social interaction and competitive play worldwide. 
For those seeking a break from multiplayer, engaging minigames like Parkour and Extreme Run provide additional entertainment. With its extensive selection of game modes and enjoyable customization options, Pixel Gun 3D – FPS Shooter remains a top choice for gamers.
Frag Pro Shooter

Offline modes allow stress-free testing of every weapon and hero, ensuring you can come prepared for intense battles. Regular updates keep the game fresh, constantly balancing heroes to prevent a stagnant meta, ensuring you're not locked into specific team compositions forever. Frag Pro Shooter offers an intellectually stimulating experience that combines skillful gameplay with strategic decision-making.
Frag Pro Shooter is a PvP hero shooter that sets itself apart by incorporating mechanics that challenge your wits. In addition to measuring your skill and hardware, the game introduces a team selection mechanic that directly affects your gunplay. 
Each hero determines the weapons you use, requiring you to swap between them strategically to outplay your opponents. With distinct strengths and weaknesses, heroes task you with learning and building a balanced team. 
Conclusion:
In the world of mobile FPS games on Android, there's something for everyone. From popular titles like Call of Duty Mobile and PUBG Mobile to standout games like Standoff 2, Combat Master Mobile, Critical Ops, and Modern Combat 5, players can enjoy impressive graphics and diverse gameplay. Additionally, titles like Into the Dead 2, Shadowgun Legends, Hitman Sniper, and Gun Strike provide immersive storytelling and thrilling action. With a wide range of satisfying FPS games available, Android users have plenty of choices to enjoy.