Finding the best WordPress hosting for your business can save you thousands in improved ranking and conversion rates – which comes with stable resources optimized for WordPress and highly reliable CDN infrastructure. Any decision should be made based on performance data, actual speed test experiments with various hosting services, and a good consideration of all the hidden extras that comes with "cheap hosting". 
So, if you want to ensure a hassle-free WordPress experience and feel a little burnt from past experiences then you're totally in the right place today!
Now choosing the right web hosting for your needs is a critical step in establishing a successful website. You need to take into account what kind of hosting you need, whether that's shared, VPS, dedicated or managed WordPress hosting. 
Let's remember that if your hosting is not the best in the world, how can core web vitals ever improve? This article will help guide you in choosing one of these types of hosting for your site – and ultimately, the best provider. 
Save time and jump straight to the no.1 pick: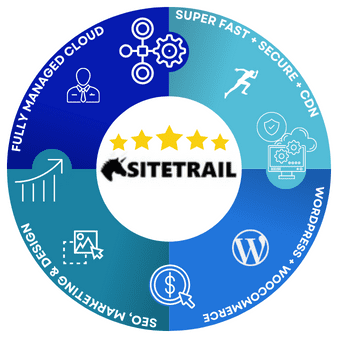 >Get Sitetrail WordPress Hosting Here>
*Reason for the choice: Besides being super fast, highly secure, easy to use, and affordable, it will turn your WordPress website into a powerful marketing engine with all of the extras that 99% of hosting companies don't include. 
Factors when selecting good WordPress Hosting:
Time is money – and cheap hosting with hidden extras can be an issue. If you have to speak to 4 different people to get the job done, including plugins, optimization and migration – a $399 hosting package end up costing way over $3K in missed opportunities and lost time.
WordPress for many SME's will come alive when it is optimized for SEO, digital marketing and ecommerce. When it comes to choosing WordPress hosting, speed, security, and reliability are all important factors. You definitely want to watch out for providers like Godaddy who'd lure you with a low price only to upsell critical security services at excessive rates. Evaluating your needs before purchasing can help you save hundreds of dollars. The term web hosting can refer to several different types of services, some of which are Free, Shared, VPS, Dedicated, and Managed. Let's take a look at all these options and determine the best solution for you.
Free WordPress Hosting Providers:
Forget it if revenue, traffic, and conversions are important. There is no way to run a reliable wordpress website on a free crowded server. 
Shared WordPress Hosting:
If you're just starting out in your business, shared hosting is most likely the best option for you. It's affordable and a great way to start, especially for new users. Shared hosting means you share a server with lots of websites. Large, popular ad providers offer these types of hosting at low prices because it's more cost-effective and efficient. The main concern we have with shared hosting (at any provider) is the unlimited resources. When you see that word, don't count on it–the truth is that you still have limitations. And if your site starts to monopolize the server, the provider may kindly ask you to upgrade your account or even limit things to make other sites run smoothly. It all comes down to conventional wisdom: as your business grows, so will your expenses.
VPS / Managed WordPress Hosting:
A Virtual Private server (VPS) is a virtual machine, which is a physical computer that's been partitioned into multiple servers. Google, Amazon, and Microsoft are the oligopolies here, but value-added resellers can help a lot to overcome technical issues. Your needs affect the number of servers you get: even though you share the server with a few others, this gives you almost as much control as if it were dedicated to you. One large benefit of VPS is its privacy. This is because it exists on its own physical device and can only be accessed by you, your data isn't shared. If a website has already scaled to start scaling up quickly and successfully, yet has no technical knowledge, then it'll need to purchase a managed VPS. This means that managing upgrades on the software will fall onto hosting providers and they're able to help if needed.
Managed WordPress hosting is hassle-free, high-quality WordPress hosting that comes with 24/7 support from staff with lots of experience in the field. In comparison, managed WordPress hosting plans can be more expensive than the average package. For example, a personal account with a popular managed WordPress hosting provider costs $29/month and supports 1 site, which can handle up to 25,000 visitors per month. If you're planning for multiple domains or would like to host an eCommerce store instead, then it would cost around $99/month.
Top 10 WordPress Hosting Providers:
1. Sitetrail: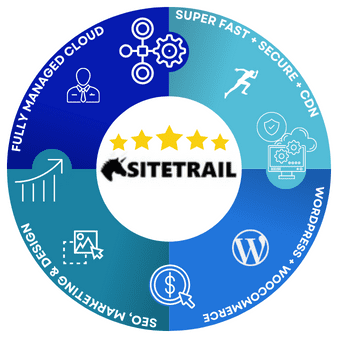 Sitetrail helps you manage all essential web business needs in one single integrated place, with powerful add-ons worth thousands, integrated into super fast Google Cloud VM's.
It is the only web hosting provider that provides an A to Z hosting, design and marketing automation service. This includes fast cloud and managed hosting with a full SEO suite, web design assistance, a powerful drag and drop website builder, along with 5000 themes, 1Million graphics and images – and a string of marketing, speed and other premium plugins worth $2000.
Top features of Sitetrail web hosting include:
Woocommerce & WordPress installed
Premium WordPress plugins pre-installed, worth $2000
Contact form integration with Mailchimp and Sendinblue
Free domain name & SSL
Powerful website builder + image library
Enhanced malware & security protection
Affiliate management system
Payment gateways for online selling
Ecommerce storefront setup
Cpanel and WordPress Toolkit
Autohealing and 1-click automated backup & restore
Additional PHP workers for optimal performance
24/7/365 Support policy
For anyone seeking a fully managed WordPress hosting experience on the fastest cloud environment in the world, backed by marketing automation and SEO infrastructure as standard, Sitetrail will be a game changer. It is more expensive than all the "cheap" hosting companies that has hidden extras, but far more affordable than buying hosting, then plugins and all the other elements needed to run a stable, reliable WordPress website.
2. Pressable: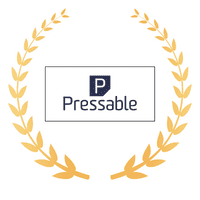 After a thorough research process, Pressable turned out a good choice for top-level WordPress needs. The deciding factors were: quality, super easy to use, very fast, reasonably priced, US-hosted with a global CDN, and scalability. We also prioritized security and highly reliable support.
Pressable is a unique hosting provider that's deeply rooted in the WordPress family. They made the acquisition of WooCommerce and Jetpack seamless integrations to make your business simpler. Whether you need basic WordPress hosting or add-ons to run a successful e-commerce site, Pressable is the best choice for your business.
Pressable provides 24-hour support and a guaranteed 100% uptime. What's more, they'll provide you with top-of-the-line WordPress hosting to give your site the performance it deserves. Not only will they help you optimize your website performance, but they will also provide you with the tools you need to increase online sales!
3. WPEngine

>>Get started here with WPEngine>>
As its name suggests, WPEngine is an exclusively WordPress-based hosting platform. The company offers the perfect service for businesses that require complex functionality and a higher hosting capacity due to large amounts of traffic. One of the most beneficial features that WPEngine offers is its Content Delivery Network (CDN) which promotes smooth load times and helps international visitors with quick loading delays.
WPEngine is a great choice for clients to get trusted, dependable hosting that includes both threat detection and blocking systems. Not to mention SSL certificates, which make it safe to share personal information with our websites. WPEngine goes even further by offering Amazon Web Services integration for customers who want it.
Although WPEngine's plans are generally considered fairly expensive by industry standards, they include a lot for their customers' money. Their site includes excellent storage, bandwidth, and visits per month (each one based on the plan you choose).
Although it is an excellent alternative to Bluehost and Godaddy, it did not manage to beat Pressable on a number of critical measures. 
4. Google Cloud WordPress Hosting
Use the GCloud WordPress integration. Connect quickly to Google Cloud to quickly and easily deploy your website. You can do this without the usual setup and configuration, which helps you focus on your content.
Why should you host a WordPress blog with Google Cloud?
Google Cloud can help you take your business to the next level by giving you better hosting performance, virtually limitless scalability, stronger security, and more flexibility. If you want to continue hosting your site once your trial has ended, you can choose from their low-cost plans starting at $12.71 a month.
The only current drawback is that you'd need technical expertise to set up emails and hosting as it is pretty tricky for laypersons to use. It is however great for speed and CDN capabilities and an excellent alternative to Godaddy, Bluehost, and Siteground if you want to switch to a better option. 
5. Amazon AWS WordPress Hosting – "Lightscale"
I would probably pass on this for my own companies, but due to the brand strength and security, it is fair to mention Amazon Lightsail is one of the easiest and cheapest ways to get started with Amazon Web Services. With virtual servers, storage, databases, and networking tools included in your monthly plan, it's a powerful solution for both startups and growing businesses.
This article will help you make a decision about what WordPress hosting provider to use. We'll explore the benefits and drawbacks of using Amazon's Lightsail, before showing you how to launch your own website on AWS. Even if this is your first experience with AWS, by the end of this article you'll have created and launched a website on Lightsail.
We want to make it clear that Lightsail isn't the perfect solution for everyone.
AWS is an on-demand cloud computing platform that provides low-cost access to high-capacity cloud servers. Unlike building your own physical server farm, AWS prevents you from the costs and risks associated with hardware ownership while also offering economies of scale.
By choosing an AWS subscription, you'll be able to pay based on your chosen features and needs. The price will depend on what type of hardware, software, or networking features you want. It will also depend on how available your need the service to be, how secure it is, and more.
When Lightscale observes behavior from the website that aligns with this strategy, it won't spin up any more instances or shut off any resources.
Support for high scalability isn't what Lightscale is designed to do. If you're a business owner, or if your site's workload comes in waves, then Lightscale might not be the best choice because it has trouble handling datasets with fluctuating resources.
6. GreenGeeks
Disclosure: I added this company only due to their sustainability ploy. They would not outperform the aforementioned providers on core web vital metrics. When you choose GreenGeeks for web hosting, you'll reduce your website's carbon footprint for the environment.
What does that mean? It means they use renewables like solar, wind, and water to power their hosting services. This means you can feel good about making your website while also showing your support for environmental sustainability.
Aside from being good for the environment, GreenGeeks offer reliable web hosting services. They deliver fast server speeds, solid uptime, and great solutions for common web hosting problems. To learn more about how we'll serve your business needs, give us a call today.
From WordPress hosting to WooCommerce hosting, they offer reliable, hassle-free hosting solutions for the most popular online platforms.
Reseller Web Hosting

Virtual Private Servers

Shared Hosting
If you're eco-conscious and looking for a way to reduce the number of plastic products used, then this is an excellent option.
7. A2 Hosting
How on earth did they manage to retain such a high Trustpilot score in this competitive industry with customers who are often unappreciative? Well, that is exactly why we were compelled to add them to this list. Their reviews are excellent. A2 Hosting has some of the best speeds and most competitive prices. It's what they're known for. When it comes to speed, A2 beats quite a few hosts. If you're coming from a different shared hosting provider, you're likely to see a dramatic improvement simply by migrating to A2.
With their Turbo Boost and Turbo Max plans, you'll get access to their Turbo Servers. They claim it's 20x faster than their other servers.
A2 Hosting offers a variety of services that will help make your small business easier and less stressful. Whether you need to build a new site, upgrade an existing one, or have issues with the current website, our 24/7 support will make all your concerns easy to address. Whether it's for shared, managed WordPress hosts, VPS hosts, resellers, or dedicated hosting – A2 Hosting is compatible with e-commerce solutions to provide the perfect platform for your online store. It has certainly been touted as a great alternative to Wix.
8. LiquidWeb
Liquid Web is specifically designed for WordPress websites and its custom plug-ins. The pricing starts at $190 per year, which is still affordable and perfect for small business users. For example, WordPress comes preinstalled when you first sign up. However, it doesn't offer shared hosting plans.
With LiquidWeb's managed hosting, you never have to worry about how to install and run WordPress again. Plus, you'll have access to our suite of powerful Plugins and Updates. Start a blog today!
LiquidWeb has you covered with a reseller package and credit refund program. We're the best for your business, including insanely reliable uptime of 100% in addition to our credit refund plan.
Main Benefits of using LiquidWeb
LiquidWeb offers a comprehensive, dedicated web hosting service for big businesses that need the support and stability it offers. However, any company of any size could make use of LiquidWeb's features – this is a great choice for any WordPress website creator who can afford it.
9. DreamHost
DreamHost is one of the leading web hosting providers. It's reliable, affordable, and includes any feature you might need to build a website. Aside from its great value for the price, it also offers a beginner-friendly site builder and good support that can help resolve any issue you may be having with your hosting or site.
DreamHost pricing:
The shared starter plan for Blogger Pro starts at $2.59 per month and includes a free domain (after 12 or 36 months), unlimited bandwidth, 50 GB of storage, and a free SSL certificate. When the promotional period ends, monthly rates are $5.99.
Unlimited storage can be expensive, that's why we offer two inexpensive options– Unlimited Storage, which starts at $2.95 per month with a long-term contract, and the Shared Unlimited Plan, our most cost-effective option with a great price of $2.95/month. All plans come with unusual benefits like unlimited sites and business email as well as a 97-day money-back guarantee and 100% uptime guarantee for your peace of mind.
Why choose DreamHost?
All in all, DreamHost is a solid web hosting provider for most businesses. Where it really excels, though, is its excellent support. It's ideal for WordPress beginners who will be glad to have expert assistance at their fingertips.
10. Hostwinds
Hostwinds is a web hosting service that offers 99.9% up-time, fast speeds, and unlimited storage for all of its robust plans.
Hostwinds offers small businesses a lot of great features, but their prices can be higher than what other hosting companies offer. That said, it's important to remember that small businesses love being able to move an existing website quickly and easily. Customers will also love the free SSL certificates!
Hostwinds owns its servers, which is why it's able to offer a fast and cost-effective service. As such, it passes on these savings to customers. All plans come with unlimited storage and bandwidth, plus free website migration and unlimited email accounts. Unfortunately, this means they're no match for Google, Amazon, and Microsoft when it comes to CDN and speeds abroad in Europe and Asia. 
Every shared hosting plan comes in three tiers:
Basic: One website is included in your monthly hosting package, at a low monthly price of $6.74
With our Advanced plan customers receive four domains starting at $8.24 a month
Ultimate provides users with unlimited domains, costing $9.74 per month.
Hostwinds boasts business hosting plans for those who are looking for an easy, affordable, and scalable solution. With Litespeed servers and efficient network selection, Hostwinds is able to provide the best possible speed for your business. Pricing starts at $10.49 per month per domain- just like Hostwinds' regular shared plans— with the added benefit of faster loading speeds!
Final Take:
Yes WordPress hosting should be fast – and by virtue of Amazon, Google and Microsoft Azure, this can be achieved from an infrastructure standpoint. However there are very few A to Z solutions in the world, where complete marketing automation, with WordPress ecommerce, design and full security aspects are available in one location. The no.1 pick on the list seeks to do just that as standard. Fortunately, at least 5 really good WordPress hosting companies exist in the world today – it all comes down to how much you really want to manage in person.
Change requests and updates can be sent here to Adriaan Brits.