When it comes to curating unforgettable childhood memories, a well-orchestrated birthday party holds an esteemed place. In today's digital age, the pressure to create an event worthy of a social media spotlight can be overwhelming. However, there's a classic choice that promises both excitement and cherished moments: a birthday celebration at a bounce house venue. With an abundance of experience in crafting joyful occasions, we've compiled a trove of essential tips for hosting an extraordinary birthday bounce house party that will leave a lasting imprint on your child's heart.
Is a Birthday Bounce House Celebration Right for Your Child?
The decision to host a birthday bounce house celebration is one that promises high-energy entertainment and smiles galore. If your child possesses an insatiable enthusiasm for physical activities, this vibrant and dynamic setting will undoubtedly be a hit. It's especially ideal for birthdays falling during seasons that don't lend themselves well to outdoor events, such as pool parties or ice skating. If any of these scenarios resonate with your family, delve into our comprehensive guide for planning an exceptional bounce house extravaganza.
Crafting the Guest List
A key ingredient in the recipe for a successful bounce house celebration is a thoughtfully curated guest list. Balancing the number of attendees is crucial to ensure a safe and enjoyable experience. A crowded environment can increase the risk of accidents and detract from the bouncing fun. Similarly, narrowing the age range of the invitees fosters a harmonious atmosphere where everyone can engage in age-appropriate activities. As Liberty Party Jumpers caters to diverse age groups with specialized play areas, choosing friends of similar ages ensures a celebration that is both safe and exciting.
Dress for Bouncing Success
In the realm of dynamic play, the right attire is paramount for maximum enjoyment. For young girls, securing hair away from their faces and avoiding jewelry ensures unencumbered bouncing joy. Outfits featuring comfortable elastic waistbands and flexible tops allow for unrestricted movement, a necessity when navigating various bounce house attractions. And don't forget the importance of socks to ensure both safety and comfort. By adhering to these wardrobe guidelines, your young guests are primed for a day filled with exhilarating leaps and bounds.
Snacks That Sizzle, Not Stifle
While a delectable cake remains a birthday staple, catering to youthful taste buds demands thoughtful consideration. Remember that active play often curbs appetites, making miniature cupcakes an ideal sweet treat to cap off the festivities. Opt for refreshing water and an array of wholesome, lightweight snacks to sustain energy levels without hindering the spirited revelry.
Planning Your Celebration with Liberty Party Jumpers
As your child's special day approaches, envision an unforgettable experience by embracing the enchantment of a bounce house celebration. At Liberty Party Jumpers, we specialize in transforming ordinary celebrations into extraordinary memories. With our wide range of inflatable attractions, professional coordination, and unwavering commitment to your child's happiness, your dream birthday bash is just a click away.
Book Your Bounce House Today
Elevate your event to unprecedented levels of excitement by contacting Liberty Party Jumpers today. Our experts are ready to help you craft a worry-free, joy-filled occasion that will be etched in your family's memories for years to come. Whether it's a birthday party, school carnival, or community event, Liberty Party Jumpers boasts a perfect inflatable for your entertainment needs.
Or choose from our value packages that have everything you need to throw the perfect memorable birthday bash. Embark on a thrilling journey of fun and adventure by booking now – let the bouncing festivities commence!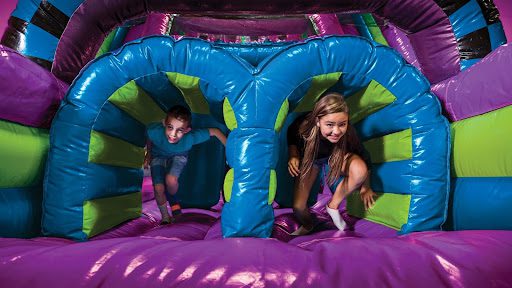 For inquiries and reservations, reach out to us at https://www.libertypartyjumpers.com or call us at (702) 570-2230. Your child's next unforgettable celebration awaits!