Introduction
Whether or not to buy a new automobile is impacted by various aspects, including the selling price of the vehicle, its overall visual appeal, and its practicality. The branding of the vehicle is another factor that plays a role in this.
Because individuals are prepared to pay more for the prestige associated with a name brand, luxury car manufacturers may charge higher prices for their wares. How a car presents itself to the world significantly impacts how a buyer feels about that car (and eventually, their purchasing decision). Creating a catchy logo for your business that sells vehicles is therefore quite important if you want to bring in new clients and keep the ones you already have.
Why Do You Need A Strong Automotive Business Logo For Your Brand?
You can learn a lot about the significance of automotive industry logos from the article's opening. Simply said, automobile business logos are a crucial component of branding and aid in building brand awareness in the marketplace. It makes your brand easier for potential customers to recognize wherever they go, increasing the popularity and interest of the car company logo and the business overall in the target market.
Additionally, the automotive business is currently characterized by intense competition. Many companies are competing to win the customer acquisition race. Automotive company logos are crucial for all types of automotive businesses, whether they are repair shops or automobile resellers.
You will require an eye-catching, distinctive, and captivating vehicle logo design that can support the market recognition of your company. You could work in car sales, detailing, or auto repair. Before they can trust your services or products, clients need to be able to recognize and trust your brand, whatever it may be. When this happens, having a fantastic automotive logo design might help you beat out the competition.
If you do provide any kind of automotive services or goods, you will undoubtedly require a strong automotive industries logo that represents your brand, vision, and areas of expertise as well as any other salient features of your automotive business. It's crucial to have a well-thought-out automotive logo design. Even if a brand is an auto repair shop, a unique car logo that lists the ethos and specialties of a brand will undoubtedly improve the brand's reputation and trust in the market among potential customers.
The following are some pointers to keep in mind when designing an effective vehicle  bmw logo.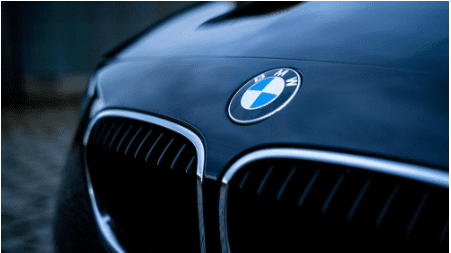 1. Include Some Kind of Motion in the Design
Vehicles are designed to travel as an inherent part of their purpose.
They get us from A to B safely and efficiently. Utilizing a variety of visual components, your design should be able to convey the enticing and smooth ride quality of your automobiles.
Motion can be illustrated with the use of symbols that are related to speed. This logo features a speedometer with the pointer in the "red zone," which conveys the idea that the speed will continue to increase. The flames on the opposite side of the design are similarly suggestive of quick movement within the motif.
The motion may be infused into a design in a variety of different ways
You can employ symbols that are displayed in the middle of motion (like a speedometer or a car on a track). You can use angled text to guide the viewer's attention either upwards or downwards, mimicking the movement of a vehicle along a road. You can create the impression of a winding road by placing curves above the text, as demonstrated in this design:
2. Visually Associate the Company Name with Vehicles
If there is not a phrase in the company name to instantly associate the brand with vehicles, you can use symbols instead.
This logo uses the outline of a car above the company name to visually identify it with vehicles. It uses the same colors (navy and gray) in the car design as in the text to further visually tie the company name and the company's product together.
Symbols related to cars, such as wheels, a road, stoplights, and outlines of a car, can all be used to associate your organization with car sales. This design added gear to their design, helping to associate their company with vehicle sales and repairs
3. Use Texture in the Design to Reflect the Texture of the Car
Quality cars are made from quality materials. A sleek smooth exterior of a vehicle can get a potential customer's heart racing with excitement.
You can play with these elements of a car's texture within your design. This logo created the text of the company's name with a crisp metallic texture, mirroring the shine of a new car's hood.
You can also use the same texture as in the design of the car in your logo as in the text of your brand to further associate the two, as done in this logo:
Providing a bit of texture in your design helps reflect the quality of your product and adds visual interest and variety to your design.
4. Play with Power Colors
People like buying powerful colors. Showcase the power of your vehicles through the use of power colors in your design. One common power color combination in the automotive industry is pairing black, red, and silver as done in this design:
Using power colors helps the viewer subtly associate your products with power. Blue is also a common color choice for a variety of reasons, from symbolizing dependability to inspiring a sense of calm.
To further symbolize power in your design, you can use thick block fonts (as both of these did) (as both of these did). A combination of power colors and power text will showcase power to your viewer.
Designing a logo for your automotive business is important to the success of your business. However, acquiring an interesting logo that does not exceed one's financial means should not be a difficult task. Organizing a contest for a logo will save you both time and effort while providing you with multiple possibilities from which to choose. To get started, all you have to do is fill out a quick form that describes what it is you're searching for, and then get set to receive some fantastic options for your business.