Looking for a job? If yes, are your application requirements ready? If not, then we are here to help you. Creating a CV and portfolio can really be nerve-racking and time-consuming. Do you want to showcase your experiences and achievements to impress your future boss? That's normal. Who wants a forgettable resume anyway?
With the help of a good timeline maker, you can effortlessly catch up and submit all your requirements in no time.
If you want to learn more about how and where to make the perfect timeline portfolio for you, keep reading!
Why use a timeline infographic for your resume?
Timeline infographics have been mainly used in reports and informational posts. Can you also use these for CVs and portfolios? Read on.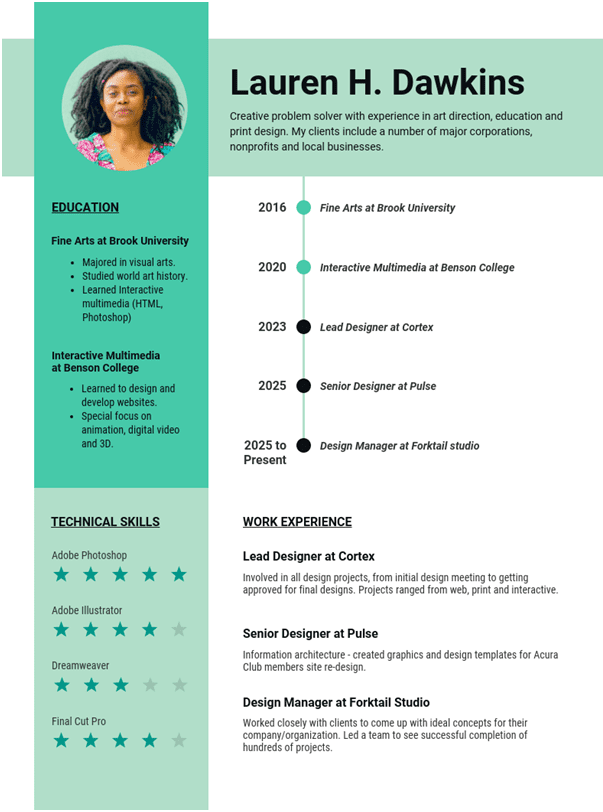 Photo from Venngage
1. It makes you stand out.
Using a timeline to build your resume will make you stand out immediately. A plain and traditional resume lacks vigor and personality. As someone who is in the field of art, you might want to show your future boss your capabilities by making an outstanding resume.
2. It is readable.
Hiring managers don't have the luxury of time to read and go through a wordy and lengthy resume. They want something that directly gives them what they want at a quick glance. Timeline infographics are brief and concise; all your information and projects are laid out in a neat and organized fashion.
3. It displays your work in a chronological manner.
A timeline infographic lets you list and displays your work experience and all your projects in a chronological manner with your most recent job and project listed at the top. Your timeline highlights and displays all your achievements and work experience in one flow.
These 4 timeline makers can help you.
Timeline creators free your hands and mind from all the extra work when making a portfolio. That being said, here are some of the free timeline makers you can check out.
Venngage is a free online infographic maker that offers thousands of pre-generated templates and includes timeline infographics. This website lets you choose any template you want and customize it however you like it. You can add and remove images or upload a photo from your computer. It also supports a drag-and-drop technology allowing you to create your timeline infographic quickly. Venngage also has a specific template for timeline resumes.
2. Creately
Just like Venngage, Creately is a free online timeline maker. This website has thousands of different templates that are more focused on charts, graphs, and diagrams. It lets you upload multiple pictures that you can use on your design and it also has an accessible Google Search icon located at the toolbar. This is also a great timeline creator for students.
3. Canva
Canva is a graphic design platform that is used to create visual presentations, posters, and even resumes. It offers many templates, icons, and fonts for free and lets you customize or even create your own from a blank canvas. If you are looking for a nice project timeline creator, Canva is also a good choice.
4.  RealTimeCV
This online resume maker offers a wide variety of timeline CV templates that are all professional-looking. It offers unlimited color options using a real-time color picker, many different templates to choose from, and it's a quick and easy way to transform your resume into a creative design. However, RealTimeCV is only free to try. If you want to download your resume, you should pay $9 online to proceed.
Now make that Perfect CV and Portfolio!
Now that you have the tool, let us give you some kick-ass tips on how to incorporate your artistic side and make your CV stand out from the rest of the applicants.
1. Make a great intro.
Introductions are important. Your intro should be concise and convincing at the same time. Craft your introduction into something that would showcase your skills and the benefits you offer.
2. Pay attention to the words you use.
A resume should not include lengthy and wordy phrases. Be clear about your skills and qualifications. Tell them what you can bring to the table without having to use too many words. Using bullet points will be helpful. As much as possible, get rid of unnecessary sentences as they only take up space.
3. Show your personality.
Show your personality as an artist by incorporating icons and illustrations. You can also use colors that you think would represent your personality. Be careful about putting too many icons and/or colors as you would still want your employers to think of you as a professional.
4. Highlight important information.
Hiring managers do not spend a lot of time reading resumes one by one. You have to make sure to put all important details at the top and highlight or use a bold text for all your accomplishments and worthy experiences. This will guide their eyes to that part, making your resume and information easy to remember.
Crafting the best CV and portfolio for a job application needs time and effort. With Venngage's easy-to-use editing platform, hundreds of customizable templates, and these friendly tips, you are now ready to take your first step and get that dream job. Start now!