The fashion world can be a brutal place. But when you're as bold, fearless and relatable as Tigerlily Hill, there is really nothing to fear. Her life and achievements as a fashion designer and stylist are powerful reminders that it pays to take a leap of faith and to follow your passion.
Is it possible to design an ensemble that fits the red carpet and the casual or ordinary setting at the same time? Many in the industry will readily respond with a resounding no. Not one to shy away from a challenge ( as her foray into fashion competition shows) Hill set out to create sophisticated and playful designs that work well with glamorous settings but also serve the purposes of non celebrities.
Bold and Fearless In Competition
Miss Hill is not afraid of challenges. She boldly took on seven other talented stylists as part of the VH1 reality fashion show Glam Goddess. For this show Miss Hill had to compete with other stylists as they all crafted and created fashionable attire for their clients. And of course her boldness and fearlessness paid off. She performed impressively winning several of the show's challenges and scoring high in many others. As a result she was named as one of the top two stylists by the end of the competition.
Bold and Fearless Creativity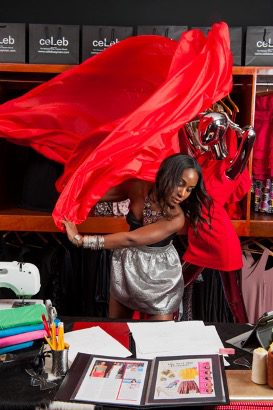 Bouyed up by the success of this challenge and the global fame and recognition it had brought her, Hill moved on to another challenge- the creation of her own fashion line. This resulted in the creation of the now world famous Crown Atelier line.  And in true Tigerlily Hill style, the line has gone on to dominate the fashion world. Crown Atelier is found in the closets of every discerning fashion buff and numerous A-listers.  The line finds its way into the hands of the most fashion conscious people around the world through multiple means, including Hill's own ecommerce platform, stores like Georgetown's Aruba Boutique and Hill's fashion stores.
Hill's penchant for exceeding expectations and dispelling myths shine through in her creations and are evident in the multi-genre applications of her pieces.  Crown Atelier pieces stand out for being applicable to celebrities and regular people alike.  Only a professional challenge taker like Miss Hill could pull off such a feat, with such magnificence too!
A Bold and Fearless Entrepreneur
The next challenge for Miss Hill was to boost her performance in the fashion industry by infusing her corporate expertise. And she had an impressive amount of this expertise! Not only had she completed a first degree in Business Administration with a focus on finance, but she had also completed a course in apparel manufacturing. Additionally, she had hands on experience in the corporate world having served as section manager with responsibility for supervision and administration at Marks and Spencer from 2000-2002.
Hill's mastery of the fashion world has earned her accolades from all quarters. In 2012 she took home the inaugural Emerging Designer Award at Caribbean Fashion week and in 2016 she the recipient of The Cayman National Cultural Foundation's Star for Creativity in the Arts. Powerful fashion magazines such as Essence have identified her as one to watch when it comes to fashion greatness and numerous celebrities and regular folk sing her praises after donning her ensembles and enjoying the stares of adoration they attract.
Undoubtedly being bold and thinking outside the box has earned Tigerlily Hill the love and adoration of millions of people around the world. She is without a doubt a powerful trendsetter in the world of fashion.