In many ways, hair braiding has deep roots in the black community. From their origins in Africa, through slavery, and into today's pop culture, braids have long been associated with the black community. Hair braiding has a long history of innovation and adaptation in this community. But many need to realize how deep those roots go.
Since the arrival of the first colonizers on the African continent, Afro hair has been ridiculed, mocked, discriminated against, and controlled. And now, Virgo hair Braiding Salon brings many styles and colors to enhance the grace of the braid.
Yet our hair and braids are a source of strength. And a symbol of the creativity we show to the world. Braiding was not just a hairstyle in ancient Africa, for enslaved Black people, or even for the people of Africa or the African Diaspora today. We use our braids to communicate with the world.
Braids are not a trend and even less as soon as they are on a whitehead because they have existed since the dawn of time and still today.
African braids today
Today, glued braids are still practiced by populations of African origin. Black stars worldwide have worn and still wear braids for an event or because they decided it was their cut of the moment. 
The care and maintenance of these hairstyles have become a multi-million dollar industry. Some hair salons in many countries worldwide specialize in braids and cornrows. 
The advantages of African braids
We will not discuss the advantages of wearing this type of hairstyle. The list is long. But one of them is that it allows our hair to rest, which is often attacked: repeated hairstyles, unhealthy diet, lack of hydration, pollution, unsuitable environment, and chemicals used to texturize your hair.
The origin of braids is undoubtedly African
The curly hair of blacks makes it easier to make braids and helps them hold, which lasts longer. This is one of the reasons we can only attribute the origin of braids and braids to Africa and not to European, Asian, or American countries, as we can say that the inhabitants of Ancient Egypt were not White but Black. 
However, it is a hairstyle that anyone can wear.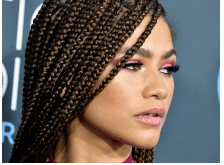 In addition, braids are indeed part of other hair cultures, such as that of the Vikings, Asian civilizations, or the Aztecs. But the braid, unlike the mat, is a figure which remains pressed against the scalp, which it travels by drawing a geometric line, like cross roads or paths in cereal fields (c This is where the American name cornrow comes from, which means "row of corn"). This is what is most often called "African braid." 
Braids come in different shapes and sizes.
Braids and pigtails can be worn long, medium, short, attached, detached, in buns, etc.
Where to buy 
Conclusion:
African hair braiding is more than just a hairstyle that has been worn since ancient times. This ancestral art is a heritage that has passed down since the dawn of time between women, from mothers to daughters. 
Braids are strong representations of "blackness" and our childhood. They are, therefore, a powerful symbol of African culture that endures over time.