Starting your own business may be a daunting task, especially if you are new to the entrepreneurial world. But, with the right business plan and strategies, you will soon be able to reap all the benefits that come with being the owner of a successful business.
The first and most important step you should take to become a prosperous entrepreneur is finding a business idea that works for you. Although there are many options to choose from, a popular business idea which is quite lucrative is buying and reselling refurbished electronics.
Generally, refurbished electronics are considered a multi-billion dollar industry which offers upcoming businessmen a lot of opportunities. Whether you want to buy and resell items, find faulty or returned products and flip them, or get into the recycling business, there are plenty of ways to do business regarding electronics.
To get on the right path, here is the ultimate guide you should follow before you start your refurbished electronics business.
Find profitable items
The first step to starting your refurbished electronics business is finding profitable items which you can resell for profit. Some common places where you can do so are at major retailer companies such as Amazon, or from some of the world's largest electronics manufacturers like Samsung and Apple, for example.
They usually have large quantities of returned goods lying around which customers have given back either because they were faulty or didn't meet their expectations. This allows you to buy wholesale electronics in large quantities at a reasonable price, refurbish them if necessary and put them back on the market.
When buying your items, be sure they have all accessories with them as that can also make a difference in your asking price.
Prepare a storage space
Unlike other small businesses which can be run from a home office, restoration businesses require a lot of space. As a reseller of refurbished consumer electronics, your best option is to rent a large warehouse where you can unpack, process, store, and sort the items. Here, they will be safe and protected and will certainly make running your business much easier as everything will be in one place.
When storing your refurbished electronics in a warehouse, it is crucial that you keep things organized at all times. There will be all kinds of gadgets and accessories so you should do your best to avoid having mismatching inventory and sending out wrong orders.
Repair and refurbish inventory
While some pallets of electronics that you receive will be working perfectly when first used or connected, other items may not arrive in the best condition. In this case, you will have to do some repairs, either by yourself or with the help of a third party, before you start offering the electronics to your customers.
To refurbish the products properly, you will need to:
Clean and sanitize everything.

Perform diagnostic checks on all parts and accessories.

Fix broken screens.
Also, if your liquidated inventory is missing important accessories, make sure you replace them as that will help increase the value of the product once you put it on sale.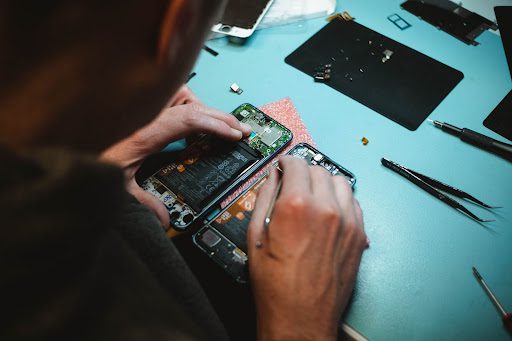 Photo by Kilian Seiler from Unsplash
Decide where you will sell
Once you have your finished product, your next step is getting it in front of buyers. Since you are in the market of refurbished consumer electronics, the best place where you can resell your products is online. This allows you to reach a large number of potential buyers while also providing you with a digital storefront that is open 24/7.
In general, you have two options for selling your products. The first one is to set up your own website, which will help you in developing your brand identity and providing your own customer service. The second option is to sell your refurbished electronics on online marketplaces like Amazon or eBay where you can reach a large number of customers.
Final thoughts
If you are looking for a business idea that promises great income and prosperity, then getting into the refurbished electronics business is the best option for you. The market has enormous potential, and with the right business and marketing strategy, you can easily achieve success.
All you need to do is find profitable items, refurbish them properly and get them in front of buyers at competitive prices.
To make sure you are on the right path, use our post as a guide to learn everything you need to know before you start a refurbished electronics business.