A centerpiece completes the look of your table. It adds style and interest, and your guests will pay attention to it as they walk into the room and as they sit down at the table to enjoy their meal. Whether you are setting up a centerpiece for Christmas dinner or Valentine's Day dinner, it's important to choose one that fits the theme and brings out the best in your decorations. This article will help you create perfect centerpieces every time.
 How to Choose the Perfect  Centerpiece for Any Occasion
 Here are some tips on how to choose the perfect centerpiece for any occasion:
Select The Color Scheme
Wedding centerpieces are no exception, and you can use them as a way to tie your entire wedding together. The only caveat here is that you have to be careful with color—if you choose red roses in bulk, for example, all of your other florals and table decor will need to match that shade or compliment it. And when choosing flowers, always consider the season. For winter weddings, go with holly berries and pinecones. Springtime calls for daffodils and tulips; summer blooms like hydrangeas and peonies; while fall features roses of any color along with sunflowers and autumn leaves.
Add Flowers 
Whether you're hosting a summer cookout or a winter get-together, adding flowers and other decorative touches can make any setting feel extra festive. However, not all flowers are made equal—different blooms serve different purposes, so be sure to choose them with your event in mind. For example, an arrangement filled with roses would look stunning at an anniversary party; if you're celebrating graduation instead, choose something like daisies or garden mums instead.
Pay Attention To Detail
When choosing a centerpiece, it's easy to get caught up in what will look prettiest, or most interesting. Instead of selecting a centerpiece based on aesthetic appeal alone, consider its functionality too. Will your guests be able to find their seats easily? Is there enough room on both sides of it? Choosing a visually appealing centerpiece doesn't have to mean choosing one that's an eyesore—you can still select something elegant and practical. Consider the shape and size of your table, as well as how many seats you'll need available. 
Types of Centerpieces for Your Home
When you're ready to spruce up your home with new decor, you can choose from many different options to get the exact look you want. One area where you can be as creative as you like is in the centerpieces that go on your tables and end tables throughout your house. Here are some of the more popular centerpiece styles you can consider adding to your home décor. 
Flower And Vase Centerpieces
A simple, yet elegant way to decorate your wedding tables is with flower and vase centerpieces. You can either purchase these centerpieces from a florist or DIY them yourself. If you choose to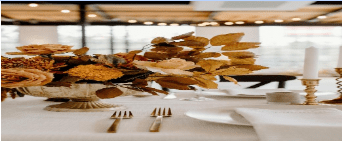 DIY, make sure you give yourself enough time to get everything done. Flower and vase centerpieces are a classic choice and will look beautiful in any wedding setting.
Decorative Lanterns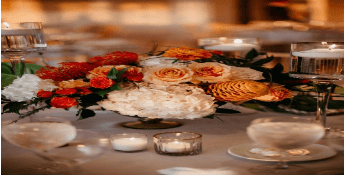 Lanterns come in all shapes and sizes, making them a versatile option for your wedding centerpieces. You can find lanterns made out of metal, glass, or even wood, and they can be hung from the ceiling or placed on tables. Decorative lanterns can be used to add a touch of romance to your wedding décor.
Candle holders centerpiece 

If you're looking to create an elegant atmosphere in your home, consider using candle holders centerpieces as part of your decorating scheme. At first glance, they may look like regular candle sticks; however, candle holders are designed with a much higher level of detail than normal candles. For example, they may be intricately carved or molded into the shape of animals, flowers, or other objects. You can also choose various colors to create additional design interest and depth to your home's interior.