The modern-day residential, as well as commercial complexes, are hard to imagine without hot water solutions. This calls for thermostatic mixing valves for plumbing, sinks, and showers. Lead-free mixing valves are broadly used in plumbing solutions in the commercial & residential sectors for applications like eyewash, face wash, showers, and likewise, as stated by Persistence Market Research in its latest market study entitled "Thermostatic Mixing Valves Market".
Thermostatic Mixing Valves Market Dynamics
The global thermostatic mixing valves market, by nominal diameter, spans DN 15, DN 20, and DN 25. By capacity, it's up to 5 GPM, 5 to 10 GPM, and 10 to 15 GPM. By valve type, it's an emergency, high/low, point-of-use, and standard. By application, it's residential, commercial, and industrial. Persistence Market Research has, with its astute team of analysts and consultants, highlighted these findings with future perspectives in its latest market study entitled "Thermostatic Mixing Valves Market".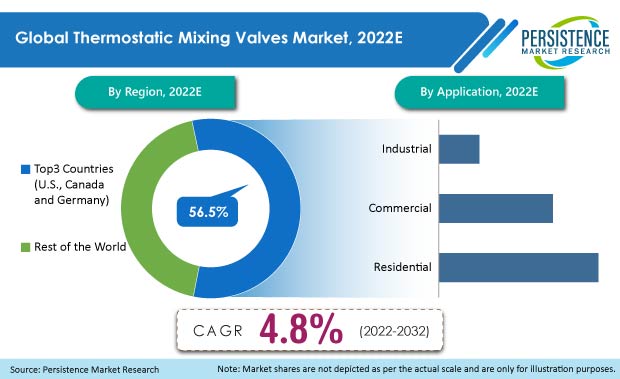 Region-wise Analysis
Europe holds the largest market share, wherein the UK holds more than 30% of Europe's share. This could be reasoned by the fact that there is an increasing demand for hot water systems. North America comes in second with the US witnessing growing investments by the governments in infrastructure. The Asia-Pacific, though in its nascent stage herein, is expected to pick up pace in this regard in the years to come. Persistence Market Research has entailed these facts with future courses of action in its latest market study entitled "Thermostatic Mixing Valves Market".
Competitive Landscape
Persistence Market Research has profiled the key players in the thermostatic mixing valves market as Reliance Worldwide Corporation, MISUMI Group Inc., Honeywell International Inc., Watts Water Technologies Company, Danfoss A/S, Bradley Corporation, Armstrong International Inc., Caleffi S.p.A., Afriso-Euro-Index GmbH, Pegler Yorkshire, ESBE Group, Hans Sasserath GmbH & Co. KG, Bianch F. lli S.p.A., Leonard Valve Company, Geann Industrial Co. Ltd.
Gain Complete Access To The Report
Persistence Market Research has also gone ahead with mentioning the latest developments on this count. For instance – RWC, in October 2020, did launch the new-fangled series of valves by combining technologies floored by John Guest (JG) Speedfit and RWC. Bradley Corporation, in February 2020, did introduce a novel thermostatic mixing valve to cater to commercial applications. This new navigator TMV does save on installation time and also conserves space. Africa-Euro-Index-GmbH, in February 2019, did introduce a new-fangled ATM 363 WMG thermostatic mixing valve for water heaters, boilers, and drinking water systems.
What's in store for the Future?
The global thermostatic mixing valves market is bound to grow on a spacious note in the next 10 years – Persistence Market Research
For detailed insights on enhancing your product footprint, Request a Sample Copy