Fact.MR has published a market research on AI-based anti-money laundering (AML) solutions, which details the industry's previous performance as well as the potential growth of technology-enabled anti-money laundering solutions.
Despite the fact that the finance industry invests over US$ 75 billion in anti-money laundering technologies, money launderers continue to outsmart current financial and technological infrastructure. In 2019, the US and Canadian governments alone spent over a billion dollars to improve their anti-money laundering technologies.
Fact.MR recently released a 10-year projection for AI-based anti-money laundering (AML) solutions from 2021 to 2031. The research examines key industry trends that are currently influencing market growth. This study delves into important market characteristics such as drivers, restraints, and opportunities for leading market players, as well as key stakeholders and emerging players, who are involved in the development of AI-based AML solutions.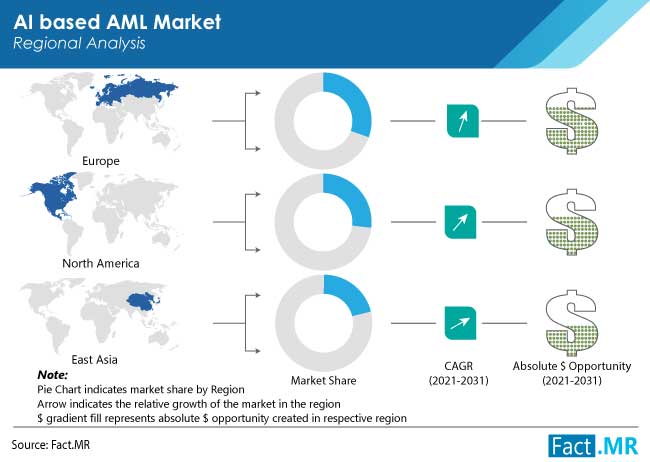 Market Segments Covered in AI-based AML Solutions Industry Research
By End User

Banks
Insurance Companies
Asset Management
Money Service Businesses
Securities
Other FSIs

By Use Case

Transaction Monitoring
KYC (Know Your Customer)
Fraud, Risk & Compliance

Trade AML
Capital Markets AML
Correspondent Banking AML
Fraud
Credit Risk

Crime Pattern Detection
Risk Scoring Customers and Accounts
Watch-List Screening
Alert Management and Reporting
Other Solutions
Takeaways from the Market Research
Banks, as end customers, account for about half of the global market and are expected to provide an absolute dollar potential of more than $25 billion between 2021 and 2031.
Fraud, risk, and compliance has been the fastest-growing area among the use cases.
In 2021, the European AI-based AML solutions market is expected to dominate, with Germany and France expected to take more than a quarter of the market and produce significant income.
With more than one-third and one-sixth of the market share, China and Thailand are likely to dominate Asia Pacific.
An in-depth look at the competitive landscape
The research includes extensive profiles of the main manufacturers of AI-based anti-money laundering technologies. A complete dashboard view has been used to bring essential and up-to-date data connected to market performers who are primarily engaged in the manufacturing of AI-based AML solutions. The report's market share analysis and comparison of important players allows readers to take proactive initiatives to advance their businesses.
The study includes company profiles, which contain elements such as product portfolios and major strategies, as well as a comprehensive SWOT analysis on each player. All of the major competitors' presence is mapped and presented in a matrix, offering readers with practical insights that aid in thoughtfully presenting the market situation and estimating the level of competition in the AI Based AML market.
Need More information about Report Methodology? Click here:-https://www.factmr.com/connectus/sample?flag=rm&rep_id=6894
What are some of the applications for AI-based AML solutions?
AI is a large technology with a wide range of capabilities. AI is employed in various aspects of compliance, including risk management, operations, and so on. Artificial intelligence (AI) is one of the most important steps in the financial industry, and it is used in a variety of activities like transaction monitoring, transaction screening, risk scoring, financial crime pattern recognition, and so on.
Financial institutions are making progress by incorporating artificial intelligence into AML solutions, which improves detection accuracy by reducing false positive indicators. As a result of these enhancements, businesses are avoiding large fines and maintaining their strong market reputation.
What Role Will Asia Pacific Play in AI-based Anti-Money Laundering Solutions Revenue?
Multiple developing economies make up the Asia Pacific region, all of which are gradually building stable institutional, political, and economic capacities. In such a developing scenario, there is also a high amount of corruption, with money laundering being in high demand and flourishing.
To monitor financial frauds and money laundering operations, the region has a fragmented and poorly penetrated regulatory system. China has seen strong and persistent initiatives on the world stage to tackle corruption, according to the Global Fraud Survey 2016.