A study by the University of Maryland reported that hackers attack every 39 seconds, on average 2,244 times a day. In 2016, the NY Times reported that 3 billion Yahoo accounts were hacked in one of the biggest breaches of all time. The activities of cybercriminals are real, and businesses must do all within their power to protect themselves from these attacks, capable of paralyzing their operations.
Cases of cyber-attacks on businesses are on the rise. According to a 2019 report, 68% of business leaders feel their cybersecurity risks are increasing. In reality, most of these businesses are fighting an enemy they are ill-equipped to face. Even businesses with IT departments or third-party IT partners struggle with keeping their data and business operations safe from cybersecurity issues.
Your business is certainly online, whether it is for full operations or merely as an interface for exchanging information with your customers. Any data breach could cost both you and your customers a great deal. Internal cybersecurity processes and procedures are necessary but are not enough without a Virtual Private Network (VPN).
What is a VPN?
A Virtual Private Network (VPN) extends a private network across a public network and enables users to send and receive data across shared or public networks as if their computing devices were directly connected to the private network.
Essentially, a VPN allows people to access the internet securely and remotely. With a VPN, your online actions are virtually untraceable, private, and anonymous. A VPN is a must-have tool for any business that is serious about cybersecurity. VPN is the ultimate cybersecurity hack and below are a few ways VPNs are helping businesses fight cybercriminals.
1) VPN provides additional security infrastructure
One of the easiest ways to stop cybercriminals from gaining access to your systems is by having strong firewall protection installed on each piece of your business infrastructure. With firewall protection, your systems are better protected from malicious attacks and should you or any of your employees click on unsolicited links, your secured firewall protection would quickly flag it.
Many cyber-attacks occur through emails, but good firewall protection can spot unsafe emails. This security is necessary for the security of your business data and goes a long way to ensure that your business infrastructures are safe for usage.
For improved and more guaranteed cybersecurity, a VPN masks your network connection. Since your firewall protection only covers the systems and nothing more, a VPN provides security for your network connection thereby strengthening the overall security of your systems.
The firewall protection on your systems must be always updated since these firewalls are updated from time to time for better security and enhanced functionality by the servers. Activate auto-update on the firewall protection, that way your systems are always updated.
One can never be too cautious when it comes to cybersecurity. Do not wait till your business comes under a cyber attack to get a VPN.
2) VPN provides security against DDoS attacks
For businesses with internal servers, a DDoS attack stops servers from processing requests from users. This sort of attack potentially takes the systems offline, making access to internet non-existent for the period.
A distributed denial-of-service (DDoS) attack is a malicious attempt to disrupt the normal traffic of a targeted server, service or network by overwhelming the target or its surrounding infrastructure with a flood of Internet traffic. DDoS attacks achieve their setup and aims by exploiting various compromised computer systems as sources of attack traffic.
The regular road traffic scenario best explains a DDoS attack. It is like an unexpected traffic jam that blocks movement on the highway, preventing regular commuters from arriving at their intended destinations. This is a common form of cyber attack that affects businesses and corporations.
In most cases, it takes quite some time before servers are restored back online. But a VPN connection protects your network connection, making your servers more secure from DDoS attacks. You cannot afford to have such attack compromise your business infrastructures, servers, and business as a whole, thankfully VPNs are here to the rescue.
3) VPN provides security for your customers' data 
We live in a digital age. It is only normal and expected that businesses would take their data operations to the cloud. For businesses, whose operations depend hugely on data collected from customers, storage of such data is usually done on the cloud to limit the level of paperwork and reduce dependence on human efforts.
Nearly every business has data flying around the cyberspace, making them targets of the activities of cybercriminals. To help businesses ensure the safety of their data, VPNs provide network connection security that allows for safe exchange and storage of data in the cyberspace.
With the discovery of COVID-19, many businesses have had to resort to remote working. It is not easy to completely regulate the activities of an employee who is not in the office. It is also difficult to monitor their level of compliance with IT procedures. 
According to the report, a business' cyber defense is just as good as the company's system administrator/IT department is, which is hardly enough. This fact became clearer as businesses had to resort to remote working. By providing secure access to the internet, VPNs empowered businesses to fight the activities of cybercriminals.
4) VPNs provide encryption for communications
Communication powers business operations. It provides the medium through which employees exchange information with each other. As a business, you are constantly exchanging information with stakeholders within and outside your business. A VPN connection provides encryption for these exchanges of data.
Without a VPN, it is easier for cybercriminals to intercept and hijack such information flow. By encrypting your communications, VPNs make it impossible for third parties to listen to sensitive data that are not available for public consumption. With a VPN, businesses can exchange data over public WIFI and remain untraceable.
More than ever, businesses need to take cybersecurity seriously. With reports of big corporations like Sony getting hacked and sensitive data tampered with, every business needs to up their game by taking advantage of available tools like VPNs.
A cyber-attack can cripple a business, put its customers at risk and lead to irreparable damages. Getting a VPN for your business is a necessary precaution with enormous benefits. 
Which VPN should I use to secure online privacy and small businesses? 
As a small business operating in an online environment, you should be wary of the versatility of hackers and their ability to cripple your operations. Now that you are aware of the potent ability of VPNs to protect, it is time you installed one. 
However, the pertinent question is, which is the best VPN that can secure small Businesses and online privacy? 
Admittedly, there are numerous VPNs in the market which may leave you lost for choice. Notably, NordVPN is leading the race, but what If I recommend something that is fast-growing, innovative, gives cross-platform access and is user-friendly with affordable prices. It is Switcherry VPN that recently emerged as one of the fastest-growing competitors for legacy VPNs.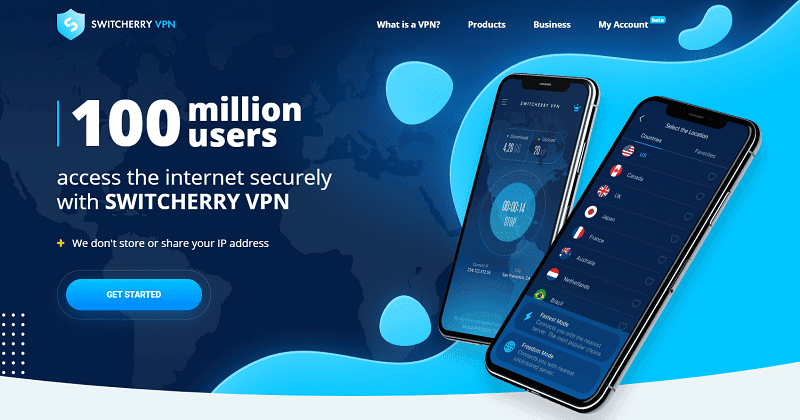 Specifically, Switcherry stands out because it perfectly suits small businesses. With thousands of servers across more than 74 countries, the VPN can encrypt traffic, web history, and personal data to provide military-grade security for your business needs. 
Key features that make Switcherry VPN stand out from the crowd:   
Enable data protection:

 Switcherry VPN does not store your IP addresses, keeping the entire browsing session masked from external interference.

Private, secured, and anonymous web browsing:

 This VPN automatically hides the real IP address and gives access to random new IP addresses every time you connect to the internet. It enables entire web surfing anonymously and protects from unknown tracking, data parsing or local government censorship. 

Unlimited Bandwidth:

 Don't restrict weekly or monthly traffic nor collect data of visited websites or downloaded files. Such features will give you full democratic access to maintain online privacy.

Stop throttling streaming quality:

 It is also called 'bandwidth throttling' which is generally seen during video streaming platforms like Netflix, Hulu, Amazon Prime, HBO, etc., where internet providers intentionally slow down the streaming connections. Switcherry VPN tackles this issue easily by routing the internet traffic through secured servers.

Pre-installed adblocker for mobile devices:

 Switcherry VPN comes with a pre-installed ad-blocker that will help you block unnecessary distractions like ads and pop-ups while browsing. AdBlock features can be easily available with just one click on iPhone, iPad, and other systems. 

Block spam calls, robocalls, and filter SMSs in one click: 

Get rid of spoofing or spam calls that generally come from telemarketers or scammers. Switcherry VPN has a database of millions of call spammers that is updated regularly. 

Affordable pricing for small businesses: 

 Switcherry can be a boon for your small businesses where you are struggling to find an affordable VPN provider to connect multiple devices in a row.  

Multiple platform access:

 This VPN app is available on a cross-platform like iOS, MacOS, Windows, and Android.

Chrome extension:

 Free Google Chrome extension helps users to have secure desktop browsing.
 Check out the series of VPN products that Switcherry offers for cross-platform accessibility.