The payments industry has gone relatively unchanged for decades.  Large incumbents like VISA and MasterCard built a global stronghold with merchants after establishing their business in the early 1960s.  The Banks these payment networks work with date back even further.  In fact, the first banks date back to 2000 BC in India, and later evolved in Ancient Greece and the Roman Empire focused around lending grain or other stores of value. 
Fast forward to today, most people pick and stick with a bank or credit card for a long period of time. Consumers typically gravitate towards those with the lowest fees and biggest networks. In fact, a JD Power's 2019 U.S. Retail Banking Satisfaction Study found just just 4% of consumers switched primary banks in 2018.  According to a CreditCards.com survey, a surprising 25 million consumers have stayed with their credit card for at least 10 years.  Another 20 million have never changed their credit card.
However, in 2008 a piece of technology was released that would change the way payments are made and with that the world would change forever.  That piece of technology was Bitcoin.  Bitcoin does not require central banks or intermediaries to function.  Transactions are verified by a network of nodes through cryptography and recorded in a public distributed ledger called a blockchain.  Think of the blockchain as the protocol that Bitcoin (and other digital currencies) function on top of, similar to the way that the Internet uses TCP/IP as its underlying protocol.
Bitcoin is many things to many people. It can be a store of value, a means of P2P payments, and a speculative asset where a person can profit.  It is secure, decentralized, globally available, and always on.  Bitcoin being the first digital currency has the largest market cap and has remained the leader for well over a decade.  However, Bitcoin is not without its criticisms and many others have launched their own digital currencies to improve upon what they believe Bitcoin should be.  Some of these include Bitcoin Cash, Ethereum and Litecoin, all of which operate on a modified version of the blockchain.  
In 2017, Ternio co-founders Ian Kane and Daniel Gouldman saw what was happening with Bitcoin and other digital currencies and identified a problem.  All of these digital currencies (including Bitcoin) had use cases on the internet such as online marketplaces or trading on exchanges.  The blockchain all of these digital currencies ran on top of was significantly more efficient in terms of cost and speed.   What was lacking was an easy to use method of taking digital currencies and using them with the financial system people already use and understand like credit cards or bank accounts.  
The Blockchain Debit Card
Ternio introduced the BlockCard platform in 2018 as a solution to this problem.  The premise was simple – consumers deposit digital currencies and spend them like they would dollars from their bank account.  The BlockCard website states, "Convert cryptocurrency into real world utility and have more control over your money than ever before." Digital currency enthusiasts could now use their Bitcoin or other cryptocurrency at any merchant that accepts credit cards instead of having to seek out merchants that were also knowledgeable and willing to accept the currency risk associated with Bitcoin or other blockchain based assets. 
BlockCard opened the door to millions of merchants across the globe and reshaped the digital economy in the process.  Digital currency holders no longer had to find a merchant or retailer willing to accept digital currency as payment. The BlockCard did all the work where customers would spend their digital currency and the merchant received dollars.  Retailers and online merchants treat BlockCard like any other debit or credit card. 
Simplification is the name of the game when it comes to digital currencies, similar to how AOL simplified the internet in the 1990s to bring it to the masses.  Getting consumers to realize the benefits of digital currencies requires shortening the knowledge gap and simplifying the process.  BlockCard acts as that stepping stone even if it seems counterintuitive to issue a card.
Ternio is a US based company, so it may seem strange that a FinTech company focused on digital payments is taking a step backwards by issuing debit cards, while other countries are moving faster and faster towards touchless mobile payments in a COVID-19 era.  However, the card is just that, the gateway.  Customers get a physical and virtual debit card, and both can be synced with Apple, Google, and Samsung pay giving the BlockCard customer the choice to select how they want to make their payments.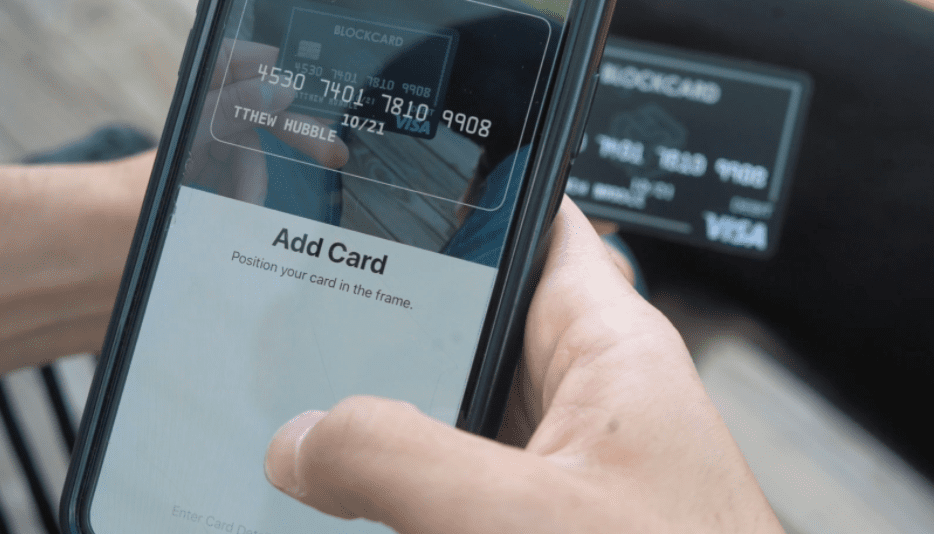 Build Your Own Bank 
The name is deceiving because the BlockCard platform has evolved into more than just a debit card since it's launch 2 years ago.  It's now an ala-carte offering for customers to pick and choose the financial products they need – card, bank account, rewards, etc.. The BlockCard website touts a crypto-back rewards program as well as  crypto friendly bank accounts that enable customers to purchase Bitcoin or make withdrawals from cryptocurrency exchanges.  
Withdrawing US dollars from crypto exchanges has long been a pain point for digital currency enthusiasts.  A quick search of social media illustrates the numerous posts of big banks flagging these transactions or shut down accounts all together.   The specific reasons are unclear, but it typically revolves around state or country requirements regarding KYC/AML policies, and how those banking institutions interpret the withdrawals or deposits.  The existing global financial system has long been a network of gatekeepers, ensuring only those approved shall pass, but the blockchain has democratized the process and it requires regulators to play catch up and ensure a new global standard. Bitcoin is here to stay and we have seen numerous other companies like Microstrategy and Square put percentages of their company reserves into Bitcoin as a hedge against inflation.  Bitcoin is now good for business and the global economy will never be the same.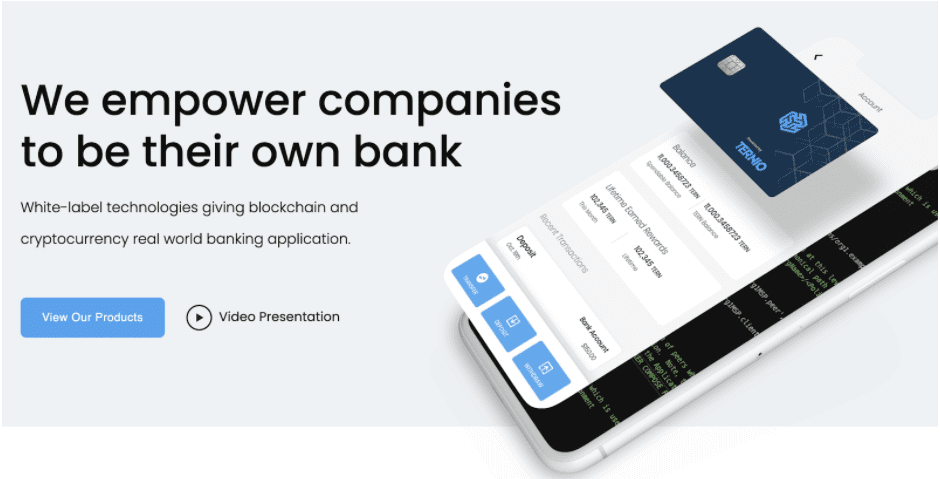 A Digital Currency Hub
Ternio has built a way to easily convert dollars to digital currency or vice versa.  It might be described as an Airport or Train Station hub.  A train full of US dollars comes in from New York on one rail, and then leaves on the next train to Chicago in the form of Bitcoin on that rail.  The "value exchange" ultimately reaches its destination in the right form, but the interoperability of blockchain and legacy bank technology is really what makes BlockCard interesting. 
Other companies in the space are taking notice as well.  VISA recently welcomed Ternio to their Fast Track program as the first digital currency enablement provider.  VISA has recently advocated in favor of digital dollars on the blockchain, otherwise known as Central Bank Digital Currencies (CBDC), so the timing on this makes sense.  The Litecoin Foundation also partnered with Ternio to launch their own Litecoin Card using the BlockCard platform.  Charlie Lee, the founder of Litecoin, stated "There are other crypto debit cards available today that support Litecoin, but they only support funding with LTC. This card is natively LTC, so funds are kept in LTC until you swipe the card."
Overall, the lines are being blurred between dollars and digital currencies, as it's all starting to make its way on to the blockchain.  Whether someone wants to use Bitcoin, Litecoin or Digital Dollars, Ternio has the tools to make that interoperability possible.   Time will tell if Ternio becomes the next great tech unicorn or falls by the wayside to a competitor.  However, what is undeniable is that this small FinTech has already significantly impacted the payments industry in a way that was thought unfathomable just 5 years ago.