Introduction
Electric bikes are a convenient and eco-friendly means of transit, gaining popularity in America, Europe, and many other parts of the world. The different types available with their various adaptive features make them perfect for all trips, short or long. The Himiway Pony is a portable electric bike that can be folded to improve commuting convenience. Due to its foldable nature, it can be stored in any available space in the home or office. It also weighs much less than regular e-bikes and traditional bicycles, which makes it a lighter load for those in transit.
It can be surprising to see what an e-bike like the Himiway Pony is capable of. Without prior knowledge of its specs, it can appear like a rather small but cute and fashionable bike. However, it can be adjusted to provide perfect sizing for riders between the heights of 4.1″ and 6.2″. Features like its foldability, throttle system, and battery range point to a practical e-bike for today's fast-paced world. Keep reading to learn more about the Himiway Pony.
Advantages of Using Himiway Pony Portable E-bike
The Himiway Pony is an interesting new innovation for urban commuters and outdoor adventurers. Using it helps you enjoy the dual advantage of smooth travel and easy storage. There are many other benefits to this unique two-wheeler, including the following:
Ultimate Portability
Of the many interesting aspects of using the  mini electric bike Himiway Pony, its portability is the most intriguing. How can an e-bike be so convenient to carry and transport? Weighing only 33 lbs, the Pony is much lighter than most other bikes out there. Its lightweight and compact design makes it the best option for making the most of limited storage space. It also uses Kenda tires measuring 2.4″ in width to go with its compact size. Due to its foldable nature, it can be easily stored inside a desk space or locker in the office.
The portability and ease of use of the Himiway Pony enable it to provide more room for flexibility in riding. You can switch from riding to walking to folding up the bike and carrying it wherever you go. However you want to move, the Pony allows you to do so without feeling loaded. And it is still equipped with features to enhance its level of convenience and comfort. 
Quick and Easy Set-Up
The Himiway Pony uses a simple, sleek design that can be set up easily within a few minutes. To begin, unbox the bike and its content. Secure the front wheel into place using the quick-release lever. After this, it is time to install the bike's handlebars. Do this and then insert the pedals, ensuring balance on either side. Attach the battery to the frame and click it in. You can also install the seat and adjust it to your perfect height while you're at it.
The Pony is portable and easy to set up because of this. However, it is still a durable electric bike despite its size. Its sleek frame is made from 6061 aluminum, which helps the bike remain strong and sturdy despite consistent use. This is a solid material that is as strong as steel but much lighter. It ensures the e-bike can withstand all the rigors of commuting for longer while still keeping a cool appearance. 
Sustainable and Environmentally Friendly
One of the best ways to reduce the emissions from your daily need for transit is to use an eco-friendly option like the Himiway Pony. This electric bike is an excellent means of transportation with numerous benefits to your immediate environment. One of these is the reduction of CO2, a product of the exhaust fumes of gasoline-powered cars and other vehicles. It is also one of the greenhouse gases affecting global climate change. 
Using the Himiway Pony will help you reduce your carbon footprint, which refers to the carbon emissions from your preferred means of transit. This is because it uses a rechargeable battery as its power source. With this, you enjoy a higher energy efficiency than using a gas-powered engine. Commuting with the Himiway Pony can also reduce the time spent causing noise pollution in traffic congestions. This way, you get used to making better decisions in such gridlocks than just sitting stuck. 
Affordability 
Electric bikes generally make riding more accessible to a wide range of people, from seniors to those with mobility issues. However, they can sometimes cost as much as $ 5,000 or $ 10,000, more expensive than the average traditional bicycle. This makes it important that you do your research before acquiring an e-bike. Instead of disturbing your finances with bogus offerings, options like the Himiway Pony help you stick to your budget while enjoying the benefits of e-biking.
The Himiway Pony is a great way to commute due to the high-end features it uses. Other bikes of its build and class may not be able to perform on its level. At only $ 599, this e-bike is a more affordable option compared to most others with its features and level of quality. With such components, it offers more value for money than most other options. Asides from its high-end features, its low maintenance makes it a cost-effective option and a great investment for the long term.
Fun and Exciting Riding Experience
Riding an  electric bicycle is more convenient than using a traditional bicycle or motorcycle. It is a combination of safety, speed, and electric assistance. Its provision of a battery and motor adds up to a fun experience that no other means of transit can give. The Himiway Pony enhances this with its unique build and interesting features. Its battery allows you to cover as much as 20 miles on a single complete charge, using the throttle to maintain a top speed of 16 mph. 
It is a portable and durable e-bike with a net weight of only 33 lbs, making it easy to adapt to varying traffic requirements. You can ride using the electric assist to power your trip, then simply step off and fold it for later use. It also allows you to ride through rough terrain with more ease. Using a 300W brushless geared hub motor, the Himiway Pony can output enough power to get you over hills and obstacles effortlessly and conveniently.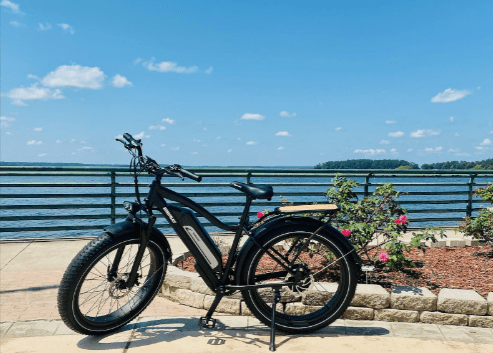 Conclusion
The Himiway Pony is an innovative creation for more convenient commuting. It is built to offer the double benefit of providing smooth passage and being easy to transport. Its portable frame is durable and light to carry, weighing only 33 lbs but able to support a payload capacity of 240 lbs. This type of e-bike is practical for today's fast-paced world, as it allows you to move in style while exploring different commuting options. You can ride it, store it in your car's trunk, or fold it up until you can ride again. 
The Pony uses a powerful geared hub motor and a removable 36V 10Ah LG lithium-ion battery. It stands out among other portable e-bikes as a powerful, convenient, and versatile form of transportation. With a list of quality parts, it ensures you can enjoy safe and smooth commutes around the paved and unpaved roads of your city.