PDF files are the most common format to save office, academic, or any personal work in a secured way. To manage the PDF files like a professional, you must require a complete free PDF editor that comprises multiple options to enhance your productivity. 
In this article, we will suggest an all-rounder tool called Wondershare PDFelement that offers advanced and unique options that can ease your workflow professionally. 
Introduction of Wondershare PDFelement 9.0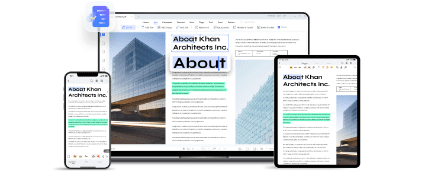 Wondershare PDFelement 9 is an easy-to-use tool that is available on multiple platforms to manage PDF files. You can use it on your desktop and mobile devices easily, with tons of options to edit and enhance PDF documents. You can edit, comment, and alter the PDF files by utilizing its unique features with a few clicks. You can use its Document Cloud option to save large PDF files comfortably in one place. Moreover, you can utilize the OCR function to edit the scanned PDF files instantly. 
PDFelement can also be used to add and edit the images on the PDF files flawlessly. You can change the size and position of the images on your PDF files to make their better placement. It has also improved its features related to the reading of PDF files to offer the best possible experience to the users. In the latest version of PDFelement, massive updates and improvements in the user interface have been placed to provide a professional way of reading and editing PDF files. 
The Improvements of PDFelement Version 9.0
The new version of PDFelement has brought various updates to make your work easier on PDF files. Let's highlight the main improvements of this PDF editor:
1. Enhanced Visual Experience
Wondershare PDFelement 9 has optimized the visual experience in many ways. It has created a larger area for reading by reducing the operation bar. Users can manage their PDF files on the Start Page more comfortably. You can easily access the quick tools to initiate the editing process. With a single click, users can open the files and folders on this tool without facing any inconvenience. Moreover, if you have saved multiple files on this tool, you can search any specific file quickly. 
Users can also bookmark their most commonly used PDF files to access them anytime. Moreover, you can enjoy the reading experience more professionally as they have provided a special reading mode. Also, you can zoom in and out on the PDF files to closely observe any specific content. 
PDFelement previously included a floating status bar across the reading mode of PDFs, which is now converted into a general status bar that stays at the bottom of the screen at all times. This intends to provide a better reading experience for the users across the platform.
2. File Transfer with Document Cloud
To make a secure room to save PDF files, PDFelemnet has introduced its Document Cloud storage platform. If you want to share your PDF files with many people, you can share the file with the Document Cloud through a link. By clicking on this link, any individual can access your PDF files for up to 30 days. By doing so, people can only view and only add comments to your PDF files. It won't only save you from unnecessary hassle but also keep your files saved in a single place. 
3. PDF Translation Function
Translating different languages can be a hectic task for many users. To handle this problem, PDFelement has introduced its translating function through which you can translate up to 100 languages easily. You can also save the translating results as a comment note so that you can view them anytime you want. Thus, you can translate up to 100,000 characters of text per month through this exceptional platform. 
4.Read and Annotate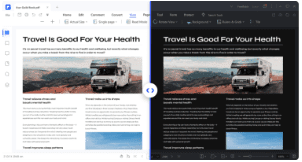 Users can now focus more while reading their PDF files through this tool. It offers a reading mode through which you can open the PDF file in full screen while adding comments. To protect your eyes, you can change the background that you find suitable. Moreover, you can rotate pages and can also show rulers and grids on the document. 
When it comes to annotating the PDF file, you can add text boxes, notes, and suggestions instantly to the documents. You can add and create stamps on your files to make them look more captivating and unique. Also, you can save the annotated pages separately as a file to access them quickly. Thus, this tool offers various options to read and annotate PDF documents like a professional. 
5. Batch Tools
To increase your productivity, Wondershare PDFelement gives you batch tools to perform the tasks on multiple files simultaneously. You can convert, compress, create, and watermark the PDFs through batch processing to save your time. Moreover, you can add, update, or remove backgrounds, header and footer to the files in batch to ease your workflow. PDFelement 9 also gives you an option to extract data and print in batch conveniently. 
6. Upload Image to Create Signature
To personalize your files, you can sign PDF by utilizing multiple ways through this platform. You can draw handwritten signatures precisely on your files to make them look appealing and unique. You can also type signatures by utilizing different fonts and colors. Moreover, you can add the image of the signature on this tool by browsing through your device. 
The Pros and Cons of PDFelement Version 9.0 
After discussing the new upgrades of Wondershare PDFelement 9, let's highlight the pros and cons of this platform. 
Pros
The processing speed of PDFelement 9 has massively improved as it finishes the given tasks accurately and in a timely manner. 

The user interface is designed in a more organized manner as every feature and option is clearly visible. Moreover, it's easier to operate the functions on this tool without needing any help. 

You can instantly share your PDF files through a link to different platforms without any restriction. 

With PDFelement 9, you can set a password to protect your PDF files to prevent others from editing your content. 

Manage your PDF pages more comfortably by replacing, splitting, and cropping them. 
Con
The free trial version of PDFelement 9 leaves a watermark on your PDF files. To edit the PDFs without a watermark, you need to buy any of its subscription plans. 
Conclusion 
PDF files bring various advantages that help the user to manage their information and data. However, if you want to bring more advancements to your PDF files, you must explore an efficient tool like Wondershare PDFelement 9. The latest version of this tool has brought massive updates and improvements that can increase your productivity to manage your work effectively.